Book Gifts for Kids
by emmalarkins
Even in this day of modern technology, there are plenty of avid readers among our youth who would love to get books as gifts.
Indulge an Avid Reader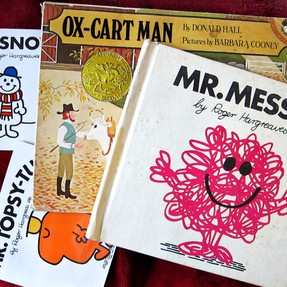 Books make great gifts for the kids on your list, with one caveat: those kids have to already love the printed word. Christmas isn't the best time to try and turn someone into a reader (although taking a few trips to your local library can be a great start!) For example, I've always loved books, and so I enjoyed getting books as gifts when I was a child. Picture books, chapter books, resource books, even big, fat classic literature books - they all made me happy.
Below you'll find a list of books and related gifts for kids who love to read. Hope some of these ideas are exactly what you're looking for!
Kids' Book Gift Baskets
A Wealth of Book-y Goodness
Book baskets are one of my favorite reader-specific gifts to give. They're a great way to present an already awesome gift (one or more books), and the options for filling them are virtually endless. Plus picking out a bunch of themed goodies makes for a fun holiday activity.
Choosing items for a book gift basket is pretty straightforward. Take, for example, a Christmas book themed basket. Start out by getting your basket: you can find a range of great ones at thrift stores, craft stores, department stores, and online. Then, select one or more Christmas themed books (such as How the Grinch Stole Christmas, The Christmas Kitten, A Wish to Be a Christmas Tree, etc.). If you're on a budget, you can often find these at thrift stores as well. Top off the basket with some nice looking mittens or a scarf, a pretty mug filled with hot cocoa packets, a stuffed animal or two, some Christmas ornaments, homemade crafts and cookies, and anything else you can think of.
One suggestion: make a budget before you start filling your basket. I personally tend to get carried away, and small items can add up if you're not careful! Buying items in bulk for multiple gift baskets can be a great money-saver.
For more information about book gift baskets, check out Book Gift Baskets: Make a Book Related Gift on Squidoo.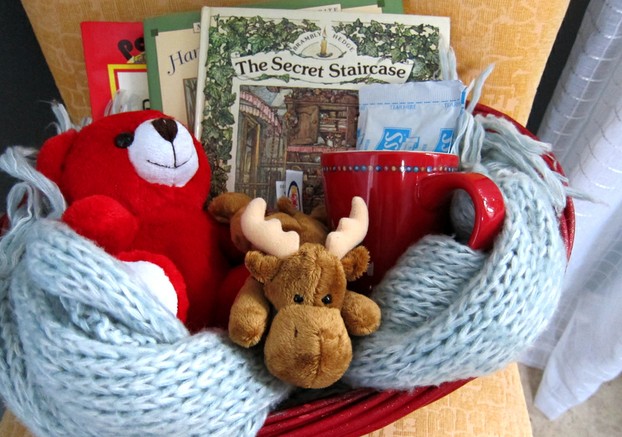 Book Gift Basket
Classic Kids' Books
Old Favorites
So many great kids' books have been written and illustrated over the years that it would be a shame to see them lost to the annals of history just because new generations of children weren't being introduced to them.
You might be surprised to learn just how many of the books you enjoyed as a kid have been resurrected or preserved and are now available on Amazon and other sites. Digging through your memory (with a little help from your search engine of choice) can be a great way to wile away the hours while you come up with some terrific book recommendations from the past.
If you want to get even more into this task, consider searching your local used book stores, flea markets, or online retailers such as eBay for first editions and other unique versions. Just don't forget that kids can be rough on things, so these aren't necessarily the kinds of gifts that you want ending up crammed onto a bookshelf at kid eye level.
And don't forget, these books make a great addition to a book gift basket!
To see a complete list of my favorite classic kids' books, check out Classic Books for Kids Make Great Gifts on Squidoo.
Cloudy With a Chance of Meatballs

The tiny town of Chewandswallow was very much like any other tiny town except for its weather which came three times a day, at breakfast lunch and dinner. But it never rained ...

$16.99 $19.99
Mr. Bump (Mr. Men and Little Miss)

Get ready for the second invasion of Little Miss and Little Mr. Men! That's right - those zany, pint-sized characters are back. Easy enough for young readers and witty enough ...

$4.99 $3.5
Dr. Seuss's Beginner Book Collection (Cat in the Hat, One Fish Two Fish, Green Eggs and Ham, ...

A perfect gift for new parents, birthday celebrations, and happy occasions of all kinds, this collection of five beloved Beginner Books by Dr. Seuss—The Cat in the Hat, One ...

$26.47 $49.9
Strega Nona

Strega Nona -- "Grandma Witch" -- is the source for potions, cures, magic, and comfort in her Calabrian town. Her magical everfull pasta pot is especially intriguing to hungry ...

$9.99 $2.07
Modern Kids' Books
New Treasures
When you grow up with such great kids' books, it can be a little difficult sometimes to let new books into your heart.
But that doesn't mean that there aren't tons of great, modern kids' books availble! Some are by the same authors and illustrators who produced picture books when you were little, and others are by a completely new crop of artists.
So how do you know what the best new kids' books are without scouring hundreds of current releases to find the diamonds in the rough? I've selected a few of the most highly rated books below, but you can also do some research into reviews online, or ask around for recommendations.
Another tactic for discovering new books for kids is to hit your local bookstore or library. Many cities also have book fairs (or people offering books at general holiday fairs) around this time of year. Don't forget you get bonus points for unearthing new local authors trying to break into the market.
Looking for something else? You can find more great modern kids' books here (on Amazon).
If You Give a Dog a Donut

If you give a dog a donut, he'll ask for some apple juice to go with it. When you give him the juice, he'll drink it all up. Then, before you can say "Woof" . . . Dog is off ...

$13.93 $14.35
The Artist Who Painted a Blue Horse

A brilliant new Eric Carle picture book for the artist in us allEvery child has an artist inside them, and this vibrant new picture book from Eric Carle will help let it out. ...

$15.3 $10.99
Llama Llama Home with Mama

Llama Llama, morning light.Feeling yucky, just not right.Down to breakfast.Tiny sneeze.Sniffle, snuffle.Tissues, please!Ah-choo! Uh-oh, Llama Llama's nose is feeling tickly, ...

$11.69 $8.95
I Want My Hat Back

A picture-book delight by a rising talent tells a cumulative tale with a mischievous twist.The bear s hat is gone, and he wants it back. Patiently and politely, he asks the ...

$16.99 $12.59
Grandpa Green

Product Description From the creator of the national bestseller It's a Book comes a timeless story of family history, legacy, and love. Grandpa Green wasn't always a gardener. ...

$10.99 $5.95
Book Accessories and Related Gifts
Improve the Reading Experinece
Sometimes it can be tricky to pick out books for children. Tastes tend to get more specific the older kids get, and unless you live with the child in question, it's not always easy to avoid duplicating an existing possession.
In that case, you might want to consider getting a book-related gift instead of a book. Luckily, there are plenty of things that fall into this category. Bookmarks, book totes warm and soft blankets to cuddle up in, booklights, and items that go along with a favorite book or genre are all good choices. (Let's just say that if the kid is into a popular series such as Harry Potter, there's no end to the merchandise that you can find to indulge his or her book love.)
Kitten Beaded Bookmark

''A cat's favorite place to nap is on whatever you're reading.'' Let this adorable feline welcome you back to your book! Accented with silver foil highlights, silky fuchsia ...

Only $2.95
Mighty Bright Green Xtraflex 2 LED Book Light

This LED book light comes Mighty Bright, leaders in the LED applications industry. Super compact and lightweight, this LED book light is ideal for travelers, students or ...

Blue Q - Marshall Shoulder Tote

I got two words for you, and they're nice and sticky sweet. Here they are: GET TOASTED. Art by 64 Colors. Made with 95% post consumer recycled material, the Marshall Shoulder ...

Harry Potter Gryffindor House Scarf (Purple & Gold)

This Harry Potter Gryffindor House knit wool scarf is an officially licensed product from the Harry Potter movies and features the official Gryffindor colors and crest! Scarf ...

Only $24.99
Electronic Book Gifts (eReaders)
Where Reading and Technology Meet
I'm one of those people who swore they would never switch from "real" books to eReaders. That's why I've surprised myself with my strong attraction to the Kindle Fire, the new wi-fi capable color eReader from Amazon. But really, it's not that strange if you think about it: adults and children alike live mobile, busy lives these days, and it's not easy to carry around one book, let alone a stack of them when you're not sure which one you want to read next.
If you've been considering getting a child a tablet, the Kindle Fire can be a great choice. It's about a third of the price of the iPad, and has a similar functionality. I even discovered recently that you can download library books directly to your Kindle.
I'm giving a shout-out specifically to the Kindle eReaders here, because it's really convenient to get eBooks off of Amazon. However, feel free to explore the eReader market to choose the one that you think would make the best gift.
Kindle, Wi-Fi, 6" E Ink Display - includes Special Offers & Sponsored Screensavers

The all-new Kindle - Lighter, smaller, faster - 30% lighter, less than 6 ounces - 18% smaller body, same 6" screen size - Fits in your pocket - Most advanced E Ink display, ...

Only $29.99
Kindle Fire, Full Color 7" Multi-touch Display, Wi-Fi

Movies, apps, games, music, reading and more, plus Amazon's revolutionary cloud-accelerated web browser - 18 million movies, TV shows, songs, magazines and books - Amazon ...

Only $199.00
Hope These Book Gift Ideas Helped...
... And That You Found Something for the Kids on Your List!
If you get a chance, there's a poll below and a comments section where you can make suggestions or just say hello :)
Which Idea Is Your Favorite?
Vote Here!
---
Disclosure: This page generates income for authors based on affiliate relationships with our partners, including Amazon, Google and others.