Movie Gift Ideas: Gifts for Movie Lovers
by emmalarkins
If you know someone who is really into movies, getting a movie-related gift is a great choice.
Get Great Stuff For People Who Appreciate Celluloid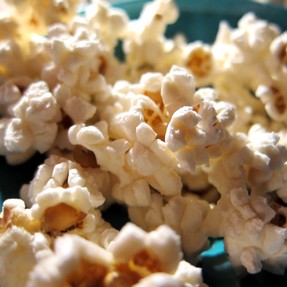 Love movies? Then you'll love the movie gift ideas on this site!
Movie-related gifts are good to get for all sorts of people, because just about everyone likes movies of one type or another. Another great thing about movie gifts is that it's fairly easy to suss out someone's interests without looking suspicious: after all, people have movie-related conversations all the time. Chances are good that you already have more movie-related knowledge about your friends and family than you think!
Image by Emma Larkins.
Popcorn Makers
A Most Delicious Gift Idea
A popcorn maker is one of those things that's great to have around the house, but that people don't always think to go out and buy. You usually only want one when you're slaving over a hot pan full of oil and kernels minutes before the movie starts, with your family yelling at you to "hurry up!" That's why poppers make great gifts.
Air poppers. This is the kind of popper that I prefer. Although I have no problem making popcorn on the stove, the convenience and healthiness of these poppers is often preferable. Plus they're just plain cool to watch!
Stove-top poppers. I always thought that a "stove-top popper" was just a pot that you add oil and popcorn kernels to. However, it turns out that you can buy bonafide poppers designed for the unique purpose of popping corn on the stove. Not too shabby for people who like that "roasted" taste.
Retro poppers. Now here's an awesome idea for a gift for someone whose home decor has a funky or retro vibe. Retro poppers make great, functional works of art.
Tip: Don't forget to include a bag of popcorn kernels along with your gift!
A Movie Service Subscription
Here's My Favorite...
After the whole fiasco with Netflix, I'm no longer as excited about their service as I was once upon a time. I'm now looking into Amazon Prime as an alternate movie subsciption site. The subscription is only $6.58 per month, and includes movie and TV episode streaming, along with perks like free two-day delivery on Amazon purchases and free Kindle ebooks.
A Homemade Movie Gift Basket
All the Awesome a Basket Can Hold
I'm big into gift baskets; I started off with writing a book gift baskets tutorial, and from there my interest has grown substantially. I just love coming up with themed ideas of things to put inside a container. Making a gift basket is also a great way to make less-expensive gifts look fancier and more impressive (just don't go overboard, as the costs can really add up!)
Here are some things to include in a movie gift basket:
Movies. Of course! Get creative with the films you decide to add to your basket. For example, people of all ages appreciate a chance to watch classics that they wouldn't otherwise see (I recently watched Casablanca for the first time, and really enjoyed it.) Something funny is also a good bet. Just make sure you know whether to get your recipients DVD or Bluray (or even VHS!)
Movie snacks. Watching a movie just isn't the same without the snacks. Throw a few bags of microwave popcorn and some boxes of traditional movie snacks into your basket to make a complete package.
Gift certificates or gift cards. Here's another neat idea: add a couple of gift cards or gift certificates to your basket that can be redeemed at a local pizza delivery place. Or, get creative and make your own gift certificates for delivering a pizza or taking the kids for an evening. Just make sure you're willing to follow through on any offers you make!
Casablanca

Casablanca: easy to enter, but much harder to leave, especially if you're wanted by the Nazis. Such a man is Resistance leader Victor Laszlo (Paul Henreid), whose only hope is ...

$15.0 $7.99
Mystery Science Theater 3000: Vol. XX

Sit back, when you're not doubled over with laughter, that is for four classic episodes of this hilarious Peabody Award winning series. Crow T. Robot, Tom Servo and your host ...

$34.23 $13.96
Snocaps On The Go Concession, 3.1-Ounce Boxes (Pack of 18)

Snocaps on the go concession, 3.1-ounce boxes (pack of 18) are delicious bite-size morsels of creamy, smooth Nestle chocolate covered with crunchy white candy sprinkles. Mmmm! ...

Only $29.4
Nestle Goobers On The Go, 3.5-Ounce Boxes (Pack of 18)

Goobers on the go concession are fresh roasted peanuts covered in Nestle' milk chocolate.

Only $37.5
Orville Redenbacher's Gourmet Microwavable Popcorn, Naturals, Buttery, Salt and Cracked Pepper, ...

Orville Redenbacher's Gourmet Popping Corn is the perfect snack to share with the family, and it's available in Movie Theater Butter, Butter, Butter Light, Smart Pop! 94% Fat ...
High-Tech Movie Equipment
Break Out the Big Guns
More is the big thing in movies nowadays. More sound, more explosions, more special effects, more tragedy, more triumph. If you want a gift that screams "MORE!" consider one of the following.
Blu-ray DVD players. Did your recipient recently purchase an HD TV and not have enough money left over to upgrade to Blu-ray? An updated player could be just the thing he or she needs. The great thing about a combo player that also plays DVDs is that you don't have to repurchase your whole collection.
Projectors. My family has owned a projector for years, and it definitely makes for a great movie-viewing experience, especially when there is a crowd involved (and you have an available wall space to project onto). Young kids especially will appreciate the magic of movie projection technology, and you can get a huge viewing surface for less than you'd otherwise pay.
Upgraded speakers. Movies are just as much about sound as they are about sight. If you've got a few hundred dollars to spend, decent speakers can make a very welcome gift. When making a purchaes like this, don't forget to do a lot of research first: some brands are much better than others.
Movie Memorabilia
Remember the Best
Some people are really, really into movies. Like scary into movies. Like they've not only memorized the script line for line and reconstructed the major scenes out of Legos; they've also attended conventions featuring their favorite characters, dressed as their favorite characters, hoping to get a signature from their favorite characters.
When giving gifts, this can be both a blessing and a curse. You can pretty much plan on scoring a home run with a gift relating to the object of your recipient's desire; but you have to make sure he or she doesn't already own one first.
Collectors Editions
In a Word... Definitive
Okay, giving a collector's edition can be tricky, as a friend recently pointed out. You have to be really sure that the person in question is really, really into the movie and would appreciate such a thing. In fact, you might even want to go so far as to ask outright. Still, it can be worth it to make the extra effort, because collector's editions can be something a person wants but wouldn't necessarily buy.
Hope You Enjoyed My Movie Gift List
Thanks For Stopping By!
If you're not in a hurry, vote in the poll or leave a comment below :)
My Favorite Movie-Related Gift Is...
---
Disclosure: This page generates income for authors based on affiliate relationships with our partners, including Amazon, Google and others.