Chicken In Wine Sauce with Rice Pilaf
by cardelean
Looking to change up your chicken dish? Here is the perfect recipe. It is fast, delicious and can be made with clean ingredients. Serve it with a side of rice pilaf.
Chicken in Wine Sauce Recipe
My mom used to make this dish when I was a kid.  As time has gone on, I make this for my family as well however I have made some adjustments over the years to make it a little more interesting.
Ingredients
1/2 cup of white wine
1 1/2 lbs of chicken breast
1 8 oz. can or box of cream of chicken soup
4 slices of Swiss cheese
1/4 cup of Italian bread crumbs
salt and pepper to season
Directions
Preheat oven to 350 degrees.
Place 4 cleaned chicken breasts in a 9 x 13 in. glass baking dish and season with salt and pepper.
Place a slice of Swiss cheese on each chicken breast.
Mix the cream of chicken soup with 1/2 cup of white wine and pour over the chicken.
Sprinkle the bread crumbs over the chicken pieces.  Put in the oven for about 30 minutes.
This recipe can be converted to a clean recipe by using organic white wine, organic, chicken breasts, whole wheat bread crumbs, organic Swiss cheese, and organic cream of chicken soup.  Most of these ingredients are readily available at most grocery stores. 
Chicken in Wine Sauce
A Photo Guide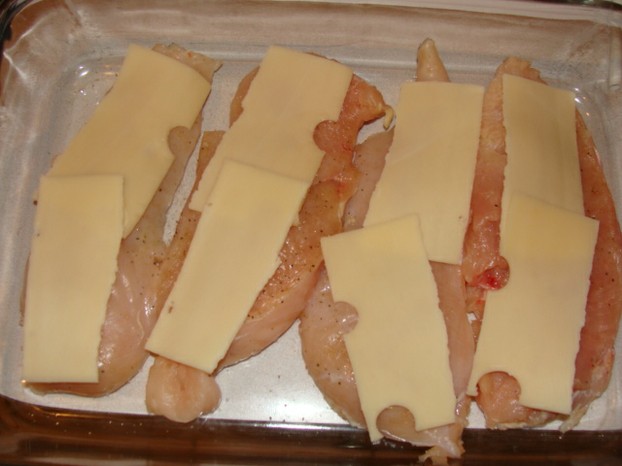 Season chicken and add cheese.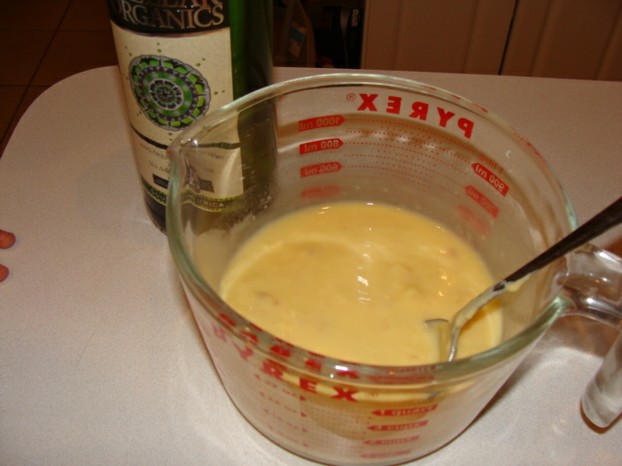 Mix wine and cream of chicken soup.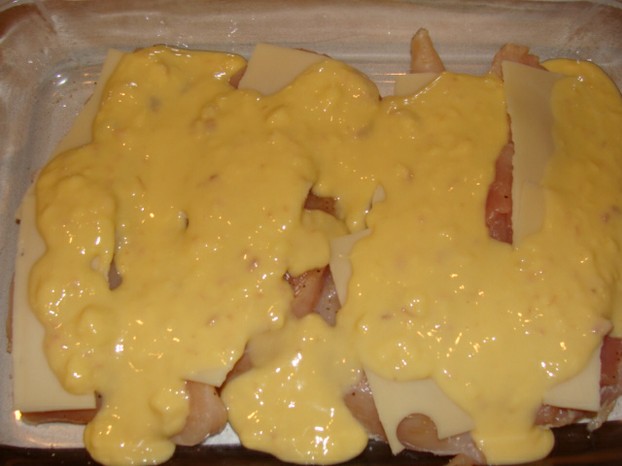 Pour over top of chicken breasts.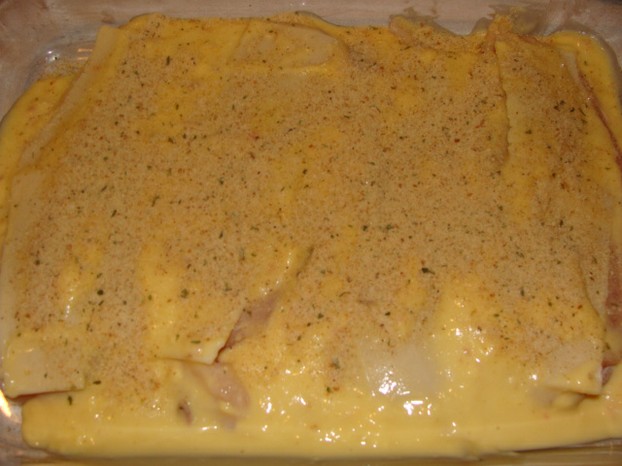 Sprinkle bread crumbs over top.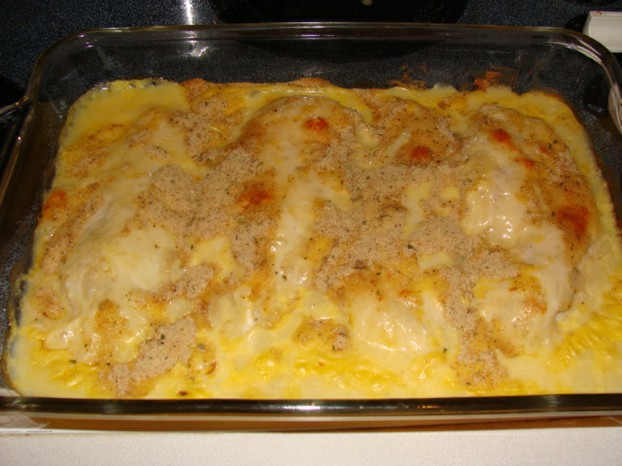 Cook for about 30 minutes at 350 degrees.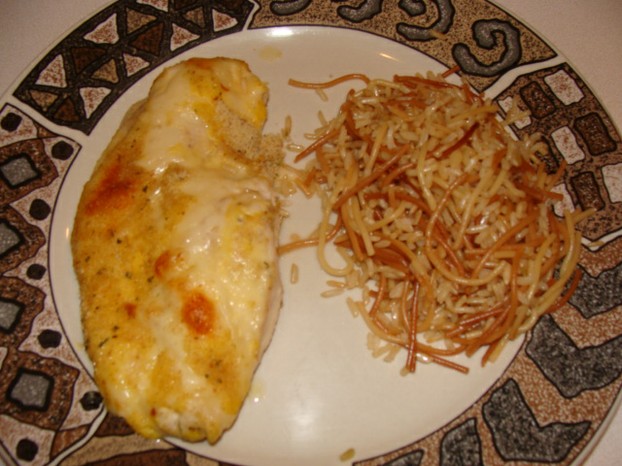 Serve with rice pilaf and your favorite vegetable!
Rice Pilaf Recipe
Rice pilaf is typical a side dish that you find in more Middle Eastern cuisine.  It is a simple dish that adds just a bit of something extra to traditional white rice.
Ingredients
1 cup of white or brown rice
2 cups of chicken broth
1 Tbs. of butter
about 20 pieces of thin spaghetti broken into about 1/2 inch pieces (a small handful)
*This makes about 4 servings.  For more or less rice, follow the directions on the package substituting the water for chicken broth and adding the browned spaghetti. 
Directions
Melt the butter in a pot and add the broken thin spaghetti pieces.  Cook until golden brown.  **This happens quickly and you don't want it to burn so watch this part closely.
Add the rice to the pot followed quickly by the chicken broth.  Bring to a boil, cover, and reduce heat to low.  Cook for the time indicated on package directions.  Brown rice will take much longer to cook than white rice.  Often I will use instant brown rice for the quickness of the meal.
Once it is finished, remove from heat and serve with your favorite meal.
Using brown rice and organic butter and chicken broth makes this a clean recipe that will be sure to add great flavor and interest to your next meal.
Clean Eating
Clean eating is a term that is used to define dishes created by natural, non-processed, whole grain and often organic foods.  After my husband's heart attack a few years ago, we took a close look at our diet.  Although I ate healthy most of the time, I realized that we needed to do more.  Not only for ourselves, but to set the example for our young children.  So even though we do not make every meal with clean ingredients, we try to as often as we can.  This includes using mostly organic foods, whole grain breads, brown rice, and fresh, non-processed foods.  So enjoy these recipes as they can easily convert to clean recipes.
Great resources for more clean eating recipes.
I hope that you enjoy adding this recipe to your collection of chicken dishes.  It is always a favorite in my home.  It only takes about 45 minutes to make from start to serving time and keeping it clean provides extra health benefits without sacrificing any of the taste.  Enjoy!
---
Disclosure: This page generates income for authors based on affiliate relationships with our partners, including Amazon, Google and others.