Chicken Mustard salad
by ForestBear
Simple & Easy chicken mustard salad recipe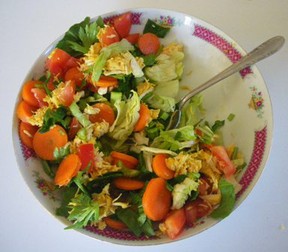 What to do with leftovers? Had a bit of chicken and veggies left in the fridge, so what better way is there to utilize leftovers than making a nice salad...
This chicken mustard salad is so unbelievably easy to make that it's almost a laugh. It's super healthy and no dressing is needed.
I made a few salads the other day and thought I would share it with you, so I took a few photos. Here is how to make a quick & easy chicken mustard salad along with some variations.
Chicken mustard salad recipe
The great thing about salads is that they are easy to mix and match, so if one ingredient is missing it's often easy to substitute with something else.
Chicken Mustard ingredients (serves 4):
Chicken meat (roughly 350-400 grams)
Iceberg Lettuce (1/3)
English spinach (3-4 small bunches; leaves and stems finely chopped)
Celery (4 stalks)
Carrots (3 large)
Tomatoes (4)
Mustard
Optional: add avocado
Method:
Break up the chicken meat (what ever you have leftover) in the small pieces and place in a small bowl.
Add a good amount of mustard (either a French Dijon mustard if you like it spicy or even a standard hotdog mustard will do, making it sweet and tasty) and mix it in with the chicken, so it's all nice and creamy.
Wash and chop up all the ingredients and add to a salad bowl.
Mix in chicken and add a bit of pepper, and voila a healthy and tasty salad!
This salad also works great with Salmon and Tuna and I often make those, so here is how to turn the Chicken mustard salad into Tuna and Salmon salads.
Salmon Salad recipe
Quick & Simple
So here's a picture of my recent salmon salad. All the above ingredients from the Chicken mustard salad stays the same, the only thing to do is to replace the chicken with salmon and add some lemons.
Squeeze and add a bit of salt and pepper, and serve with fresh bread. A Quick and simple lunch menu!
Naturally fresh salmon is the nicest, but you can also just use canned fish as I have done above. Just gently break the salmon into smaller pieces and add to the salad.
If you want to make a Tuna salad, simply add tuna (If using canned tuna, I find that tuna in oil works best as it adds more flavor, and works a bit like a dressing) instead of Salmon, and you have another variety.
Basic salads for everyday life
chicken, tuna, salmon
Lemon adds a refreshing taste to Tuna and Salmon salads and works well with almost any fish salad. Almost any greens or root veggies will do, so if you have any radishes such as Daikon, beetroot or Bok Choy they are also good to use in a chicken or tuna salad.
If you want to spice up the salad a bit you can also arugula (rocket) which has a stronger taste than the standard iceberg lettuce.
All three salads are very easy to make as they use basic ingredients also commonly used for juicing, and they are good way to turn leftovers into a healthy meal. No fancy ingredients or dressings required, just plain and simple food for everyday life.
Enjoy!
---
Disclosure: This page generates income for authors based on affiliate relationships with our partners, including Amazon, Google and others.