Orange Juice
by ForestBear
Simple & Easy Orange Juice Recipes
Fresh Orange Juice
a popular fruit juice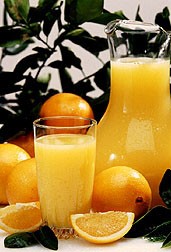 Orange Juice is probably one of the most common fruit juices to go on the breakfast table, but although commercial juices and concentrates taste good, a freshly squeezed orange juice tastes even better.
Making your own orange juice is super quick and easy, and as oranges are relatively cheap and have a high water content, they are well suited for making healthy and economical fruit juices.
There are many different types of oranges suitable for juicing, so here is an overview of the most common orange types, as well as some simple orange juice recipes.
Enjoy
How to make fresh Orange Juice
Making orange juice is very easy, all you need to do is peel the oranges, and run them through a juicer. Depending on the size of the chute of the juice machine, you may need to cut them into smaller pieces to fit.
If you don't have a juicer, you can also use citrus press, or simply squeeze the oranges by hand, and then run the juice through a strainer (unless you want the pulp). However, this method will not provide as much orange juice as if done using a juicer.
Making a Standard Orange Juice:
Peel and cut oranges (if required) and run them through the juicer, and voila a tasty fruit juice!
To make 1 glass of orange juice you'll need 4 oranges (approx. 120 calories), so use this as a basic guide.
Simple Recipes
with oranges
Oranges are great to mix with other fruits and citrus to create tasty fruit drinks, so here is a few ideas:
Orange Pineapple Juice:
1/4 pineapple
2 oranges
1 cup of strawberries
Orange Kiwi Juice:
1 grapefruit
2 kiwi fruits
1 orange
Orange Grapefruit:
Orange Mango Juice:
1/2 mango
2 oranges
2 kiwi fruits
Big Breakfast Juice:
2 green apples
1 lemon
1 orange
2 pears
Orange Pineapple Juice:
1/4 pineapple
1 cup of strawberries
2 oranges
Types of Oranges
There are many varieties of oranges and some of more common types are Navel, Valencia, Cara Cara and Blood oranges. Other members of the orange family are the sweet Jaffa oranges, and the smaller oranges with loose skin such as mandarins, clementines and tangerines.
Navel oranges are well suited for eating and juicing as they has no seeds. It peels easily and stands out in the produce aisle with its little "button" opposite the stem end. For the best taste and nutritional value, navel oranges should be juiced and enjoyed straight away.
Valencia oranges are thin skinned and are small to medium sized. They may have seeds and can sometime become partly green (again) if the weather is very hot. Fresh juice from Valencia oranges can be kept overnight in the fridge without losing flavor.
Cara Cara oranges look similar to other navel oranges, but they appear more pink/reddish inside. They are very sweet and work well as a snack.
Blood (Moro) Oranges are small to medium sized and have thin skin. They only have a few seeds, and sometimes none, and they are dark red inside. They have a strong flavor and are well suited for marinades, sauces, salads and dips.
Apart from the high content of Vitamin C in oranges, there are also other nutrients such as Vitamin A and folate, so there's every reason not to forget about the orange tree :-)
Happy Juicing
Juice Recipe Books
The Juicing Bible

A reissue of the bestseller that features 16 new, additional photographs. The first edition of The Juicing Bible won the 2000 International Cookbook Revue Award and has over ...

$13.99 $19.95
The Juice Lady's Turbo Diet: Lose ten pounds in ten days-the healthy way!

In this book, you'll discover not only the principles behind juicing, but the recipes to help you serve up freshly made juices and delicious raw foods as part of a lifestyle ...

$11.49 $1.24
The Big Book of Juices: More Than 400 Natural Blends for Health and Vitality Every Day

With some 405 recipes for fruit and vegetable juices, smoothies, and quenchers, this newly updated and expanded edition of Natalie Savona's essential kitchen guide to juicing ...

$21.95 $11.82
Total Juicing: Over 125 Healthful and Delicious Ways to Use Fresh Fruit and Vegetable Juices ...

A guide to juicing for health describes the benefits of juice to digestion, lowering cholesterol and blood pressure, and lowering weight and features more than one hundred ...

$15.4 $7.77
The Everything Juicing Book: All you need to create delicious juices for your optimum health ...

Don't eat your veggies, drink them! If you're one of the millions of Americans who doesn't get their recommended daily amounts of fruits and vegetables, juicing is the perfect ...

$13.0 $7.99
The Big Book of Juices and Smoothies: 365 Natural Blends for Health and Vitality Every Day

A collection of 365 juice and smoothie blends, this book gives readers all the nutrients they need for health.

$0.96 $9.98
---
Disclosure: This page generates income for authors based on affiliate relationships with our partners, including Amazon, Google and others.