Doraemon the iconic Cat
by ForestBear
Doraemon a legendary Japanese character. Here is the story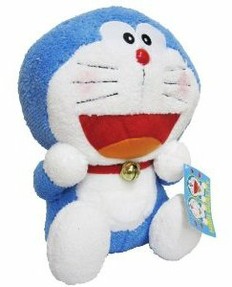 Doraemon is an earless Cat whose cute character and magic tools has captured the hearts of kids and adults for decades.
Created by Fujiko F. Fujio, Doraemon first appeared as a Japanese manga series in 1969, and has since then spread across the globe.
Doraemon is today considered a Japanese cultural icon, and has not only made it into manga, but also television series, animations, video games and film.
Almost any kind of Doraemon merchandise is available, with everything from plush toys to key ring accessories.
Welcome to the magic world of Doraemon!
The Storyline
and the Doraemon name
The Japanese name Doraemon (ドラえもん) is written in a funny combination of the two Japanese phonetic alphabets Hiragana and Katakana,  with "Dora" (ドラ)written in Katakana and deriving from "doraneko" (どら猫) meaning "stray cat", and "emon" in Hiragana, an element which often forms a part of boys names, although a bit old fashioned for modern Japanese names.
Doraemon is a robotic cat who travels back in time, to help a school boy named Nobita Nobi with his everyday struggles at school and in his local neighborhood.
In the original timeline Nobita Nobi had a miserable life with bullying, financial issues and natural disasters, so his great grand son sends Doraemon back in time to help Nobita and his descendants enjoy a better future.
Doraemon has a magic pocket with lots of funny gadgets and tools from the future which he uses to help Nobita fix his problems.
Sometimes Nobita and his friends misuse the tools, which gets them into trouble, but usually they learn a lesson, and good morals are taught!
Doraemon's Tools & Gadgets
Most of Doraemon's tools and completely made up, but some of them are general household items which have been fancied up a bit. Thousands of tools and gadgets have been featured throughout the Doraemon years, and is one of the reasons that adults also have a keen interest in Doraemon's funny universe.
Some of his most popular tools are the "Dokudemo doa" (the anywhere door), which will take you anywhere you want as soon as you mention the place, and the "taimu mashin" (Time machine) which enables Doraemon and his friends to travel back and forth in time. However they don't always end up where they planned, and the entrance to the time machine is via Nobita's desk!
Other tools include the "taimu furoshiki" (the time wrapping cloth) which depending on which side of the cloth you use, will make an item or person younger or older, and the small light which can make someone or something small, if flashed upon by the light. It only works within a short range, and is therefore not always as handy as it could be!
Other strange and funny tools from Doraemon's pocket is the fight gloves which makes a person fight with him self, and the "raining umbrella" which creates rain to fall only under the umbrella. Very handy indeed :-)
Doraemon Characters
Doraemon and Nobita are the two main characters of the story. Nobita is a lazy and unlucky boy who always gets into trouble, is late for school and does badly in all his tests, making his parents upset. He is always looking for an easy way out, and wants Doraemon to help.
Shizuka is the only main female character in the story, and she is well liked by all the boys. She is very kind, and is set to marry Nobita in the future, which she of course isn't aware of...
Dekisugi is the popular "perfect guy" with excellent grades who is smart and athletic. He is Nobita's main rival for Shizuka.
Gian (Takeshi) is the local bully who always picks on Nobita. His dream is to become a singer, and although he has no talent at all, he often forces other kids to listen to his concerts.
Suneo is the local rich kid who always shows off, and teams up with the big Gian bully. He often invites Gian and Shizuka on expensive trips, but always leaves Nobita out.
Dorami is Doraemon's little sister who only occasionally appears when Doraemon requires a "Robotic rest".
Other characters are Nobita's teacher and grandmother, as well as other faces which appear less frequently.
Although Doraemon, just like Hello Kitty isn't exactly new to the scene, he is still well liked among kids and adults in Asia, and enjoys great popularity worldwide, together with other characters, such as Rilakkuma, Totoro and Tarepanda from the "Kawaii" (cute) planet!
---
Disclosure: This page generates income for authors based on affiliate relationships with our partners, including Amazon, Google and others.