Cleveland, Australia
by lou16
Cleveland is a historical suburb in Queensland that in the 1840s was a serious contender to become the state capital over Brisbane.
Cleveland's History
Cleveland was first surveyed in 1840 and was named after the Duke of Cleveland, the township was officially established in 1850 and there are still some historical buildings from the 1850s and 1860s which can still be seen in Cleveland today.
Cleveland was a busy shipping community which resulted in the erection of the Cleveland Point Lighthouse in 1864 that was to replace a beacon that had been used from 1847 to help ships navigate all of the mudflats that surround Cleveland.  
Cleveland was home to a thriving farming community due to it's nutrient rich soil which earned the area the nickname "the salad bowl of Brisbane", it's also the soil that gave the area the name Redlands (first as a shire council and now as a city).
What to do in Cleveland
There is actually a historical trail which you can take around Cleveland now and it includes –
St Pauls Anglican Church
The Old Schoolhouse
The Courthouse
Cleveland is also the place to catch a ferry over to beautiful Stradbroke Island which is another Queensland place you should definitely visit!
On Sundays you can visit Cleveland's market which is always a great day out and you can grab lunch at a number of different cafes in the main shopping street where the market is held or you could visit the Sands Hotel for lunch.   Located at one end of the market the Sands often offers live bands/musicians in their outside bar area on Sundays and families are made to feel welcome while they enjoy seafood or bar food and each other's company.
Eating Out in Cleveland
Queensland, Australia
If you like to eat out then Raby Bay has a lot of places to meet friends for drinks and nibbles or dinner such as the Icon bar (very chic) or Hogs Breath Café (more down to earth) depending on the style you're after.   Personally I love to go to a restaurant called The Taste of Texas which has really good tex-mex style of food coupled with a friendly atmosphere.   I have read reviews that the service can be slow on Friday and Saturday nights, but I've only eaten at lunchtimes on the weekend and during the week in the evenings so I can't comment on those reports.
Another popular spot to eat at (or just enjoy a quiet drink) is the historic Grand View Hotel.   They have pergolas at the rear among their garden seating that you can sit in and eat your food with water views.   The food is great, the view is awesome, the only drawback is that it's very busy so you do have to queue up to order your food over the weekend.   Once the order is in though you can be sure of some great food – the duck dish is my personal favourite at the time of writing.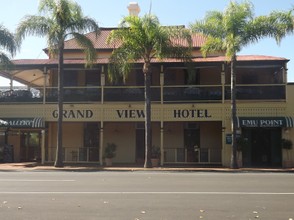 Grand View Hotel, Cleveland
The Grand View Hotel was built in 1851 so it's not like you're having any old 'pub lunch' if you decide to spend a few hours on a Sunday there – you're basking in history!
Want to Know More About Cleveland?
Cleveland is one of the major suburbs in Redlands City and there are activities planned around the year including fireworks displays, the annual Redfest (strawberry festival) and many more things.   To find out what's happening in Cleveland so that you can plan your visit well you should check out the Redland City website below –
Updated: 02/28/2012, lou16
---
Disclosure: This page generates income for authors based on affiliate relationships with our partners, including Amazon, Google and others.