Determining the Perfect Dining Room Furniture Based on Style, Use and Budget
by ProHomeTips
As the years go on, you'll find that many of your memories come from the long talks and family gatherings held in the dining room. This area of the home is different for everyone.
As the years go on, you'll find that many of your memories come from the long talks and family gatherings held in the dining room. This area of the home is different for everyone. Some families have every meal in the dining area, while others reserve this space for holidays and other special occasions. No matter how you choose to use this space, you'll find that the dining area is where families come together. With this in mind, you want the perfect furniture that will complement your family dinners, while keeping everyone comfortable.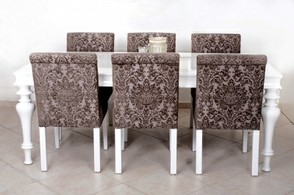 Modern Dining Room Table
Furniture is always an investment, and in most cases, you get what you pay for. While it can be easy to spring for a lower-priced piece of furniture, you'll find that it's not made with the same quality materials and won't last but a few years. Fortunately, you can get quality-made furniture for a fair price; all you have to do is invest a bit of time and patience into the selection process. Instead of springing for the first dining set that you like, be sure to evaluate the factors that will determine your overall satisfaction.
The style and appearance of the dining table and chairs shouldn't be much effort, as you probably already have a strong preference of what you like. Your dining set should fit with the rest of the room and the home, so take note of the colors and wood types that you already have. Natural wood tones are synonymous with casual and classic themes, while dark wood tones are consistent with elegance and sophistication. White and black hues are perfect for modern and contemporary décors, as well as glass table tops and simple, clean lines.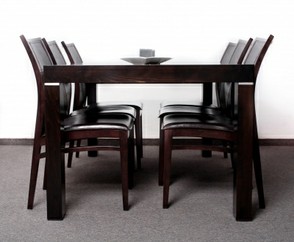 Dining Room Set
The style of the dining room furniture is important, but you'll want to consider the design and size of the table. Modern-day sets tend to focus on rectangular tables instead of circular ones, and this shape is perfect for long and narrow or square-shaped rooms. You can opt for a quaint circular table as well, which is perfect for small families. Circular tables are more awkward however, especially in rooms that are limited on space and require more seating.
The number of chairs is also of importance, so be sure to generous here. No one wants to lug out their folding chairs for every family gathering when they have a beautiful dining table to use. Some tables only come with four chairs, but others come with eight, which may be more practical for your use. With today's furniture taking on smaller footprints, you can have the modern set up of a square-shaped table with two chairs on each side. This type of table is conveniently sized to fit smaller spaces, while still allowing for eight chairs.
Decorating Ideas for a Living Room & Dining Room
The details in the dining set should reflect your tastes and the needs of your family. Padded seats are great for comfort, but if you have small children, they may be difficult to clean. Solid backs are ideal for support, but you may enjoy the design and simplicity of open backs. Tapered legs add character, while straight legs keep consistent with the clean lines of modern furniture. A higher table makes the room look taller, but it may not be practical in a home with young children. All of these factors should be considered in order to find the best dining set for your comfort and needs.
It's not just the dining room table that deserves careful attention, but other pieces that can bring the room together, add character and offer serving and storage space. China cabinets look like beautiful works of art that can hold antique dishes and fine China, while serving stations can be used to serve up meals right next to the table. Some buffet tables have open storage on the bottom that is perfect for showcasing valuables or bottles of wine, while other have closed cabinets. If you like to serve mixed drinks, you'll love a simple sideboard that keeps everything handy.
When you put your comfort, purpose and budget before everything else, you can furnish your dining room with a set that will surely be a worthwhile investment.
---
Disclosure: This page generates income for authors based on affiliate relationships with our partners, including Amazon, Google and others.