Dotee Dolls - Make and Trade Them for Fun!
by tandemonimom
The Dotee Doll (or Dottee Doll) was created by crafter named Dot - to trade, not sell! Join the club and make a doll for therapy and fun - and find a friend to trade with!
Dotee Dolls - What Are They?
What exactly is a Dottee Doll?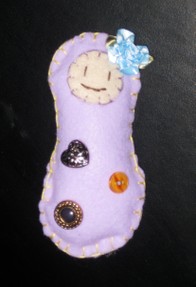 A Dotee Doll is a simple handmade cloth doll, usually about 4 to 6 inches in height. It is generally just a simple soft sack body with no arms or legs, and a drawn or embroidered face - but this simple body is your canvas to embellish to the limits of your imagination! Then, once your Dotee Doll is completed to your satisfaction, you can trade it to a friend for her creation!
There are online places to trade, such as Swap-Bot.com, or you or your daughter can trade with your own friends casually, or within another group structure such as Girl Scouts or a church youth group. The possibilities are endless!
How to Make a Dotee Doll
Easy-to-follow instructions to make your own Dottee Doll!
Dotee Dolls - Why Make One?
What's the point of these handmade, palm-sized dolls?
Dottee dolls are a great creative outlet that doesn't take a lot of training or time.
There is no right or wrong way to make a Dotee Doll! The more creative you get and the more personalized you make it, the better!
Anyone can make a Dotee Doll, even a beginning crafter or young child.
Even ugly Dottee Dolls are just too cute!
Hand sewing is very therapeutic, not to mention fun!
It's a great way to use up little scraps of fabric and leftovers from other craft projects!
Trading dolls with friends in real life or online is great fun!
Dotee Doll - How to Make Your First One
These dolls are so easy to make, and the more personalized and unique yours is, the better!
Felt is great for beginning seamstresses, as the edge does not have to be finished. A simple blanket stitch will hold the edges together with an attractive, folksy stitch. Choose matching or contrasting thread, depending on the look you want.
Draw or embroider the face, and sew it on with the same blanket stitch. Embellish with beads, feathers, bells - or buttons, as we did (see above).
Materials
Scrap fabric or felt
Embroidery thread and needle
Scrap ribbon and yarn
Feathers, fur, or doll hair 
Buttons, bells, bows
Any other embellishments you can find!
Have You Made Any Dotee Dolls?
Would you like to get started trading Dottee Dolls?
How to Sew a Blanket Stitch
The blanket stitch is a good way for beginners to sew front and back together.
Creative Cloth Dolls
These are more elaborate than the simple Dotee Doll, but still fun to make, and the book has lots of ideas that would look great on a Dottee Doll!
A Couple of Dotee Dolls
Two very different Dottee Dolls!
Printed Felt and Embellishments for Dotee Dolls
Printed felt sheets make colorful Dottee Doll bodies easy! And packages of small embellishments help beginning crafters who don't have boxes of scraps to dig through.
---
Disclosure: This page generates income for authors based on affiliate relationships with our partners, including Amazon, Google and others.