Eugenia's Lyrics Of Faith
With the lyrical meanderings of my pen is a glimpse into the inner being behind the face, through the eyes, which watch the world around me.
The Recesses Of My Mind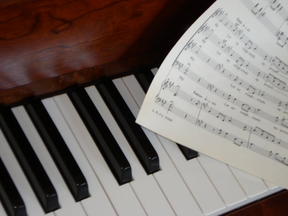 Whenever I write a poem, it is always based on something that is taking place in my life at that moment or something that has happened and left a remembered impression.
Many people have asked me over the years how I can just sit down and write. I can't just sit down and write. If I try to do that, nothing comes at all. I have to sit down and write the moment the thoughts touch my consciousness or they are lost. The words have to come first.
Our pastor laughs because, since I sit with his wife during service, she tells him that sometimes I am writing during his sermon. Actually, I am taking notes from the words he has spoken which will turn into a poem at a later time. He has threatened to have me read from them unannounced some Sunday morning. But you write when the words are there before you.
In Eugenia's Lyrics Of Faith, I want to share some of these thoughts with you. This selection is based on my faith in God. There will be others along the way like them. However, I do write of other things as well, as you will see in later articles.
Please, now, walk with me into the recesses of my mind and my memory, through lyrical verse.
The Approaching Storm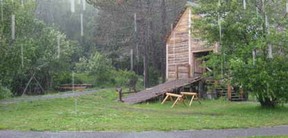 Softly, at first, I hear the rumbling of thunder off in the distance. A few scattered drops of water are tapping on the patio outside.
The sun, though it is still day, is fading under the guise of darkness, only peeking through the approaching clouds.
Slowly the drops of water become larger, leaving circles on the hot pavement. The scent of the approaching storm is in the air.
But, though the storm promises the strong force of nature, it is peaceful, as the lawn awaits the refreshing rain after the heat of a summer day.
I realize this is true of our time with God. After a day of struggling with our busy lives, our souls are refreshed by His strength and love, preparing us for another summer day.
My Time With God
by Eugenia S. Hunt
                                                                                          The quiet surrounds me
                                                                                           As the storm builds in the distance.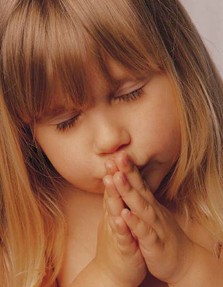 The hazy glow of the sun
                            Setting off to the west,
                            Its light slowly fading
                            As in rest from a long day.
                            The clouds roll in softly
                            With their promise of showers.
Quietly, at first, the droplets begin,
Leaving tiny circles on the sand.
The scent of a summer storm
Drifts softly into my senses.
In this moment, I feel peace,
As the gentle breeze carries the rain,
Renewing the land on which I stand
And breathing life back into its soil.
                Such is my time with God.
                The peace, the quiet, the renewal
                Of a soul tired from daily trials.
                Nurtured by His love of promise,
                Strengthened by His touch
                To a human heart slowly beating,
                Carrying me along the paths
                Of my walk with Him.
Renewal
I have found, when life deals me a blow filled with stress and concern, the best place to take my fears and needs is to the Lord.
Even amid the noise of my life, there is time for a quiet prayer and time with Him. When no one else does, He will hear and will renew your strength.
As we speak,
He calms my soul,
I feel His strength and power.
For He is there
To guide my thoughts,
To lead me through this hour.

I feel His hand,
Its gentle warmth,
It lifts me to my feet.
Again, I stand,
My strength renewed.
With Him, I am complete.
The Power Of Prayer
by Eugenia S. Hunt
With upraised head
And folded hands,
Upon my knees, I fall.
Unto His name
My prayer rings out,
For He will hear my call.

I lift my eyes
To lofty heights,
In wonder and despair.
My words are heard
'mid worldly sounds,
With Him, my fears, I share.
The First Step
"Happiness is a butterfly, which when pursued, is always just beyond your grasp, but which, if you will sit down quietly, may alight upon you." Nathaniel Hawthorne
There are moments in our lives where words should become silent. These are the times when happiness seems so illusive and beyond our reach.
Be quiet so that you may hear the solutions that are being spoken to you through the sounds usually missed in the light of day.
Sit Quietly, Listen
by Eugenia S. Hunt
Hear the gentle sounds,
They speak to you
Above the universe of noise.

Sit quietly, listen,
As the lake speaks your name,
Telling you of its secrets,
Whispers of a breeze floating o'er the trees.

Sit quietly, listen,
The bees hum their tune,
To calm and comfort you
Amidst the world's rapid resounding.

Sit quietly, listen,
As a butterfly lights upon you,
Bringing with it, happiness,
Enough joy to fill your soul.
Sit quietly, listen,
You can hear Him call your name,
Speaking in a whisper
His plan for you the same.

Sit quietly, listen,
A time before noise consumed,
He remembers still,
The hope He placed in you.

Sit quietly, listen,
As He reminds of whence you came.
This life He freely gave you,

His love for you remains.

Sit quietly, listen,
As He fills your heart once more,
All that He has in wait for you,
When you follow Him to Heaven's door.
Do You Remember?
As you sit quietly, and the sounds surround you, softly speaking, remember. Remember the wonder of God's world and the beauty in the simple things.
He has painted a picture of love for us to share and enjoy, if we will simply open our minds and hearts to the reality of it.
Man cannot begin to create the beauty that the Lord has given us freely.
And, with this, remember Him and be thankful.
I Remember You
by Eugenia S. Hunt
As I gaze, after twilight,
Into a moonlit sky,
Sharing tiny, twinkling stars
With clouds floating by...
Or when I lift my eyes
To look upon the hills,
Reaching out to touch
God's own windowsill...
When snow is softly falling
Upon a wintry scene,
The caress of a sweetheart,
Eyes caught in their dreams.
A baby's small, but perfect, face
Molded in God's sphere.
The chirping of a sparrow,
Its music in my ear.
Ocean waves as they pound
Their hands upon the shore;
Rainbow hues against the sky,
Arched toward Heaven's door.
A scented, summer rain,
Carried by the breeze;
Jesus, I remember YOU,
And fall humbly to my knees!
His Melody Of Words
Whenever I hear the old Christian songs of the past, they uplift me in so many ways. As the music rises and falls, I feel peace.
Their words are usually from the words of God taken from the Bible, our rule book for life.
When set to music, they touch my soul in a way that is measured by no other.
The melody lifts me up and His words hold me there, safe and sound from the perils of this life.
God's Medley
by Eugenia S. Hunt
My heart is filled,
My spirit in tune.
The melody I hear
As it fills the room.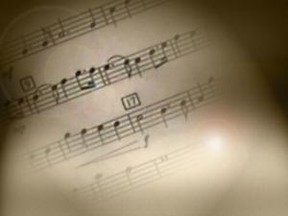 Engulfs me in joy,
Exciting my soul.
Through God given pleasure,
His love I behold.
As each note lifts
My heart to his hand,
I now lift my voice
And, with Him, I stand.
                Amazed in the wonder,
                My heart feels each beat,
                God's medley of music
                Heard, best, at His feet. 
Are You A Beacon Of Hope?
Have you ever stood on a cliff looking down at the water's edge? Maybe off in the distance, you will also see a lighthouse, either on the peninsula, jutting out into the water, or on a lone island further out to sea.
This lighthouse aids as a beacon of light to steer sailing vessels back into the shallow waters, and to the safety of the shore, at night or during a raging storm.
It is the same with God. He stands as a beacon to us to guide us through our lives, keeping us safe and out of harm, if we but follow His lead.
He also expects us to act as beacons for others, giving them guidance, directing those lost, back to His arms.
The Lighthouse
by Eugenia S. Hunt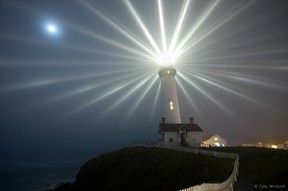 A beacon in the night
Standing tall above the waves,
Steady on Horizon's sight
In hope of lives to save.
Its everlasting watch
Withstands the storms of time,
Built upon a solid rock
Attuned to waters' rhyme.
So like this mighty lighthouse
Shouldering every care,
Steady in His love for souls
Head bowed in silent prayer.
Jesus stands upon a cloud
Offering a guiding hand,
Watching every step they take
Toward their fellow man.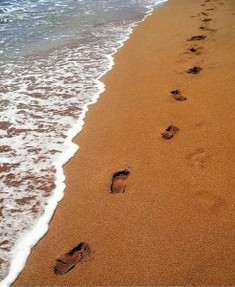 With eyes oft filled with tears
He views their feeble steps,
As they sit in silent watch
While souls, in sin, are kept.
To follow in His steps
Is all He asks of them,
To shine, a beacon, on the shore
For souls in need of Him.
---
Disclosure: This page generates income for authors based on affiliate relationships with our partners, including Amazon, Google and others.