Fantastic Mustache Jewelry for Cool People
by kab
If you are anything near cool, then you are a fan of the mustache. There are amazing mustache necklaces, rings, cufflinks, and more. Class up your outfit with a mustache!
Awesome Mustache Jewelry for Awesome People
EVERYONE wants a mustache, and now you can have one .... as jewelry!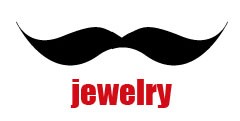 There is absolutely no reason why you don't have a mustache.  No reason at all.  Well, no good reason.  The mustache is the quintessential facial hair that marks a cool person as cool.  Without it, a face is just a face, but with a mustache, a face is a piece of living art.
However, not everyone has the ability (or time) to grow a sweet stache.  Ladies want a mustache, too.  No, not a Frida Khalo kind of mustache, a piece of mustache jewelry.
Now, you too can have a mustache handy whenever you need one.  Wear a mustache as a necklace or on a ring.  Wear two mustaches as cufflinks or earrings.  The possibilities are endless!
Awesome Mustache Necklace
Give youself the gift of stache! You deserve it!
Famous People With Mustaches
Amazing Mustaches From Men Who Made History
They Knew How to Rock the Stash!
You don't have to be Einstein to know that mustaches are super cool (although he clearly did know).  Just take a look at the kind of people who wore a super sweet mustache - Salvador Dali, Gandhi, Geraldo, Friedrich Nietzsche, Tom Selleck, Alex Trebek, Gene Shallot, Dr. Phil, Prince, a whole slew of dictators, Ned Flanders, Mr. Pringle, Chester Arthur, and Mr. Belvedere.
How can you not want to get in on that?
Handsome Handlebar Moustache Ring
Making Your Hand Respectable Again
Mustache Quotes
"It's magic. You just have to pet it, take care of it. You trim the mustache so it doesn't hang on your lip. Then you just make sure you stroke it and keep it nice." - Brett Keisel
"What I look for mostly in a man is humor, honesty and a mustache." - Sally Field
"I had a mustache when I was 13". - David Schwimmer
Trendy Mustache Jewelery Up for Auction
Find an amazing piece of mustache bling!
Okay, so you've seen the mustache jewelry, but still aren't sure...
Then, there has to be something wrong with you. Period.
If you have looked at the mustache jewelry and still don't at least want to own one, you have to ask yourself, "why?"  Do you not think you are cool enough for a mustache necklace? Because I assure you, I have web user video technology that took a photo of you just moments ago and it reported that indeed you are cool enough to wear a mustache necklace.  In fact, you may even cool enough for a mustache ring as well.
Antiqued Silver Metal Mustache Necklace
Mustaches for Mankind
The Charitable Endevours of Moustaches
Movember
Moustache growing charity event held during November each year that raises funds and awareness for men's health.
Mustach March
Just Grow It. Raising money for The MACC Fund (Midwest Athletes Against Childhood Cancer)
Fund-a-Stache
Donate to your favorite stache and the money goes to their chosen charity.
Mustache Cancer Foundation
Growing Mustaches That Save Lives Support this Cancer cause!
The brushed metal necklace above is my favorite of them all.  With the classic silver tone and simplicity of it, you could wear it with a t-shirt, business suit, or even a coctail dress.
Buy, guys, don't despair - mustache jewelry is not exclusivly for women.  You too can sport a hot little mustache.  What's more sexy than a mustache nestled in a mansweater?
Mustache Holidays
There are two very important mustache holidays to take note of.  One may be more appropriate for you than the other:
International Fake Mustache Day
You've got to love a geeky holiday!
What's The Best Facial Hair?
There's no wrong answer here. Okay, there is one wrong answer here.
Mustache Cufflinks
Nothing says professionalism like moustache cufflinks!
Further Reading for Cool People Who Understand the Stashtastic nature of the Mustache
(And stache skeptics alike)
Sexy Mustache Belly Ring
You know you want one. Admit it.
Mustache Necklaces
Customizable Moustache Designs
These necklaces below are absolutely amazing!  They have the perfect of a classic style mixed with modern oddball random geeky trendiness.  You can choose to have each design in either round or square design, and you can even personalize it with custom text if you choose.  Now come on...how cool is that?!?!? 
These are super cute! Any geeky gal would love one of these as a gift!
Wow! World Record Mustaches!
Amazing Feats of Mustache!
Bajansinh Juwansinh Gurjar of Ahmedabad, India has the longest recorded moustache.  Having not been cut for 22 years, it was 12 feet, 6 inches long in 2004.  That's one sweet stache! See the photos.
The World Record for most people with mustaches gathered in one place happened in after a Minnesota Wild Hockey game on November 26, 2010, when 1,131 mustached men got together on the ice in a Movember effort to raise awareness for men's health. See the photos.
However you spell it, it's still awesome!
How to you spell that bit of hair on one's upper lip?
Only logged-in users are allowed to comment.
Login
Five Ways to Ruin A Mustache
Sadly, it can be done.
Here are some things you can do to ruin a mustache.  I cannot think of a single reason why you would want to ruin a mustache, but if you did then here are your choices:
1. Make it assymetrical.    Symetry is critical to an amazing mustache.
2. Shave it.  A mustache sitting in a pile in the bathroom sink is the saddest mustache that ever was.
3. Set it on fire.    The smell is overwhelming, especially when so close to the nose. Plus it rarely looks right when the smoke settles.
4. Let it grow down over mouth.  Everyone loves a great walrus mustache, but if it is getting in your mouth when you are eating, something must be done about it.
5. Make it a home for lice (or fleas).  Nothing ruins a mustache quite like parasites. Keep it well combed and bug free.
What's Your Favorite Style of Mustache?
Pick your mustache style of choice!
---
Disclosure: This page generates income for authors based on affiliate relationships with our partners, including Amazon, Google and others.