Get your passport to Florida State Parks
by ohcaroline
Coming to Florida...don't forget your passport!
Your key to seeing the "real" Florida.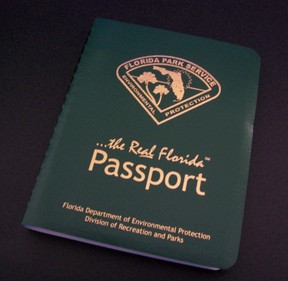 If you want to see the real Florida, you'll probably want to get a passport.  No! You're not leaving the country and you don't need official documentation as to who you are.  You'll want to get a Florida State Park Passport like the one in the photo.  It is your guide to what I call the real Florida.  If you've ever been out of your country, you know that your passport will be stamped by every country that you enter.  It is a documentation that you have been there...and done it, so to speak.  That's what you will find when you get your Florida State Park Passport.  It has a page for each state park and some useful information as well as a place to put your own notes.  When you enter each individual state park, the park ranger at the entrance gate will stamp that park's page with their unique stamp.  You use it as a guide to each park.  It's a very unique system that the Florida Division of Recreation and Parks uses to provide you with a travel diary of the parks that you have experienced.
A very useful guide to each state park.
Families can use the Passport to let their children plan a visit.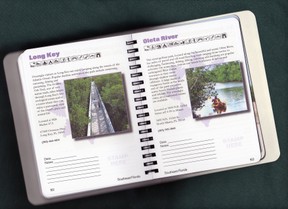 A feature that I really like about the Passport is that on each park's page just below the park name there is a row of symbols that let you know which activities are found there.  Page 5 of the book tells you what they mean if you aren't familiar with them.  For example, if you are looking for parks that have wildlife viewing...just look for the symbol with the binoculars.  The parks are shown by the area of the state that they are in to make it easier to select one that is in an area where you live or will be visiting.  There's a lot of very helpful information right at your fingertips about the state parks in Florida.
Have you ever visited one of Florida's State Parks?
Here's how to get one.
The Passport has been in existence for about ten years now and I think it's a wonderful way to introduce Florida residents and out-of-state visitors to the natural beauty of the state. There's no better way to experience Florida. I plan on visiting as many of the parks as time and distance permits. You can do the same. It's easy to get your own personal Passport. You can order it online at the Parks website. Better yet, find a park that you would like to visit and pick one up when you enter the park. The rangers will be happy to stamp your book and document your visit there.
My visit to Lake Griffin State Park is documented in my Passport.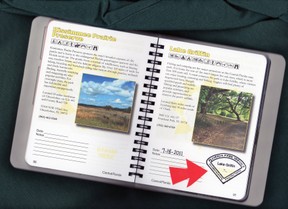 I have been to a number of Florida's state parks through the years; but I would like to go back and re-visit them.  I thought I would start with those closest to home and then venture out from there.  Yesterday I went to Lake Griffin State Park in Fruitland Park.  It's a rather small park by most comparisons; but it had something that I've wanted to see for some time...one of Florida's oldest and biggest trees.  It's a live oak that is over 300 years old and still standing.  The  trunk is 10 feet in diameter.  Using the pi equals formula, that means the trunk's circumference is approximately 31.4149 feet.  The tree is awesome.  Trying to photograph it is a challenge.   I will be writing more about this park in a separate article.  You can see in the photo where the ranger stamped the page for Lake Griffin State Park.  I've dated my visit and will be adding some personal notes about the park to help me remember this visit.  You can see my image of the tree below.

This couple has their entire Passport stamped.
This article was in the local newspaper that I found so interesting. It's about a couple who moved to the area to retire. They had lived in a log cabin in the woods of Maine before they retired. It only seemed natural that they would be drawn to the real Florida; so they purchased their Passport and set out to visit every state park. I've included the link to the article for you to read. The ranger in the photo is from Lake Griffin State Park where I visited yesterday. news article
Pennekamp Coral Reef State Park
Here's a sample of some fun in Florida springs and rivers.
Here's some great picnic gear to take with you!
Ad
Here are some things you may want to take on your state park visit.
---
Disclosure: This page generates income for authors based on affiliate relationships with our partners, including Amazon, Google and others.