Schefflera-actonophylla
by ohcaroline
The schefflera actonophylla tree is grown in tropical and sub-tropical areas of the world. It's the parent plant to the schefflera arboricola plant which is a common houseplant.
Schefflera Tree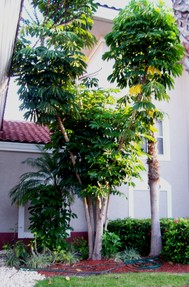 On a recent trip to the gulf coast of Florida I discovered several different trees and shrubs in the area that I had never seen before.  The most outstanding tree that I saw was outside the entrance to the Hampton Inn in Venice where I stayed.  I couldn't help but stop and take it in.  I knew it was a member of the schefflera family; but I didn't know that they grew to be tree sized. There's also a smaller schefflera to the left of the big one. I took pictures so I could identify it when I got home.  Being a self professed information geek; I wanted to learn more about it.  Here's what I found.
Schefflera Actonophylla is the botanical name.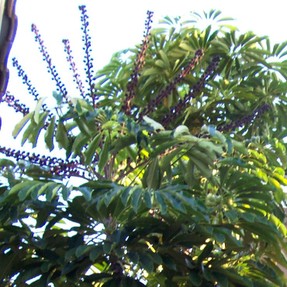 I have grown schefflera plants in the past and always liked their beautiful clusters of leaves.  These houseplant versions are called schefflera arboricolas.  They are the dwarf variety of
the schefflera tree which is the schefflera actonophylla.  This is what I saw at the hotel.  I
think most trees are beautiful...but this one really caught my eye.   I'm guessing it was about
30 feet tall and had stems of red fruit at the top (you can see them in the picture).  From what I
have read the birds and other small animals like to eat the fruit.  They also bloom in the spring and early summer.
These trees grow worldwide.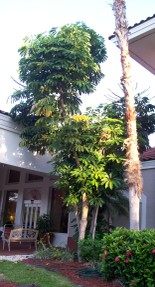 The schefflera tree is also called the umbrella tree and is very common in tropical to sub-tropical regions of the world.  They are found in Hawaii, Australia and New Zealand and Brazil. I've included some links below to sites that have a wealth of information and images of the trees.  It seems that this tree can become a very invasive tree; so I think you would want to plant it with care in regard to the surroundings. Caring for scheffleras seems to be pretty easy.  They do like a fairly sunny growing spot.   These trees are very hardy in that if they get nipped by frost; they will grow back in time.  They don't require much care other than cleaning up the dropped fruit.  Be careful not to overwater.  I can personally attest to killing some of the houseplant variety of scheffliera by watering too much.  Any type of general fertilizer works well with this plant.  Nevertheless, I think I would like to start a couple of trees from seed.  I probably will grow them in large pots to put on the patio and then prune them to keep them a good size.  If I do...I'll write an article to chronicle my success with it.
Do these trees grow in your neck of the woods?
Tree Books for Every Gardner:
Here are some links to sites that feature the schefflera tree:
---
Disclosure: This page generates income for authors based on affiliate relationships with our partners, including Amazon, Google and others.