Lake Griffin State Park Florida
by ohcaroline
One of Florida's five largest live oak trees are in this state park. This was my primary reason to visit the park.
I wanted to see the big tree at Lake Griffin State Park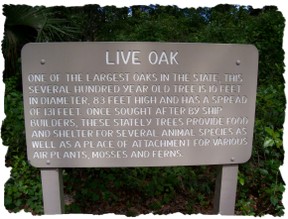 Lake Griffin State Park is one of Florida's smaller and possibly lesser-known state parks; but it offers a lot to it's visitors.  I live pretty close to the park and have wanted to visit it for some time.  It's about 15 miles from home so I headed out on a Monday morning to scout it out.  I thought it would be a good time to visit.  The most important reason I wanted to visit was to see the mammoth live oak tree that it is famous for.  I really enjoy reading about and seeing Florida's big trees.  I wasn't disappointed.  Here's what I found.
These are such majestic trees.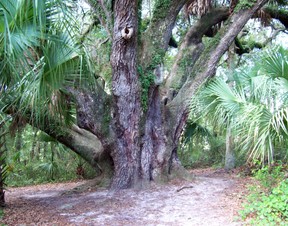 As I said, my primary reason to visit the park was to see the mammoth live oak tree.  I've read a lot in Florida's history that the wood of the live oak tree was coveted for use in shipbuilding.  I imagine there would be many more trees standing today had they not used the oak wood for shipbuilding.  Fortunately many were preserved for us to enjoy today.  Live oaks are wonderful shade trees as their limbs grow outward and not so much upward.  They will in time get tall...but their width usually surpasses their height.  This is what gives them their stately beauty.  The wood's density is the heaviest of all oak trees.  This particular tree is over 300 years old and stands 83 feet tall and 131 feet wide according to the sign.  The trunk's diameter is 10 feet which means it is approximately 31 feet in circumference.  When you stand in front of it and look up, you have a great sense of history.   The tree is located in a hammock which is a knoll or mound.  I wanted to get some great photos of the tree; but that is a challenge given it's size and spread.  The tree is awesome!  I hope you enjoy the photos of it.
Campsites, nature trails, picnic pavillions.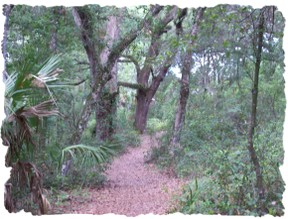 Lake Griffin State Park has activities for the nature lover and outdoors enthusiasts.  They have roughly 40 campsites for all type of campers from tent campers to drive-through spaces for rv-ers.  It has a picnic pavillion and picnic area with all the amenities you would need for your picnic.   I enjoyed the half-mile trail through the woods.  There were benches along the way to just sit and enjoy the peaceful surroundings and listen to the birds. This is a picture of the nature trail.  I think this park would be a great place to come and stay a few days.  It didn't seem too crowded and there's plenty of activities to do while you camp out. 
These waters are a fisherman's paradise.
Big-mouth bass, crappie abound.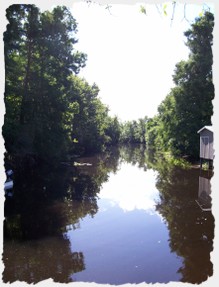 The park has access to the Chain of Lakes in Lake County by way of the Dead River canal at the park.  If you aren't familiar with the Chain of Lakes, there are 9 lakes that are connected by way of canals to each other and covers over 76,000 acres of water.  Lake Griffin is the where the lakes connect to the Oklawaha River that runs north winding through the Ocala National Forest and eventually to the St. Johns River all the way to Jacksonville.  These lakes and rivers are fabulous fishing waters.  You can fish right on the banks of the Dead River at the park or you can launch your own boat to do some fishing.  If you like to see the wildlife along the river, you can rent a canoe and get a close up view of the wildlife.
Don't even think of swimming here!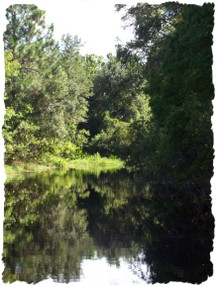 The only activity that is missing at this park is swimming.  The gator population is too great to even think of doing it.  When I was selling real estate in Lake County a few years back...I spent a lot of time driving around the lakes in the area; and I can speak first hand of seeing very large gators swimming in the Chain of Lakes.  I would recommend taking part in their campfire circles that are held from January through April.
Have you seen some of Floridas big live oak trees?
Why not visit some of Florida's State Parks.
Find the real Florida!
If you are interested in visiting this state park or any of the other Florida State Parks, I recommend that you get a Passport. You can read more about it in detail. 
State Park and Outdoor Guides for Florida visitors.
Now this is how you set up a campsite!
Get away and go camping!
Your family will love it.
Related reading links to enjoy.
---
Disclosure: This page generates income for authors based on affiliate relationships with our partners, including Amazon, Google and others.