Tanzanite Gemstones | Tanzanite Jewelry | Tanzanite
by ohcaroline
Tanzanite gemstones are only available in limited quantities!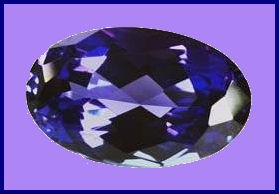 Tanzanite gemstones are some of the most beautiful stones on the earth.  They are more rare than diamonds; but I wouldn't say they are more beautiful. These gemstones are only available in limited quanities. Tanzanite gemstones are a member of the zoisite gem family.  I think they are truly awesome.  I do own some tanzanite earrings...but they are not what you would call the highest grade of tanzanite.  The truly beautiful ones are very costly and in high demand.   I have been fascinated by this gemstone since I worked in a jewelry business.  I'm fond of quite a few gemstones; but this one is a standout in my books. 
(public domain image)
Do you own any tanzanite gemstones or jewelry?
Where did tanzanite come from?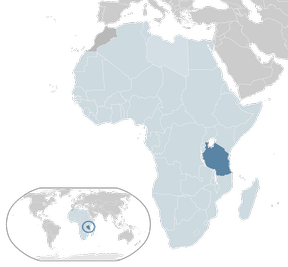 Tanzanite was originally just called blue zoisite; but when it was exported to Tiffany's in New York City, they didn't like the name and decided to call it Tanzanite because it was originally discovered in Tanzania.  It is basically a newly discovered gem.  Local countrymen there discovered it in the late 1970's in the region of Mt. Kilimanjaro.  It's believed that when Mt. Kilimanjaro erupted it opened the underground area when it had been laying dormant for thousands of years and spewed the crude gems in the local countryside.  The locals collected them and took them home until they were eventually introduced into the marketplaces.  (photo credit: wikipedia creative commons)
What do you think of these pieces of jewelry?
These are lovely tanzanite pendants:
Tanzanite is now an official birthstone!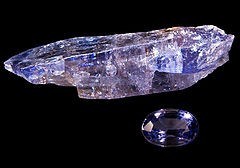 Tanzanite has just recently been designated as a December birthstone along with the topaz gemstone.  I doubt it will ever totally replace the topaz.  Tanzanite gemstones are graded with the same criteria of color, cut, carat and clarity.  The most important being the color.  The truly rare ones are a rich dark blue with violet accents.  These are classed as AAA and as the colors decrease and become lighter the rating goes down to A, B, and C. The color quality will dictate the price of the tanzanite...but don't let that deter you from owning some tanzanite jewelry.  It is, even in it's lowest quality, a very striking gemstone.  In fact man made tanzanite jewelry is also very beautiful and desirable.  I say this because few people will be able to afford tanzanite jewelry in it's finest quality. If you enjoy wearing gemstone jewelry, you will want to include some tanzanite in your collection.   (photo  credit: wikipedia creative commons)
Some suggestions for purchasing tanzanite stones and jewelry:
Buying and acquiring tanzanite gemstones and jewelry isn't difficult.  If you are interested in them as an investment, then I would recommend purchasing them from the investment sites online.  If you want to simply add tanzanite jewelry to your personal collection, it can be purchased from any number of stores and websites.  I wouldn't hesitate to buy some from Amazon.com because your purchases can easily be returned if not to your satisfaction.  I've done well buying from them and have even returned a pair of shoes that didn't fit properly with absolutely no problem.  Don't ever hesitate to buy anything from Amazon.  This is an excellent place to purchase jewelry from. My favorite place to buy tanzanite stones from is Ebay.  I have purchased numerous stones there and for the most part have been very satisfied.  I usually just purchase the cut stones and have a jeweler set them for me.  This gives me the choice of settings as well as the cut of the gem.  If you like gemstone jewelry, my advice is to add some tanzanite to your collection.  You'll be very pleased to wear tanzanite jewelry.
You might also like
Jade Colors
Understanding a little about jade colors and jade origin and deep traditional...
Wire Wrapped Jewelry
Wire wrapping is a special technique used to make jewelry by hand.
---
Disclosure: This page generates income for authors based on affiliate relationships with our partners, including Amazon, Google and others.