Football Themed Party Supplies & Decoration Ideas
by Tehreem
Find everything you want to organize a Football Themed Party right here.
Plan a Perfect Football Party!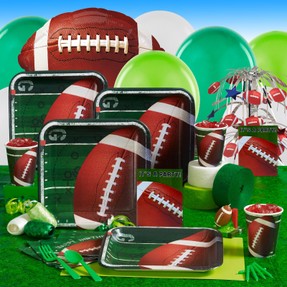 Football Party Theme will be great for throwing out a victory party or you can choose it as your birthday party theme for your son's upcoming birthday! Whatever you want to do, we are here to help you plan the perfect football party.
There are a lot of ideas to choose from and a lot of decorations to put up. This site will help you plan a perfect party by guiding you for a party bash in just 7 simple steps!
Follow the guideline given below and you will throw the best party ever in no time at all! Ready, Set, GO!
What do you need to do to start?? Get Organized!
Here's what you need to do...
Step1: Get your invitations ready and sent.
Step 2: Choose your Football Cake or Cupcake.
Step 3: Get your Tableware ( It includes plates, glasses, napkins, table covers etc)
Step 4: Get the decorations.
Step 5: Plan what games you want for your little guests  entertainment.
Step 6: Prepare goody bags for all the kids who will come.
Step 7: ENJOY!!!
Step1: Football Party Invitations
Invite your guests over with a style!
Party invitations need to be sent out 3 or 4 days before the party so you can get an idea of how many guests you will be entertaining. This will help you a lot in getting all the stuff organized. You can make your own party invitations or get some ready made invitations and personalize them if you don't have enough time. There are a lot of different party invitations on the market to choose from. Featured below are some of the Football Party Invitations available on Amazon.
Football Party Invitations on Amazon
Step 2: Pick Out Your Football Themed Cake!
It should be a Party stopper!
Decide what cake you want for your football party. You can order a cake from a bakery telling them the style and decorations you want to put on it or you can make a cake yourself. If you are planning on baking the cake for your party you don't need to worry much about how it will turn out. A number of edible and non-edible cake decorations are available nowadays for home-bakers.All you need to do is bake the cake you want and put some icing on it. The decoration will take a minute!
Edible cake images will look good on cakes. Or you can set cake toppers on your cake with the name of birthday boy. You can even bake different shaped cakes using cake pans available easily in market. Check out some of the ideas given below.
Football Cake & Cupcake Decorations
Choose Wisely!
The best football cake and cupcake decorations available on amazon are featured below. The Wilton Football Topper Set contains 1 cake topper in the shape of a helmet, 6 candle holders, 6 long candles and 1 packet of Decals. these will look fabulous on your home made cake.
The second product contains a cake topper sheet with 2 football figurines and 2 yellow goal posts, ideal for a football lover. Or there is a set of NFL cake and cupcake decorations for a NFL fan. they will look fantastic on your cakes. Choose according to the taste and likes of the birthday boy. This will surely make him happy!
Football Cake & Cupcake Toppers on Amazon
Wilton Football Topper Set With Decals

$7.65 $5.99

Football Player Cake Decorations
NFL Lay-on Cake/Cupcake Decorations
Football Cupcake Rings 12 Pack

Only $2.44

Football Cake Toppers - Set of 9
Football Cupcake Picks - 12ct

Only $2.49
Step 3: Football Tableware
Make sure you have enough tableware for all the guests!
The tableware you choose for your party should be according to the theme set, in this case Football, table napkins, plates, cups, spoons, forks and a center piece (Optional!) are basic things you would require. Just order enough of them for one or two unexpected arrivals!
The party pack shown here contains, napkins, plates, spoons, knives, forks and glasses (all disposable) with football theme. It will be enough for 24 guests. You might want to order more than one if you have a long guest list. A table cloth and pennant streamer are also included in the pack.
Step 4: Football Party Decorations
Time to decorate your party place!
Decorate your party room with balloons,banners and wall decorations. Pinatas will make a lovely addition to your party. The kids will be excited to pull the string and get all the goodies that fall out.
Balloons are a must for birthday parties. The NFL balloon pack featured here contains different shaped balloon. Officially designed Buffalo bills football will also look good floating in the room. Blow 'em up!
The All-Pro Wall decorations will add more glamor to your walls and a photo prop will be perfect to compliment your football star! These party decorations can be saved for next time uses, so you don't have to worry about all your money being wasted.
Blow the balloons and Decorate your walls!
Step 5: Prepare Football Themed Activities For Your Guests
You don't want to bore your guests, Do you??!!
The party will last for at least 4 or 5 hours. The little joy-seekers will wreak a havoc if they don't have some activities to focus on!
Different games can be planned for their entertainment. Musical chair, passing the pillow or a treasure hunt are always a good option but why not try something different this time?
Football toss game and Pin the football are two games which you might want to consider. These games will keep the kids entertained and will compliment your football theme perfectly. They also won't be heavy on your pocket and don't require much assistance! Football card game will be loved by children of 8 years and above.
Don't forget coloring pages!! A bunch of football coloring pages are always an easy way to keep the kids busy.
Step 6: Football Party Favors and Goody bags
Thank your guests for coming! it will make them feel good.
A little thank you note or a small goody bag will put a smile on your kids friends and they will love to have a souvenir to remember your party.
First you need to get goody bags to fill in. A lot of cool goody bags are available in market and you can choose which one you like. The best way to fill goody bags is to collect a variety of small items and fill the bags with them. Stickers, decals, little toys etc will be loved by all the kids. Football wrist bands are very popular in kids now a days. they will make a good addition as party favour.
What i personally liked are these little rubber ducklings which squirt water from their beaks. these lovely little ducklings are ideal for pool-parties, as cake toppers or party favors. They cheer you up by just looking at them! cheer-leading ducklings are for girls while football duckies are for boys. Make sure you get them!
Football themed Goody bags
Fill them up!
Squirting Duckies!!
Have fun with these awesome party favors!
Step 7: ENJOY!!
Watch the kids enjoy the party and join in the fun!
You did it!! Now all you have to do is look over the kids and guide them through their games. Cut the cake, have fun and Enjoy! You can relax afterwards when the party is over and all the mess is cleaned up ;)
---
Disclosure: This page generates income for authors based on affiliate relationships with our partners, including Amazon, Google and others.