Golf "Fore" Ever - Tribute to Roly Brault, Former Golf Pro & Course Designer
by traveller27
A tribute to Roland(Roly) Brault, former Canadian golf professional, golf course designer, and collector of golf memorabilia.
Meet Roly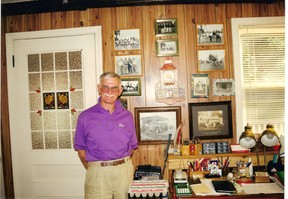 Roly greeted guests with an eagerness and curiosity - he was always keen to strike up a conversation. An advocate of learning new things at any age, he was always keen when it came to learning something new and quick to remind us that reading, mental activity, and a youthful attitude would keep you young. Even in his late 80s and early 90s, his brisk gait, upright stature, and quick wit defied his age.
The decor of his home was a reflection of the fact that he was more than just an avid golfer. His passion manifested itself in mounted photographs, trophies, antique golf clubs and memorabilia, books, wallpaper and upholstery. Golf infiltrated his speech; he often used analogies that pertained to golf. With over eight decades of golf behind him, he could easily recount rounds, matches and shots played decades earlier. His meticulous record keeping validated his memory's accuracy; a total of four scrapbooks store his memoirs - newspaper clippings, score cards, details of key competitions, and photographs dating back to the 1920s.
Early Years
Roly was born into a golf milieu. His father, Olier Brault, was the first professional golfer to be of French Canadian descent. Olier was pro at the now defunct Westmount Golf Club in the province of Quebec in 1909 and 1910 and was a Charter Member of the Canadian Professional Golf Association (C.P.G.A.) held at the Royal Ottawa in 1911.
Roly was born in September 1915, in Baie-des-Sables, Quebec, during the time his father was the local golf professional in Métis Beach. He was encouraged to play the game at an early age.  A 1921 photograph shows six-year-old Roly playing his first nine holes of golf. Shortly thereafter, Olier's work as a golf pro took him to New England in the United States, where Roly would spend most of his formative years.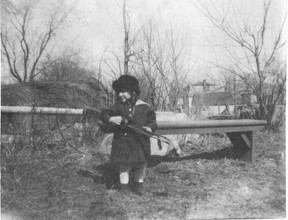 He both played the game and availed himself as a caddy. Due to his caddying and his father's professional status, as a youth he never had to pay to play golf. Even at age twelve, young Roly demonstrated remarkable ability when he won his first junior tournament in Watertown, New York. At age 14, he qualified to play in the Vermont Amateur. At 15, he once again qualified for the Vermont Amateur and also set a course record at the Barre Vermont Country Club with a score of 71. This led to his being invited to participate in an exhibition match along with three New England professionals. Roly was paired with Dave Hackney, New Hampshire Open Champion. They partnered against Henri Cuici, noted New England pro, and Jesse Guilford, former U.S. Amateur Champion. The match ended even. In 1932, at age 16, he won his first important tournament at the Burlington Golf Club in Vermont with a score of 71. A photograph of a youthful Roly shows him demonstrating fine form in a pair of fashionable knickers.
The 1930s and 40s - Memorable Times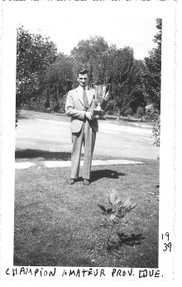 The 1930s were to be a memorable decade for Roly. He became a three-time winner of the Eastern Townships Amateur in Quebec (1936, 1937, 1938) and in 1939 he became the first French Canadian to win the Quebec Amateur Championship. That same year, he was a member of the prestigious Wellington Cup Team representing the province of Quebec.
Roly's golfing career was put on hold during World War II, but following the war years he played what he described as the "best golf of his life." Third place was his in the Canadian Open of '46 and he was to reach the quarter finals of the Canadian Amateur that same year. Additional highlights include a string of course championships, local/invitational tournaments, and course records.
Pro Years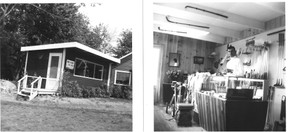 Roly turned pro in 1950 and spent six years in St. Hyacinthe, Quebec, as well as nine years at Granby Miner Golf Club in Granby, Quebec. It was during his time in St. Hyacinthe that he met the young lady who was to become his wife - she had called the pro shop to book a golf lesson and that's how they first met. They were married in 1955 and together they raised three daughters. While the girls were growing up, many Sunday afternoons during the summer were dedicated to golf as a family activity.
As a professional, Roly won the International in St. Johnsbury, Vermont, in 1954. He won the Eastern Townships Open in Sherbrooke, Quebec, in 1955 and this was followed by the Sorel Open (O'Keefe) in '56. Roly relinquished his professional status in 1965. To reinstate his amateur status, he didn't officially compete for eight years.
Senior Golf
In 1973, Roly was now a senior player ready to strive towards a new set of goals. At age 58 he was the Cowansville Golf & Country Club champion. He conquered the Eastern Townships Senior Championship three times (1977, 1980, 1983) and won his age group in the Montreal District Senior Championship in 1983. In 1987 and 1990, he won his age group in the Eastern Townships Senior Championship. He was victorious in a 1992 local field day with a score of 72 that had been played in the rain. At age 79, he was the runner-up in a local competition with a 72. In his 80s and early 90s, Roly still enjoyed golfing with friends and family - usually using a cart, but occasionally playing a few holes on foot. He often went to the club to "talk golf" and to walk on the course. In the summer of 2010, at age 94, Roly played his last few rounds of golf.
In passing, even with this much golf savvy, Roly had to wait until he was 64 to make a hole-in-one. At that time, he had been golfing for 58 years.
One of his best rounds as a senior golfer was played at age 67 at the Granby Miner Golf Club. He played a 28 on the front nine (that's right - 28) and finished with a 69 for the round. From the age of 67 onwards, Roly played his age or less more than 150 times.
Golf Course Design
Roly contributed to golf not only via his tournament accomplishments, but as a golf course designer as well. He drew the plans for the second nine in St. Hyacinthe, Quebec, during the time that he was pro there. In 1958, he designed a new course in Farnham, Quebec. In 1960, he transformed a nine-hole course into eighteen by using double tees at different distances and angles of play, that is, eighteen tees with nine greens. This proved to be very popular and has since been adopted by other nine-hole courses in the Eastern Townships.
Golf Memorabilia & Knowledge
Roly also had a passion for collecting golf memorabilia, which included collecting and repairing antique golf clubs. A set of antique golf clubs made by his father was one of his dearest treasures as was the stamp that was used to create the emblem on those clubs. Roly also had antique golf balls and tees, as well as a painting of the clubhouse in St. Andrews, Scotland, which had been painted by his brother Michael using a postcard as a guide.
Roly had an in-depth knowledge of the history of golf and had proof that the Romans were playing golf sometime around 1200 A.D. "It was the Scottish who added the dimension of having to get the ball into a hole dug in the green, and not simply hitting the ball on a post." Although Roly never travelled to St. Andrews, Scotland, "home of golf", he was able to describe it with surprising detail due to his extensive reading. He was also knowledgeable regarding famous golf courses around the world and had a collection of score cards which he had obtained through the travels of family and friends or by correspondence. 
Not Just Golf: Other Interests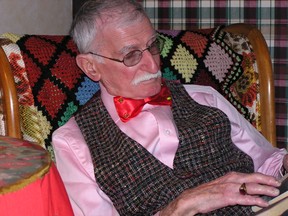 Roly's interests also encompassed history and geography, which manifested themselves in his extensive National Geographic collection. He was also interested in antique automobiles. A talented gardener and interior decorator, he was also an avid listener of classical music with a penchant for Italian opera. He particularly enjoyed listening to the great Italian tenor, Enrico Caruso.
Roly was musically inclined and liked to sing old Scottish songs with a convincing Scottish accent. He had learned these songs from his father, Olier, who had learned to play golf, speak English and sing Scottish songs from two Scottish golfers he'd known in his teens. He also played the harmonica and would sometimes play at family gatherings.
Roly loved to dress in style and was renown for wearing colorful outfits and hats to play golf or to attend various outings and events. He was also known for his extenisve tie and bow tie collection - at one point he owned over 300 ties - of course, some of these had golf motifs.
Remembering Roly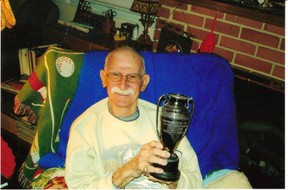 Roly left us in April of 2011 after a short battle with cancer, at the age of 95 and seven months. Up until just days before his passing, he was still able to discuss music, geography, history, and of course, golf.
Roly had been invited to attend the 100th anniversary of the C.P.G.A. in Ottawa, Canada, in July 2011, but sadly, he left us less than three months prior to the event. Roly's contributions to golf have been acknowledged in two books pertaining to Canadian golf. He is noted in "Golf in Canada: A History" and "Canada's Professional Golfers", both by James A. Barclay, who passed away in December of 2011. 
---
Disclosure: This page generates income for authors based on affiliate relationships with our partners, including Amazon, Google and others.