Grinch Hat
by nickupton
Grinch hats are ideal for fans of Dr Seuss's most grumpy character. Here are some Grinch hats for a cold day, for the kitchen and something special for Halloween!
The Grinch - Who Is He?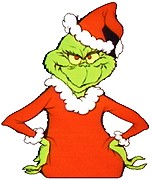 The Grinch is the grumpy, Scrooge-like, character who stars in the Dr Seuss book, "How The Grinch Stole Christmas". This enduring book has also been adapted into a cartoon and a movie, which starred Jim Carrey.
The Grinch lives in isolation on Mount Crumpit and despises the happy Whos who live in the nearby town of Whoville. The Grinch decides to spoil Christmas for the Whos by stealing their Christmas gifts, but is eventually redeemed by a young Who called Cindy-Lou.
Whilst the Grinch is a miserable and grouchy character, there is also something loveable about him which has made him one of Dr Seuss's most famous characters.
How the Grinch Stole Christmas!

The Grinch hates Christmas and everything it stands for so he plans to spoil the Whos' celebrations by stealing their Christmas gifts.

$16.99 $5.50

This one is my favourite. Keep you head and ears warm with this Grinch hat with ear flaps and tie-ups. I have a hat like this of a Panda that I bought in Thailand when a baby Panda had been born in the zoo and everyone had gone Panda mad. However, this evil-eyed Grinch version may just be the thing I need to replace my old Panda version.
One thing I can guarantee from experience is that when you wear a hat like this you will get attention. If that is what you like, then this Grinch hat is for you!
Something To Wear To Keep You Warm
A Warm Grinch Hat
Grinch Face Flat Cap
A Novelty Cap To Make People Smile

Lots of old guys used to wear flat caps like this when I was younger - they seem to have gone out of fashion these days. However, I don't remember ever seeing a flat cap quite as memorable as this Grinch flat cap.
Wear this out and about and you are sure to make a few people smile. Wear this Grinch hat for fun to a party or just when you go shopping to see how many people take a second look at you. Other Grinch fans will be jealous.

This is cute! A chef's hat covered in pictures of Whos from the story of How The Grinch Stole Christmas. If you are cooking some Christmas treats this is a fun hat for Dr Seuss fans to wear whilst doing so. Alternatively it is an amusing item to wear if hosting a Dr Seuss themed party.
If you know a Grinch fan who likes cooking, this is an ideal gift at Christmas.
Grinch Baseball Hat & T Shirt
This Grinch baseball cap looks good with the character's beady eyes and nasty grin on the peak. This Grinch hat comes together with a matching t-shirt making for a fun outfit.
If you are looking for a gift for a Grinch fan then you may just have found it!
The Grinch Costume, Mask & Santa Hat For Halloween & Christmas Parties

This Grinch mask and Santa hat is truly spooky with this manic Grinch stare and grimace, making it perfect for wearing at halloween. Of course, the Grinch story is a Christmas one so this mask is also suitable for livening up your family celebrations at this festive time of year.
This Grinch mask is made of latex and has green "hair" attached with hand-painted face details. The Santa hat tops of the Christmas Grinch look! This Grinch mask is part of a complete Christmas Grinch costume.
Where Would You Wear A Grinch Hat?
Dr Seuss Hat Collection
If these Grinch hats are right up your street then you will also like this Dr Seuss Hat Collection.
Hats featuring the Cat in the Hat, Horton and Thing 1 and Thing 2 can be found amongst others here.
Some More Dr Seuss Products
Dr Seuss Costumes
Fun Dr Seuss costumes for Halloween and parties! Cat in the Hat, Horton and Whos are featured.
Dr Seuss Bibs
Brighten up dinner time with your baby by dressing them in these cute Dr Seuss Bumkins bibs.
Cat In The Hat Stickers
The Cat in the Hat stickers are colourful, cheerful, bright and funny. In fact with Cat in the Hat stickers you can have fun that is funny!
---
Disclosure: This page generates income for authors based on affiliate relationships with our partners, including Amazon, Google and others.