Halloween Yard Decorations
by costumeideas
Consider adding some spooky, scary Halloween yard decorations to your house this season!
Decorating Your House for Halloween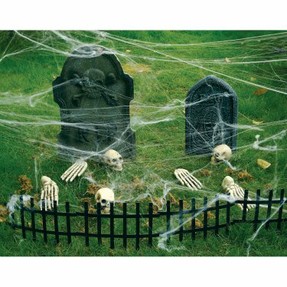 It should come as no surprise that children absolutely love Halloween. It is, after all, the one night of the year where they are given permission to dress like anyone, or anything, they want while running from house to house begging their neighbors for candy.
It may surprise you to know that adults enjoy this holiday almost as much.
Many parents, in fact, look forward to transforming their normally warm and inviting homes into dark and scary graveyards filled with cobwebs and spiders.
In order to create the perfect environment, however, it is crucial that you find the right Halloween yard decorations. (see more Halloween Yard Decorations)
Cemetery Gateway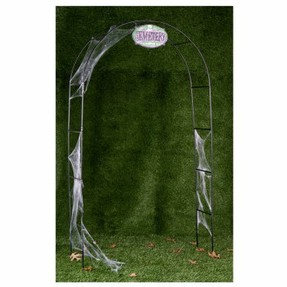 As children approach your front door, how cool would it be for them to have to pass through a spooky graveyard sign? This eerie sign is the perfect gateway for spirits to pass back into the darkness.
This unique Halloween yard decoration stands almost eight feet tall and features realistic spider webbing and a plastic sign that says 'Cemetery'.
While it is certainly true that some assembly is required, this cemetery gateway has been designed with thirty-five metal pieces that fit together almost seamlessly.
If you plan on leaving this sign displayed outside year-round, consider spraying it with Rustoleum to help make it last a bit longer.
RIP Tombstone | Headstone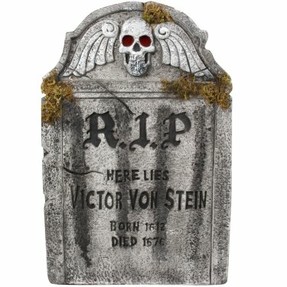 You can't have a cemetery without a few tombstones, can you? This 22 inch grave marker is made from a sturdy, yet lightweight, Styrofoam material and features a carved skeleton and decaying moss.
The glowing red eyes truly help to set this tombstone apart from all others.
It is important to note that this product is very light and may not stay in place in heavy winds.
Of course, this can easily be remedied by strategically placing rocks, or better yet, dirt around the bottom of the marker.
Lighted Groundbreaker Skeleton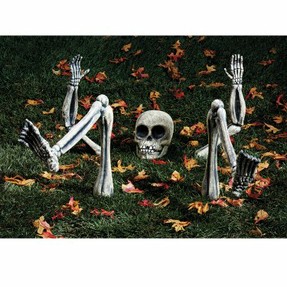 If you really want to impress your friends this Halloween, consider adding this lighted skeleton to your dark and mysterious graveyard.
Featuring seven distinct body parts, this hard plastic lawn decoration will certainly add that element of fright to your yard.
When combined with a few tombstones the effect can be chilling!
Inflatable Black Cat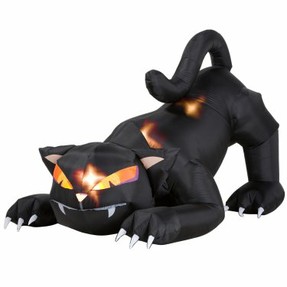 Of course, not everyone wants a realistically portrayed environment. Some prefer a lighter, less ominous setting. 
This inflatable black cat measures a whopping six feet tall by four feet wide and is sure to add just the right amount of festivity for any Halloween display.
There is no need to worry about its durability either. Made from a weather resistant nylon material, this cat will be ready to pouch for years to come.
Fun Halloween Costume Ideas
Green Fairy Costume
Is there any fairy more popular than Tinkerbell? A cute green fairy costume is sure to be a huge hit this year!
Kitty Cat Costume
Be your daughter's hero this season and buy her a super cute kitty cat costume!
Adult Ninja Costume
If you are looking for a great costume for your party this season, consider dressing in an adult ninja costume!
Adult Witch Costume
A great witch costume can really make a dramatic impact at any party or event.
---
Disclosure: This page generates income for authors based on affiliate relationships with our partners, including Amazon, Google and others.