Harry Potter 1 - 7B DVD Boxed Set
by ethelsmith
Harry Potter fans can watch the wizard till their heart's content with this DVD boxed set of the whole series.
Just who is Harry Potter?
Never heard of Harry Potter? Where have you been living? On the planet Mars.
British author J K Rowling wrote a series of children's books about a young wizard called Harry Potter. The story captured the imagination of children around the world. Harry Potter became a household name and J K Rowling became a wealthy, successful author.
Strangely the story equally captured the imagination of adults as much as that of children. Some obviously because they had read the stories to their children others simply because they loved the intriguing tale.
The series of books totalled seven. However before all of the books had been released movie versions of each book were being made. For some people the books appealed more than the films and vice versa.
The final book, The Deathly Hallows, was spilt into two films, part one and part two. This very last film has just been released on DVD, which is perfect timing for Christmas 2011. However you may find that a better gift will be all the films combined in a DVD boxed set.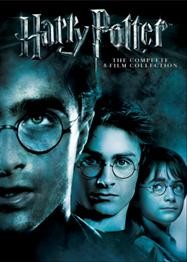 Harry Potter 1 - 7B DVD Boxed Set
Released on December 2, 2011, the Harry Potter DVD boxed set is currently retailing at an unbelievably low price. In some UK supermarkets for example it is on sale at just £20.00. Yes £20 for all the movies in the Harry Potter series of films. Eight movies in all. If you are still on the hunt for Christmas gifts it could be the perfect solution.
NOTE: As the boxed set includes the later films please bear in mind that not all eight of the films will be suitable for young viewers.
The movies are classfied as action adventure or fantasy tales.
This boxed set offers the first seven years of Harry Potter's introduction to all things magical at Hogwarts School of Witchcraft and Wizardry. The set includes the original releases of:
HARRY POTTER AND THE PHILOSOPHER'S STONE
HARRY POTTER AND THE CHAMBER OF SECRETS
HARRY POTTER AND THE PRISONER OF AZKABAN
HARRY POTTER AND THE ORDER OF THE PHOENIX
HARRY POTTER AND THE GOBLET OF FIRE
HARRY POTTER AND THE HALF-BLOOD PRINCE
HARRY POTTER AND THE DEATHLY HALLOWS PARTS 1 and 2.
As Harry tries to thwart the return of the Dark Lord, aka, Lord Voldemort or He Who Shall Not Be Named, danger lurks round every corner. Follow Harry and his friends as they try to defeat Voldemort once and for all.
---
Disclosure: This page generates income for authors based on affiliate relationships with our partners, including Amazon, Google and others.