Healthy Chef Recipes
by chefkeem
Healthy Chef Recipes is a new blog by Alain Braux , a French chef in Austin, TX. Learn how to lower cholesterol with easy French recipes.
Lowering cholesterol with French cuisine?
Really?
On his new blog, Healthy Chef Recipes, Chef Braux makes it clear from the beginning that he is not promoting the old-fashioned "grande cuisine" of France: Rich food, loaded with butter and cream. Au contraire...
Alain wants to teach us how to eat fresh, delicious food...and lower our cholesterol along the way.
Of course, he talks about modern French cooking: The Nouvelle Cuisine, a forerunner to locavore, or the effort of eating only locally-grown produce, dairy, and meats: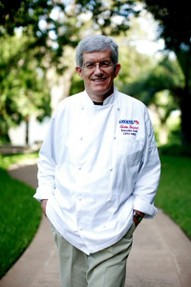 "For more than thirty years, the major trend in French cooking has been the Nouvelle Cuisine, created by a group of young and revolutionary chefs in the 1970's.
The term was coined by the food critics Henri Gault and Christian Millaut to describe a trend started by Chef Fernand Point and his pupils and followers, a group that includes Michel Guerard, Roger Verge, Paul Bocuse, Alain Chapel and the pâtissier Gaston Lenotre.
"Their tenet was (and still is) that good food should not be loaded with dairy products or heavy sauces. 
"Good food should stand on its own by the quality and utmost freshness of its ingredients.
"The Nouvelle Cuisine was lightly cooked, using the freshest meat, fowl, produce and fruits available locally, and harvested only in season. The sauces were light, colorful and tasteful. The plate presentation was art in itself, colorful and well balanced. The serving plates were carefully chosen to be the canvas on which the food was presented.
"I was fortunate to have the opportunity to work in this environment when I worked for Roger Verge at the Moulin de Mougins - his famous restaurant in the South of France, and for Gaston Lenotre in Paris and Houston."
Is Mediterranean Food Healthy?
You may or may not have heard of the "Lyon Diet Heart Study" (1988-1992), where heart attack patients were split in two groups. One group received the regular advice of watching their cholesterol intake, consuming less saturated fats, and taking prescription meds. The other group was put on a Mediterranean Diet. After 4 years, all patients were told to eat Mediterranean foods. Interestingly enough, the second group had experienced a 45% reduction in their risk of having another heart attack. No statin drugs, no difficult restrictions - only good food!
When Chef Braux suffered from unhealthy cholesterol levels--after a stressful period of teaching and running his business--he put himself to a year-long test, documenting his eating habits and recipes, as well as his progress with lowering cholesterol. It's an amazing story!
Luckily for us, the good Chef has collected his stories and chef recipes in 3 books (so far). And now he has even started his own blog, where he will share all his knowledge with us...on healthy living and delicious French cooking. Go on, say hello to Chef Alain Braux and easy healthy recipes! 
Chef Alain Braux...
teaching his pastry chef recipes at the Culinary Academy
Quick - do you know your cholesterol levels?
(Hint: Lower is better.)
---
Disclosure: This page generates income for authors based on affiliate relationships with our partners, including Amazon, Google and others.