How to be healthy during pregnancy
by Mujjen
Being pregnant is not a sickness, but you need to customize your life a little bit to stay healthy.
Eating good food
Important for healthy pregnancy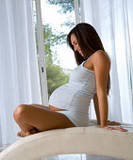 You are really eating for two when you are pregnant, and what you eat is very important to your baby. Everything that goes into your mouth will end up with the baby, so pay attention! By planning your meals, you can make sure you get all the vital nourishment for your baby.
In general, you need to eat a well-balanced pregnancy diet. Try to include a lot of fruits and vegetables. (Washing them well is even more important during pregnancy). Lean meat and poultry, fish in moderate portions, all of it well cooked. Calcium is needed to build up baby's body. This does not necessarily mean you have to start drinking milk. Yogurt and cheese also contain calcium, as do certain vegetables. Try to avoid fried food, and saturated fats in general. Not only is it bad for you, you do not want to gain too much weight. The strain on your body is great when pregnant, avoiding unnecessary weight gain can help a lot. A little fat and a little salt is necessary, it is the excess that can be bad for you. (Picture Credit)
Pregnancy Vitamins
Supplements for a healthy pregnancy
For somebody special
Great as baby shower gift
Healthy Pregnancy Gift Basket

Help your favorite mom-to-be celebrate this very special time in her life with our Healthy Pregnancy Gift Basket. The all-natural foods included will provide just what her ...
Ad
Proper exercise during pregnancy
Some women are prescribed bedrest for part or most of the pregnancy, but they are relatively few in number. Most pregnant women need to exercise, preferably on a daily basis. Granted, if you have not been doing much before getting pregnant, this is not the time to start with strenous activity. But gentle exercise, such as walking or swimming is possible to most women.
Exercising will help you have a pleasant pregnancy. It will strengthen your muscles, minimizing backpain. Constipation is another common problem during pregnancy which can be helped with exercise. Adding to this the strength and stamina you are building up to cope with late pregnancy, birth and feeding. All of this is hard work, and you need all the strength you can build up.
Keep track of your pregnancy
Great planner
Boy or Girl?
Works from 6 weeks pregnancy
Things to avoid for a healthy pregnancy
Despite decades of warnings, there are still many women who smoke during pregnancy. Not only is it bad for themselves, it can cause serious harm to the baby. Over a thousand babies die each year because their mothers smoked while pregnant. The poisonous particles of cigarettes go straight to the baby, through the placenta. These will prevent the baby from getting sufficient nutrition and oxygen it so badly needs. It is common for babies of smoking mothers to have low birth-weight, as well as lung problems.
Alcohol could also be lethal to an unborn child. Since baby's organs are so small and not fully developed, the alcohol does not get assimilated so fast. Studies show that when the mother has drunk alcohol, the baby has a higher concentration, for a longer period of time, in its system. Again, the alcohol will impede nutrients and oxygen from reaching the baby. Many babies are born with both physical and abnormalities, because the mother drank too much during pregnancy.
There are even certain foods that are potentially harmful to both mother and child during pregnancy. Read more about these in the article, Foods to avoid during pregnancy.
More info about pregnancy
Healthy while pregnant
Read more about what to eat and how to exercise
Stay healthy when pregnant
Complete exercise set with four discs
---
Disclosure: This page generates income for authors based on affiliate relationships with our partners, including Amazon, Google and others.