Games For the Blind
by Mujjen
During holidays, whether winter or summer, many families enjoy playing games together. Here is a selection of games where your blind friends and family members can easily join in.
Enjoying life and having fun
Great gifts for the blind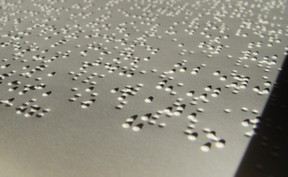 Being blind or visually impaired makes it more difficult to do things that others take for granted. Everybody has the need to relax and have some fun, but not being able to see can make this impossible. Therefore, it is really fantastic to see how many games have been prepared with Braille labels or large writing. In this way, everybody, regardless of the amount of vision, will be able to participate. Light a fire, make some hot chocolate, and get started!
Bingo
Bingo is a fun game where each player has a board with numbers, arranged in rows. Numbers are randomly drawn and each player will mark the number, if he has it on his board. When one row (horisontal or vertical) is filled, he has to say Bingo! The first one to get a full row has won. Great game to play while travelling.
Bingo Call Boards
Braille
Bingo Call Boards with Braille - 3 Pieces

Enjoy your independent living and gather a bunch of your friends together to enjoy a good old-fashioned game of Bingo! This set includes three braille bingo boards with the ...
Ad
Dominoes
Domino is a game that can be played even by small children. Each tile has two sides, with a number (or picture). To be able to put it out, it needs to match the number on the previous tile. There are different varieties of this game, with more or less difficult rules. This is a really old game, it has been played for centuries, if not more.
UNO
Different playing cards
UNO is a card game which is easy to play, and loved in many countries around the world. It was created in 1971. The purpose with the game is to be the first one to get rid of all your cards. Since the rules are not too difficult, it is a perfect game to play when children are around. Beware, though, kids are smart and will soon find out how to cheat you!
There are also normal playing cards and those with pictures available with Braille. This makes it possible to play an endless number of games.
Cards with Braille
Uno Cards with Braille

UNO is one of the world's most popular family card games, with rules easy enough for kids, but excitement enough for all ages. Braille cards make it accessible for all! ...

Old Maid Perfect Pairs Braille Card Game

This version of OLD MAID uses bright colorful illustrations in a game that is both fun and educational Plus with Braille markings on each card its accessible to blind and ...

Only $9.95
Jumbo Braille Playing Cards

This card deck is the a great way for blind players to enjoy their favorite card games. Each card is brailled on 2 corners for easy identification. The extra-large size (4-7/8 ...
Monopoly
For the blind
This is a game that can be played over several days, although a normal playing time averages 1-3 hours. It is built around the concepts of economy, real estate and taxes. This game, and the forerunners, have been around for over 100 years, being one of the most popular games of the 20th century. It is available in different editions, depending on the country where it is sold. In 2008, a common World Monopoly was created, choosing cities through Internet voting.
Some people do not like the game, saying it is built around cheating and bankrupting other players. Those who love it (millions of people) see it as a fun game that makes you use your brain!
Monopoly available in different versions
The king of board games
Braille and Low Vision Monopoly

Extra large sized cards with braille and large print. The 20'sq. game-board has a special overlay molded on to it so you will be able to identify all the spaces and the ...
Ad
Scrabble
A game that is based on reading has always been off limits for the blind. With this Braille version, it is possible for everybody  to participate. In Scrabble you form words and phrases, getting points for the amount of letters and combinations you use. It is like a home-made crossword which is created as  you go along. There are different Scrabble Championships being held each year.
Deluxe Scrabble Game
Deluxe Scrabble Game Braille Version

Great fun for everyone This deluxe version comes equipped with everything you need, tiles, game board and easy to follow instructions. Braille edition features brailled tiles, ...

Only $57.95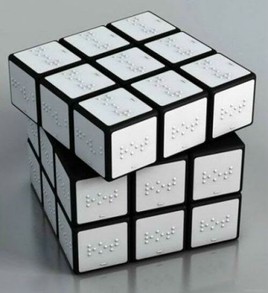 Rubik's Cube
Read more about what is involved in being blind or visually impaired.
The History of Braille
Learn more about the amazing alphabet that has changed the lives of millions of blind people.
Practical things to help the blind in everyday life
See some of the small things that make a big difference when you don't see so well.
Follow your dream- like Sabriye Tenberken
This amazing woman has dedicated her life to helping blind children in Tibet, despite herself being completely blind.
Erik Weihenmayer- climbing higher
He is the first blind person ever to climb Mt Everest, but that is only one of his many accomplishments.
More games with Braille
Scrabble Slam Modified Braille Card Game

Scrabble Slam is a fast-paced word game where anything could happen! Race against each other to change the existing four-letter word and get rid of your cards. "Game" could ...

$19.95 $17.95
Sudoku Touch

Perkins Products is proud to introduce Sudoku Touch. Now everyone can take part in the popular game played all over the world. People who are blind, low vision or sighted will ...

Hi Ho Cherry O Counting Game Braille

This blind-accessible version of Hi Ho! Cherry-O is a fun, easy-to-learn game that's modified with Braille markings on the game board and spinner dial. It helps preschoolers ...

Only $29.95
Tactile Brailled Dice Set of 2 Dice

These large (.75 x .75 inches) dice have black tactile dots on a white background. # 910028

Only $12.99
---
Disclosure: This page generates income for authors based on affiliate relationships with our partners, including Amazon, Google and others.