Baby Memory book
by Mujjen
To keep a journal of baby's development, writing it down in a memory book is a wonderful thing to do. Both you and your child will enjoy it as the years pass.
Remembering each little step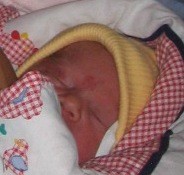 When I was growing up, I loved looking in the Memory Book my mother had prepared for me. It made me feel special, loved. Fast forward some thirty years, and I was pregnant with my first child. Since we were living very far away from my mother, I got a strong order: Take lots of pictures! Tell me everything she does!
Said and done. Every day I would write down little things, taking pictures and sending to my mother. As the proud grandmother she was, she would carry some of the pictures in a little album in her purse. In this way, she was part of the life of her grandchild, although thousands of miles away.
Now, my children are always asking me to talk about when they were babies. Looking at pictures, reading about their first steps and teeth makes them feel special and loved- just like their mum so many years ago.
What should I write in baby's memory book?
Do not think that anything is of little significance. Writing down things that happen in your child's life is not only a way of remembering events. When you read about the first step, maybe looking at the picture, you will also remember how your baby smelled, the softness of the hair, the rosy cheeks. You will think of how wonderful it was, and how much you love your child.
By using a pre-printed memory book it is really easy to record everything. There is a space for all important happenings. Birth-weight, first smile, first bath, first day at school. It depends a bit what kind of book you get. Some are prepared for the first year, others until the age of 18.
Do you need more than one book?
Why not make it a habit to write in different books? At least one for you and one for your child. Maybe granny would like her own book? They don't all have to be the same, variety is the spice of life. Some people also like doing one book online. Baby Chapters is one option.
When I first had a baby, I wrote things down in a baby calendar with stickers. Nothing special, just a calendar with cute little stickers to put on the right day. Once in a while I would sit down and put the important dates in the main book, adding some snapshots. It was amazing how fast my little baby turned into a beautiful young girl. Today, she is almost as tall as I am. But there was a day when she weighed 3380 g and was 52 cm long....and a lot of her life in between would have been lost had it not been for my Baby Memory Book.
More articles on pregnancy and children
---
Disclosure: This page generates income for authors based on affiliate relationships with our partners, including Amazon, Google and others.