Homemade Pizza - The Best Crust
by kimbesa
How to make homemade pizza crust, and enjoy a hearty crust. Pizza dough is easy, and a takes only a little more time than other kinds.
Making Pizza Dough From Scratch
Homemade pizza - the best results from basic ingredients
I like homemade pizza crust. That means "from scratch," using flour, yeast, salt and a few other ingredients.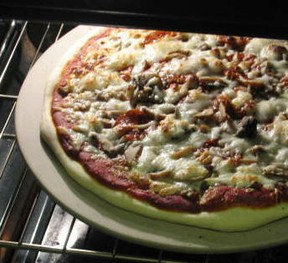 There are convenience foods for pizza crust. I've tried some that come in the freezer case at the grocery store, the box mixes, the refrigerated dough in the tube. I've even bought the small pizzas in the deli section, and dressed them up with more toppings.

But for the best crust, I keep coming back to homemade pizza dough from scratch. I keep playing around with the recipe, testing different kinds of flour and how much of each ingredient to use..

I like a wheat crust. The flour I'm using now comes from a local mill, stone ground from wheat berries that are organically grown. The rest of the flour is high-gluten bread flour, from another local mill, also using local wheat.
Simple Homemade Dough for Pizza Crust
It's Almost As Easy As Store Bought, With Better Results
Here's my latest pizza crust recipe:

Pizza Dough for Crust

1/3 cup whole wheat flour
1 ¼ cups bread flour, with some extra as needed
½ t salt
2 t dry yeast
2/3 c warm water
1 t olive oil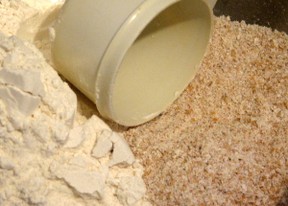 Mix the dry ingredients in a large bowl. Then add the water and oil. Mix well. Then knead for about 10 minutes, adding a bit more flour if necessary to make a smooth, satiny bowl that doesn't stick to your hands or to the bowl.

Lightly coat with oil, and put back into the bowl, and cover with a clean dish towel. Let pizza dough rise for an hour in a warm (not hot) place.

Preheat oven to 500 degrees.

Stretch crust onto an oiled baking sheet, or prepare for transfer to a pizza stone. This crust makes about a 14 inch round or 12 by 15 inch rectangular crust. It will be a thin, crispy crust. Add your sauce and toppings. Bake for about 13 minutes. Keep a close eye on the pizza. Cut and serve.
A Few More Pizza Crust Tips
This Dough is Flexible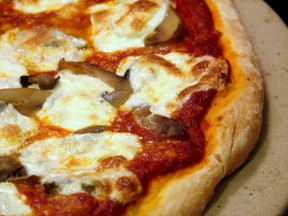 When adding the extra flour, err on the side of less flour. If you add too much, your dough won't come together properly and will be very hard to knead.
To make this into a thick crust, add about a half cup more flour, one quarter cup more water, and another half teaspoon yeast.
Pizza dough can be left for several hours in a cool place. Or put into the refrigerator to rise overnight. Allow some time for the dough to warm to room temperature before you try to stretch it.
Or, if you're planning a party and will need several pizzas, you can freeze your dough ahead of time. Wrap in balls in single pizza size, wrap well and label.  Just allow for thawing a day before you'll need them.
How to Stretch Your Pizza Crust
---
Disclosure: This page generates income for authors based on affiliate relationships with our partners, including Amazon, Google and others.