How To Apply Blush
by optimist
Applying blush can be tricky, unless you know these blush application tips. Learn how to apply blush like the pros!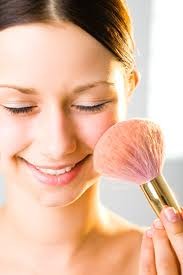 Applying blush can be tricky for a beginner to wearing makeup. If you apply too much, you look strange and clownish, if you don't apply it or apply too little, you can look washed-out and flat-faced.

However, applying brush doesn't have to be difficult and intimidating. Here's how to apply brush easily:

Select Good Brushes

The first step to applying blush properly is to use a high quality round brush. You can use natural bristle or a high quality artificial one. Either way, make sure you invest in this brush - you can get away with using cheap blush, but if you use a cheap blush brush then your results will be far from what's desired. Cheap brushes don't blend the blush properly, so you'll look spotty and streaky instead of natural.

Get The Right Shade

Using blush which is the wrong shade is a no-no. If it's too dark, you'll look like a clown and if it's too light, then you won't get enough of the effect.

Go to a department store and ask a makeup artist to help you select the perfect shade.

Tap Away

Powder blush should be applied after you've applied face powder and eye makeup. To begin applying blush, swirl your brush gently in the blush pan, and then tap on the side of the pan to remove any excess.

Smile Away

Smile your biggest smile. This will make the apples of your cheeks prominent.

Now apply a small circle of blush to the apple of cheeks.
 
Blend

The next step is to blend the blush.

Stroke upwards towards your temple, until the blush has been blended perfectly.

You shouldn't have to apply more blush, unless you used far too little the first time.

Contour

An optional step is to contour your face so that your cheekbones are more prominent. In order to do this, suck in your cheeks, and sweep bronzer upwards, from the most hollow point towards your temples.

Use a different brush to stroke the blush downwards, and blend the blush and the bronzer.

You can also apply some highlighter to the apples of your cheeks.

Remove Excess

A common mistake is to apply too much color. If you've done this, simply grab a tissue or a blotting paper and gently blot away the excess color. If you can't remove enough, apply some translucent powder on top of the blush and bronzer - this will tone down the color.
Take Care Of Your Makeup
Remember to take care of your makeup. Blush has a shelf life of at most two years since you start using it - so throw away old blushes.
Remember to clean your blush brush regularly with face wash or antibacterial soap. This will keep it free of bacteria.
---
Disclosure: This page generates income for authors based on affiliate relationships with our partners, including Amazon, Google and others.