How to Create Word Clouds Online
Word Clouds, also known as "tag clouds" and "keyword clouds" are a unique and powerful visual depiction of words. In this article you can learn how to create them online for free.
How to Create awesome word cloud with Wordle
create your own word cloud online for free
Word cloud is a cloud design made from words of tags and the design is based on popularity and frequency of each keword. The more each keywords appear in a chosen text the bigger this keyword will be in a word cloud. Word clouds are really popular in stock photography business, design, blogging and affiliate marketing. It's a trend that join design and information together. Some use word clouds as logos, some add word clouds to articles and some add them to products and broschures.
In this article you can find some nice examples of word clouds, find some great Zazzle products featuring word clouds and what is the most important - learn how to make word clouds yourself. You can make awesome word cloud online for free with a great program called Wordle. There are some other interesting applications online that allow you to make word clouds and they are listed in the link section in this article. But I will describe Wordle in particular because I find it the best and really useful.
Create Word Cloud with Wordle
Wordle is the best program to make word cloud online!
Wordle is a toy for generating "word clouds" from text that you provide. The clouds give greater prominence to words that appear more frequently in the source text. You can tweak your clouds with different fonts, layouts, and color schemes. The images you create with Wordle are yours to use however you like. You can print them out, or save them to the Wordle gallery to share with your friends.
Wordle is the most popular and most used word cloud generator online. And it's really easy to use and really awesome. You can create cool word cloud by simply entering bunch of keywords into the text area and the application will generate a cool word cloud that you can then customize until you like the design. You can also enter keywords by pasting the RSS link of any blog or by importing keywords from your Delicious bookmarks. It's that awesome!
After you make all the adjustments and corrections, choose your favorite colours and fonts, design the look and position of your word cloud and make some other fancy stuff you can post your word cloud to the public gallery, print it or save it to your computer. Saving word cloud made with Wordle to your computer is a bit complicated this so I made a special paragraph on this article for this problem. A lot of Wordle users are having trouble saving Wordle word clouds to their computers as JPEG files so below you can find the detailed how to guide that will help you to save all the word cloud you make with Wordle. And its' quite easy after you do it once :)
How to Save Wordle word cloud to your Computer
save your Wordle design as JPEG file to your computer
As I stated before, a lot of Wordle users and designers find it pretty difficult to save their designs made with Wordle as a JPEG file to their computers for future use or printing. Wordle doesn't offer an option to save the image you make directly from Wordle application but there is a simple and quick way that will let you to save your Wordle world cloud on your hard disk as a JPEG file. Just follow the steps below.
To save the Wordle word cloud to your computer you can either use Print Screen option (Prt Sc on your keyboard) or print the image in a PDF document. Print Screen option is a nice choice if you intend to use your world cloud in small resolution. If you want to get a best version of the image you make I don't suggest you to use this option because you will get a small image by using Print Screen option. If you want to get the best quality of your newest world cloud you should definitely use print to PDF option. The process is described below.
Print your image to a PDF document using Adobe Acrobat or CutePDF Writer
Save the PDF file to your computer
Open the PDF file in Photoshop or other image editing software
Save the image as a JPG file in high resolution for the best quality
Word Clouds Designing Programs and Applications
places where you can make word cloud online for free
Wordle
Wordle is a toy for generating "word clouds" from text that you provide.
WorditOut
New Year 2011 Word Cloud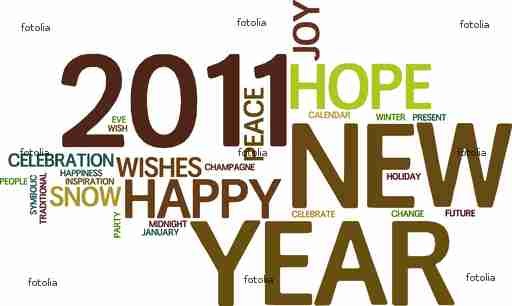 New Year 2011 Word Cloud
Where to Buy Word Clouds Online
... and where to get them for free
If you don't want to create word clouds yourself you can buy them on major stock photography sites for really affordable prices or get them for free on free stock agencies online. Below is the list of few of these sites. Paid and free ones.
World clouds on micro stock agencies
Word clouds on iStockPhoto
Free stock world clouds
Word cloud examples
| | |
| --- | --- |
| Love word cloud | Enterprise word cloud |
Word Clouds Products on Zazzle
beautiful designs on Zazzle featuring word clouds
Do you find this article helpful?
Wordle videos
useful and helpful videos
Graphic Design on Wizzley
more Wizzley articles related to design
---
Disclosure: This page generates income for authors based on affiliate relationships with our partners, including Amazon, Google and others.