LED Track Lighting
LED track lighting can give any open space a contemporary look. Consider track lighting for your next DIY home or office project!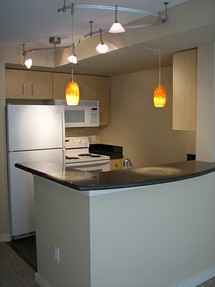 Track lighting has become a popular choice for offices and homes.  Track lighting is very versatile, compact, and gives the room a very modern look.  Not only is it functional, but it is also great for accenting.  The main appeal of track lighting is the good amount of freedom in terms of the color, style, size and type of light that comes with using track lighting. 
Another great feature of track lights is that they are extremely easy to set up.  Tracks are even easier to set up in a space with an already present electrical box.  In most cases, you can reinstall and introduce track lighting for areas that already have lighting options.  Whether this is your first time decorating your new home or giving your home a makeover, led track lighting is the perfect DIY project.  The main appeal of track lights for many homeowners and business owners is that it gives off a modern-day look great for open spaces, galleries, bar area, and so forth. 
When people think of led track lighting, they think of art galleries.  This kind of lighting is fantastic for displaying artwork because it casts a spotlight and creates a focus point.  You can incorporate this into your own home.  If you are an art enthusiast, this is the perfect soft lighting to display your artwork.  The soft light is also great for accentuating any feature of a room. 
Another great option for track lights is the kitchen area.  If your kitchen has an island or some sort of countertop, creating a U with your track lights is a great way to feature your kitchen.  Track lighting is also a great option for closet space, where you have the freedom to position each head to help you cast light on certain shelves and clothing. 
When picking out track lighting, there are different types of bulbs you can use.  You can use generic bulbs or LED track lighting, which gives off a softer light.  LED lights also give you more options in terms of color.  But the best benefit of LED track lights is how energy efficient it is.  LED track lights come in many different sizes ranging from very small to relatively large lights. 
If you are seriously considering using track lighting for your home, make sure you buy from the same producer because the parts are not exchangeable.  They should not be the main light source for a room because they are considered to be accent lighting.  Track lights are also not ideal for low ceilings where people or other objects can run into them.  Regardless, it is always good to have a professional feedback and consulting before you decide to tackle any DIY project or before you decide to hire someone.
Wiki It
Track lighting
is a method of lighting where light fixtures are attached anywhere on a continuous track device which contains electrical conductors. This is as opposed to the routing of electrical wiring to individual light positions. ...
---
Disclosure: This page generates income for authors based on affiliate relationships with our partners, including Amazon, Google and others.