Lego Jawas
by nickupton
The Lego Star Wars series is perfect for young and old fans of both Lego and Star Wars; Lego Jawas are just one of the many characters that have been made into Lego mini figures.
Jawa Lego Mini Figures
Lego Jawa mini figures are based on the Jawa characters from the original Star Wars movie - Episode IV; A New Hope and are available on only one Star Wars Lego set: LEGO Star Wars Sandcrawler.
The Jawa Lego mini figures are really cool, with their yellow glowing eyes peering from the darkness of their hooded capes and they have short legs to reduce their size in relation to the other Star Wars mini figures, just as they were in the movie. Unfortunately, this feature does mean that the legs are unable to bend, meaning that the Jawas must stand in the cockpit of their Sandcrawler. Lego Jawas also come with a printed torso which has them carrying bandoliers of ammunition.
Remember, Lego Jawas are only available in the Sandcrawler model although a number of merchants sell them individually on Amazon and eBay.
Lego Jawas usually come armed with a simple Lego blaster gun, or, you can give them different Star Wars Lego guns bought separately for more firepower.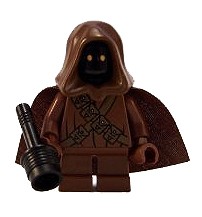 Lego Jawas
In the extended Star Wars Universe, there was even a Jawa Jedi Knight called Akial, so it would be simple to buy some Star Wars Lego light sabers and create this character using a Lego Jawa mini figure.
Bid for Lego Jawas on eBay
Who Are The Jawas?
Jawas are the short, cloak-wearing scavenger race of beings that lived on Tatooine in the Star Wars saga. They are most memorably seen in the first movie, Episode IV; A New Hope when they collect the droids C-3PO and R2-D2 in the desert wastes of Tatooine. The Jawas roam across the desert in their giant Sandcawler, selling salvaged machinery to moisture farmers - this is how Luke Skywalker comes into possession of the two famous droids.
Jawas are described as rodent-like on Wookiepedia, but they also may have descended from a common ancestor as the Sand People. Jawas lived in tribes and spoke a high pitched and quickly-spoken language of which the only word most people would be familiar with is the cry "Utinii" that is heard in Episode IV.
Utinii - What Does It Mean?
Star Wars fans will often use the word "Utinii" which is just about the only intelligible word they utter in the movie; this beggars the question, "What does it mean?"
A friend of mine once wondered aloud if George Lucas had borrowed the word from the Thai language, in which "Yoo Tee Nee" means it is here, or stay here. In fact, one of the meanings attributed to this Jawa word is "come here", so my friend may have been not too far off the mark. However, it has been recorded that Jawaese was actually based on the Zulu language!
For those who like to learn useless information, a number of Jawaese phrases and words can be learned on Wookiepedia's entry on Jawaese. Impress your friends with your knowledge of the language!
Lego Star Wars Sandcrawler 10144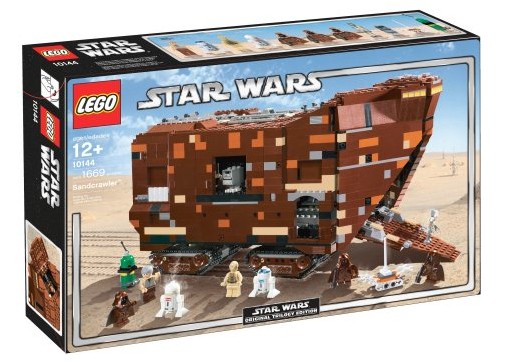 Star Wars Lego Sand Crawler
Lego Sandcrawler
Uncle Owen Lars is in the market for some droids to work on his moisture farm and accompanied by Luke Skywalker he is able to make a deal with the Lego Jawas in their Sandcrawler, stocked with second-hand and salvaged droids.
Lego fans can recreate this famous scene from the movie with this 1669 piece model which is highly detailed and comes with eleven Lego mini figures, including three Lego Jawas; the assembly is a challenging one, with Lego rating this for 12 year olds and above - many Lego builders take four hours plus to make this Sandcrawler model.
At the front of the Sandcrawler is a large opening hatch from which a crane emerges and can be fitted to the top of the vehicle to haul out the droids for sale. Also at the front is a small hatch to place a Jawa mini figure as the driver.
An opening hatch on the top of the Sandcrawler reveals the inside or the centre can be removed to reveal the Jawa workshop where droids are overhauled, repaired and cleaned.
This is a great Star Wars Lego model, highly rated by collectors, and measures 15 inches by 7.5 inches by 9 inches when fully assembled.
The Lego Sandcrawler is out of production now and sold out in stores so just about the only way to find one now is on the internet. It usually sells for between $200 and $300 dollars but you may be lucky enough to find one a little cheaper. Even at that price, with so many pieces and so many mini figures this is still a Star Wars Lego model well worth purchasing.
Lego Sandcrawler Details
Pieces: 1669
Age: 12+
Lego No: 10144
Minifigs: 3 Jawas, R2-D2, C-3PO, Owen Lars, Gonk Droid, Treadwell Droid, R1-G4 Droid, ASP Droid, R5-D4 Droid
Year: 2005
Theme: Episode IV; A New Hope
Some More Star Wars Episode IV LEGO Sets
More Star Wars Lego
The Star Wars Ki Adi Mundi Lego mini figure and the Lego sets he is included in.
Bossk Lego
The Star wars Lego mini figure of the bounty hunter Bossk and the Lego sets that he features in.
Lego Slave 1
The Star Wars Lego set of Boba Fett's iconic spacecraft, Slave 1.
Aurra Sing Lego
The Aurra Sing Lego mini figure is based on the character who features in the Clone Wars animated series which is a spin-off from the original Star Wars movies, and this Lego mini figure is only available with one Star Wars Lego set: LEGO Star Wars Bounty Hunter Assault Gunship.
Clone Troopers Battle Pack
Lego mini figures of Clone Troopers to build your grand army.
---
Disclosure: This page generates income for authors based on affiliate relationships with our partners, including Amazon, Google and others.