Living Room Furniture Trends and How to Use Them in Your Space
by ProHomeTips
The living room is where families spend the majority of their time. Unlike other areas of the home where you're rushing through daily tasks the family room is a place to relax.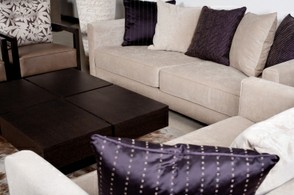 Comfortable Living Room
For most people, the living room is where they spend the majority of their time. Unlike other areas of the home such as the kitchen or bathroom where you're rushing through cooking, bathing and other daily tasks, the family room is a place for rest and relaxation. You can put your feet up, take a nap on the couch or watch television at your leisure. These comfortable rooms are where families and friends come together and spend time, talking about their day and sharing in fun. That is why living areas are built around comfort and include such items as couches, tables and lamps. Since this room is heavily used, you probably find yourself wanting to refresh it often so that it stays modern and fun.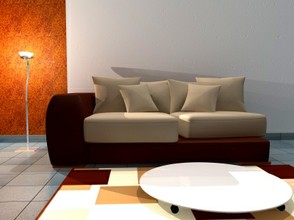 Modern Livng Room
Everyone's living rooms are different, especially as they reflect the individual tastes of the homeowners. Some rooms have flat screen televisions, video consoles and DVD racks, while others are simpler and encourage quiet chit chats with couches facing toward each other. Some rooms feature a lot of lighting using ceiling and wall lights, while others are dimly lit with a table lamp and dark shade. Family rooms can be sleek and contemporary, featuring leather couches, dark wooden end tables and glass curio cabinets for example, while others are family-friendly and include large fabric sectionals with entertainment centers.
Not only do family rooms reflect the tastes of the homeowners, but also they meet the needs of the people that live in the home. Most homes have one large couch and a loveseat or chair-and-a-half, and today's furniture sets leave room for just about any possibility. With a down economy and people living in smaller spaces, furniture has a smaller footprint, and many families are springing for less instead of more.
For example, instead of having a sofa, loveseat and recliner, families may just have a sofa and recliner. Sectionals are less popular then they once were, although some sectionals are made from leather, have built-in cup holders and pull-out tables, as well as motorized recliners. Since these sectionals keep consistent with today's technology and decorating style, people don't mind making the room for them in the home.
What is most important to you when choosing Living Room Furniture?
Today's living room furniture is contemporary, with smaller footprints, clean lines and simple features. You won't find anything too elaborate, but comfort is certainly packed into modern-day couches. Motorized recliners are also popular, as they take away the hassle of having to manually recline the couch, which can be difficult for some people. There are also many types of materials to choose from such as microfiber, leather and suede. If you speak with the furniture store, you can also have certain agents added to the material in order to give it added protection from rips, tears and stains. This is especially important with family room furniture that is used often.
Get Book Smart on Living Room Decor
Ottomans are other pieces of living room furniture that are fun to shop for, as you don't necessarily need them, but they are multi-purpose. Not only are today's ottomans used for foot rests, but also they can be used for storage. Ottomans are great places to store games, toys and magazines, and since they're large and durable, you can also use them for extra seating in the home. Other fun accents include matching area rugs, end tables, coffee tables and chaises. If you tend to have people sleep over at your home, consider sleeper sofas that can be extended into beds.
As you can see, the possibilities are endless when it comes to the living room. Today's tastes are changing, as furniture is getting smaller, and it's not necessarily the norm to have the standard sofa and loveseat anymore. You can play around with different pieces of furniture that fit your space, while adding smaller items such as ottomans and chaises to give you the seating you need. With all the time you spend in this room, it deserves your careful attention. To gather ideas, shop online or visit a furniture showroom where you can envision the furniture in your own space.
---
Disclosure: This page generates income for authors based on affiliate relationships with our partners, including Amazon, Google and others.