London Marathon Records: The Odd, The Strange, The Different
by KillyTron
The London Marathon sees a wide array of unusual costumes, many of which are donned to raise money. But it also means that a host of records are smashed every year.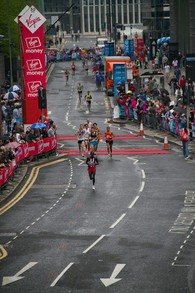 London Marathon
Every year in Spring London holds an event that boasts over thirty thousand people turning up to participate. All are there ready and raring to run twenty six miles and three hundred and eighty five yards. It is, of course, the annual London Marathon.
First Place
With its being a race – and one that is well publicised and watched by millions – one of the main attractions is seeing who finishes first, and in what time. Many professional runners take part in the marathon, lured by competing to fill that place (and the £1 million pound prize is certainly attractive, too). UK long distance runner Paula Radcliffe gained greater recognition by smashing the women's record in2003, which also still stands as the world record for women's marathon running. The current fastest London Marathon time is held by Emmanuel Mutai in 2011, finishing in two hours, four minutes and thirty nine seconds.
Costumes
However, the majority of participants in the race are amateurs, there for the challenge, the fun and more importantly to raise donations for charity. Many turn up in a series of outlandish costumes – some of which boggle the mind as one would imagine they would only serve to make an already gruelling event ten times worse. But there is no denying that such costumes are what help to draw in the hundreds of thousands of people that turn out to watch the event as it loops through London. 
Weird Records
And while all eyes are on those who finish in the number one spot, every year there are many other 'firsts' that are continually smashed, recorded and entered into the Guinness Book of Records:
Fastest marathon in an animal costume (ostrich) – David Stone 2:24:46
                                                               (peacock) – Barbara Stcherbatcheff 3:21:22
Fastest marathon dressed as a fairy – David Hellard 3:11:57
Fastest marathon in a vegetable costume (carrot) – Julie Tapley 4:06:17
Most Rubik's cubes solved while running – Uli Killian – 100 cubes in 4:45:43
Fastest marathon completed on crutches – John Sandford Hart 6:24:48
Fastest marathon performed on stilts – Michelle Frost 8:25
Fastest marathon while running with an egg and spoon – Dale Lyons 3:47
Longest scarf knitted during a marathon – Susie Hewer 1m 62cm (2008)
Longest crochet chain during a marathon – Susie Hewer 77.4m (2010)
Fastest marching band in a marathon – led by Mike Lomas 7:55
Tallest costume in a marathon (giraffe) – Jean Paul Delacy – 7.04m
---
Disclosure: This page generates income for authors based on affiliate relationships with our partners, including Amazon, Google and others.