Makeup Train Cases
by betsuz
Makeup train cases are very useful for when you are traveling and need a place to store all of your cosmetics and makeup.
Fun Ways To Use Makeup Train Cases
Are you looking for ways to store your makeup, cosmetics, crafts or whatever you want to store in a new fun way? I love these makeup train cases because they are high quality and there are some really cute designs to choose from. You can use Makeup Train Cases in many ways and I have provided some really fun ways to use them.
Train Cases For Makeup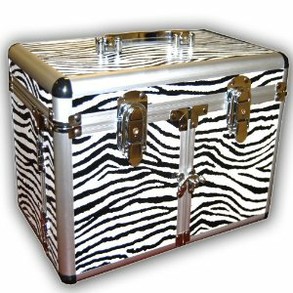 Zebra print train case
Zebra Print Makeup Train Case
Ad
There Are Many Uses For Makeup Train Cases
Makeup Train cases are useful for many different things like storing your makeup. A good example would be to store your foundation, eye shadows, small makeup palettes, lipsticks, lip glosses, mascara, liners, powders and makeup brushes. Most women have a lot of makeup and cosmetics and it's important to have everything in it's place to make it easy for us while getting ready for work. We get so busy in our lives and when you are in a rush, the last thing you want to do is look around for that eye pencil that you like. If you have it in a designated place in your organizer all you have to do is open it up and it's right there and you don't have to go looking around for what you need.
I use them to store other cosmetics too like lotions, face creams, body wash, body sprays and sunscreen. When I am getting ready in the morning, I like to have all of my makeup and cosmetics in some kind of order and makeup train cases are really great for organizing these items.
Makeup Train cases can also be used for jewelry storage. I recommend when you are using them for jewelry storage to stick with your costume jewelry. Or If you want to store your fine jewelry use a cloth jewelry roll and put it inside the makeup train case.
I also love the design of these beautiful looking makeup train cases. They come in so many different colors and textures. You can pick your own style and you can display them in your vanity area, in your bathroom or you can put them in your bedroom as a beautiful decoration piece that doubles as storage.
Here are some more cool and useful ideas for using makeup train cases. You would be surprised at the many other uses for these cases. You can use them to store your craft supplies, store your children's coloring supplies, painting supplies, your son's or husband's model car supplies, use them for a sewing box or for needlepoint supplies, hair accessories, store small office supplies, or just odds and ends. There are lots of uses for these attractive little cases.
And I don't want to forget to mention that you can use them for travel too, take your case with you when you go to Vegas or the family vacation or how about your big trip to Europe! 
What Goes Inside Your Makeup Train Case?
---
Disclosure: This page generates income for authors based on affiliate relationships with our partners, including Amazon, Google and others.