Monokini Swimsuit
by twotoofs
No matter if you are wanting swim wear that is sleek and stylish or if you are looking for something with sex appeal, a monokini swimsuit might be what you are looking for.
A Monokini Swimsuit is an Alternative to the Bikini
The monokini swimsuit has the celebrity stamp of approval, with fans of the swimwear including the likes of Jessica Alba, Giselle Bundchen, and Britney Spears.  This is similar to the popularity boost given to the American Flag Bikini in recent years.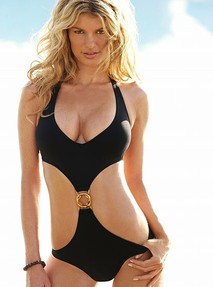 In 1964 the monokini came into existence with the help of a fashion designer by the name of Rudi Gernreich. This first monokini was, in fact, called a unikini and was not designed to cover a woman's breasts. The unikini eventually evolved into the trikini which is what you see today as the monokini. You can find a nice halter-neck or v-neck suit today. You can also get more coverage by opting for a triangle style. If you wear swimsuits regularly, it is a great option to have different suits for different occasions or moods.

The Aguaclara Selva trikini is a swimsuit that is adored by those women who prefer designer swimwear. This striking monokini features a black and white zebra print with an asymmetrical cut that exposes the stomach, a bandeau top and a wooden ring that lies against the hip.
Monokini Swimsuit for Sale
What can a monokini swimsuit offer you?
One of the more interesting suits is the Pisces by Cia Maritima. This unusual monokini swimsuit features a scale pattern in varying hues of green. The Pisces offers full top coverage tied around the neck, with exposed sides and a tie that sits on the hip.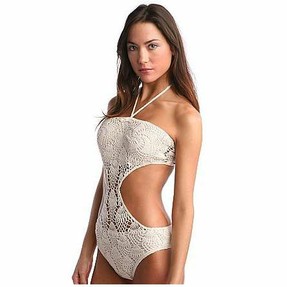 If you have a longer torso, the Audrina monokini by L Space is for you. The straps are extra adjustable to allow for a perfect fit. The back of the bottoms features cinching and the monokini ties around the neck.

If you're looking for a suit that offers a lot of coverage you should consider the Jets by Jessika Allen. Push-up support cups make this a good monokini for women with large breasts. The blue and orange designs that frame the denim front will catch a lot of eyes. The monokini ties at the back and the neck, ensuring you feel comfortable and fully supported whilst sizzling with summer style.

It is important to take your body shape into consideration when shopping for swimwear. Monokini swimsuits are ideal for women who have proportionate body shapes such as hourglass figures or who have medium-to-long torsos. If your body shape features a top or a bottom that is larger than the other it might take you a little extra searching to find a monokini that fits both halves. Loose fabric in the middle of the suit, when you have it on, is a sign of a poor fitting monokini. To be certain that a swimsuit will work with your figure you can take someone shopping with you and try it on before buying. In addition, if you plan on being active in your swimwear (for example playing beach volleyball) you may want to consider another style instead of the monokini, as the monokini is designed more for aesthetic appeal than for practicality and functionality.

You are bound to make heads turn in any design of monokini swimsuit or an American flag bathing suit. There is no wrong choice when it comes to this type of swim wear.
---
Disclosure: This page generates income for authors based on affiliate relationships with our partners, including Amazon, Google and others.