Another Omron Pedometer - The Omron HJ 720ITC
A Pedometer with a PC connection. A definite step up from the norm.
Why you need a pedometer?
Most people walk to and from a lot of places each day.  It can be quite surprising the difference using a pedometer makes.
So yesterday, you notice you walked about 4000 steps as you went about your daily concerns.  Your Omron Pedometer resets and something in you wants to beat yesterday so today at the end of the day (which you have spent glancing at your HJ720) you notice you have done 5000.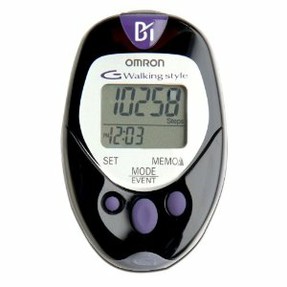 You get a lovely sense of accomplishment and the next day, you try just a little harder to see if you can beat your new record.
Suddenly , you are competing with yourself and probably winning.  All because you chose wisely to buy a pedometer.
Without measuring all your results, how can you choose to better them?  How can you decide what your goals are when you are uncertain where you are starting from.
Walk, Walk, Walk...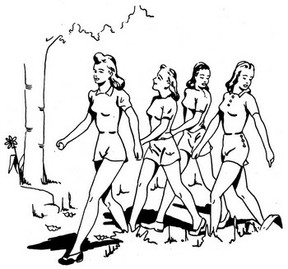 Christmas is past, the spring is on the way shortly.  It is definitely time to walk any extra pounds away.  It is the simplest, cheapest and most accessible form of exercise.
It is certainly one way to occupy the children who love to play outside whatever the weather.  
It is also one way to deal with the winter blues.  Get out into the fresh air and walk off any sadness as you find time to think through any concerns you may be facing.
All you need each day is 10000 steps and you are on your way to a healthier future.
The Omron Range of Pedometers are on hand to help you measure and meet your goals.
Omron HJ-720ITC Pocket Pedometer
The HJ720ITC is fairly amazing in its approach to helping you measure your progress.  This is the top model in the pocket pedometers range.  It is the first class model.
The most amazing thing about it is its ability to connect to your PC and download your results.  You can then see any trends that may be arising from your walks.  You can set goals and watch as you start to move towards them.  If you are moving in the wrong direction you can tweak your walks each day and turn the tide in your favor; All because you have bought the Omron HJ 720 ITC.
The connection to the PC is via USB, so most people will find it easy to download their data. 
The Downsides to The Omron HJ-720ITC
There are two main downsides:
You can only run it on Windows operating systems.  So, probably look elsewhere if searching for a solution to work on Linux.  
Some people have found that the software does not work with Windows & - Now this is a serious error indeed and an update is required as soon as possible on the part of Omron.  However, this is not the end.  There is a solution!
Windows has a compatibility mode so that you can run programs from previous versions of Windows.
Is that not helpful of Microsoft?
Using the compatibility wizard on Windows.
It is really simple to figure out.
Right Click the icon for the program
Then click on properties 
Then click on the compatibility tab
Proceed to change the options available so that the program works on your system
That is a a quick easy way to make it work, should you be one of those who experience a problem running the software with your current settings.
Omron HJ720ITC - The Conclusion
Overall, despite its negatives, this is a great pedometer that is pretty accurate when measuring your steps.  It can store up to 7 days on the pedometer so you can do a quick check to see if you are progressing or not.
It is easily attached to a belt or your pants.  It can also go in your purse or pocket and still remain accurate!
It is definitely one to buy!
---
Disclosure: This page generates income for authors based on affiliate relationships with our partners, including Amazon, Google and others.