Online Friends
by hartnana
A look at how fortunate we are to be able to enjoy relationships with people we have never met face to face and how they enrich our lives.
The Value of Online Relationships
The one thing you can take with you.
Just wanted to write a short article on the value of relationships online.  There is the old adage that you can't take it with you. While that might be true about stuff, it is not true, in my opinion, about relationships.  In fact I believe relationships are the only thing that we will take with us after this life.
You can be rich or poor and still have friends or be the loneliest person around.  Money is not the maker of relationships.  It doesn't even matter if you know the person face to face or only by their writings. I have made several dear friends on line that I have never met, probably never will meet, yet I can still pray for them, be concerned about their lives, watch their families grow, go through their deepest grief's, greatest struggles and enjoy their most exuberant moments.
If your whole life is about money and stuff it will be empty and shallow indeed. If your life is about people , about exploring who they are, what makes them tick, what makes them most excited or depressed, helping them when you can, even just caring about them when you can't physically do anything else for them,  your life will be so much richer.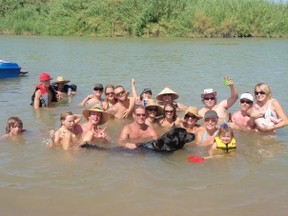 It is through relationships we learn about the world around us. In talking to our children, our friends, even people who drive us crazy. Maybe we should stop at times and assess why that person bugs us. What hurts, real or imagined, have they perpetrated against us that we can't get beyond? Over the years, and yes I still harbor animosity from time to time, I have learned that rarely does that other person even think about you, it is only you who has the problem. That problem can grow like a cancer in you until it destroys your health. Better to just let it go.  Easier said than done, forgiveness is for your health not the other person though.
We all have so much to share. We all live on the same planet, are warmed by the same sun, gaze at the same stars, love our children, yet each of us views the world slightly differently. We all ask slightly different questions. I think it is in exploring the questions being asked and the answers given that we all grow.
There is a movement afoot called pay it forward. While pay it forward is mostly a physical thing it can be an virtual thing too. Maybe even a more practical way of paying it forward is online. Even the smallest act of kindness online seems to get magnified. There is something so exciting, at least to me, about finding a comment about something I have written by someone I don't even know yet. Then when I go and see what they have written about it is like getting a letter from a stranger who tells you about something totally fascinating that you didn't even know, perhaps, even existed.
We are so fortunate to live in a time where we can meet people from different places, of different beliefs, of different world views and learn from each other and grow.
Books about friendship
share a little love
Young Friends
| | |
| --- | --- |
| young friends | old friends |
---
Disclosure: This page generates income for authors based on affiliate relationships with our partners, including Amazon, Google and others.