Outdoorsman Gift Ideas
by emmalarkins
What do you give as a gift to the men and women in your life who just can't seem to get enough of the great outdoors?
Nature Lovers Unite!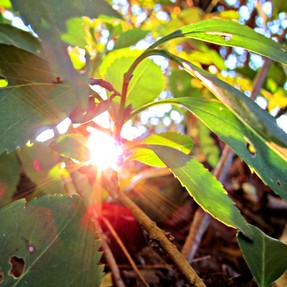 Don't fret; you'll find great outdoorsman gift ideas in this list for all of your friends and family members.
I love spending time outdoors, and one of the best parts is that you don't need a lot of gear to enjoy the simple pleasures of nature. However, if someone wants to build up an arsenal to prepare him or herself for regular hiking, camping, running, or other outdoor activities, the costs can add up quickly.
That's why buying gifts to help increase the ease and enjoyment of outside living and playing for your recipients can be such a great idea. I pretty much guarantee that there's some sort of electronic gadget or survival item made of high-tech fabric that's on their wishlists.
One important tip you should know before you buy: it's usually a good idea to get some advice before finalizing your purchase from the intended target. You don't want to buy a duplicate item, after all, or something that they'll never use.
Camping and Backpacking Gift Ideas
Keep Them Cozy, Comfy, and Dry
These are the kinds of items that experienced outdoorsmen and women will probably already have. However, they still make great gifts for people who are just getting into camping and backpacking, or who have recently started bringing their kids along with them and need extra equipment.
Sleeping bags. If you're not into camping yourself, you might be a little overwhelmed by the huge variety of sleeping bags that are available for purchase. A newbie will most likely be happy with just about any high-quality bag from a company like Coleman. For advanced campers and backpackers, it's best to ask about their camping needs: a mummy or a low-temperature-resistant bag could be a welcome gift.
Tents. Again, many people who are into camping already have at least one tent. Still, they might want a single-person tent if they've just taken up backpacking, or a new, small tent if they're traveling with children. A classic dome tent is a great gift for the camping beginner.
Chairs. Not every outdoorsman relishes the idea of sitting on rocks, stumps, or the cold, hard ground. There's a great array of folding chairs available, ranging from simple stools to full-out folding loungers with footrests and sunshades.
Hammocks. A lightweight hammock is a fun thing to bring along on a camping trip, whether you intend to sleep in it or just spend some time relaxing with the sounds of nature all around you. There's an art to sleeping in a hammock, and it's a fun and rewarding skill to learn.
Outdoor Gizmos and Gadgets
Technological Toys for the Outdoorsman
Some people like getting away from technology when they're out in the wilderness. For others, taking along a useful gadget can greatly improve the outdoor experience.
Watches. These aren't your ordinary watches. First of all, they track your speed, distance, and heart rate, which is great for avid runners. The built-in GPS tracker also lets you map where you've been by plugging the device into your computer when you return home.
GPS devices. Getting lost can be even more of an issue when you're trekking through the countryside than if you're riding in your car; for one thing, there aren't usually as many people to ask for directions. That's where special handheld GPS devices come in handy. Even if you prefer old-fashioned orienteering most of the time, a GPS device is always good to have as a backup.
LED lights and lanterns. LED is the latest advancement in lantern lighting technology. The low power draw of these bulbs means a much longer battery life, whether you're powering with disposables or electricity stored through solar or hand-cranking.
Garmin Forerunner 305 GPS Receiver With Heart Rate Monitor

Package Includes: Forerunner 305, Heart rate monitor, docking cradle, expander strap, AC charger, PC/USB interface cable, Quick start guide, Garmin Training Center CD & ...

$199.99 $199.00
Garmin GPSMAP 60CSx Handheld GPS Navigator

Garmin GPS MAP 60 CSx. The GPS MAP 60 CSx is one of the most popular GPS models for outdoor and marine use. It incorporates a barometric altimeter for extremely accurate ...

Only $535.99
Rayovac SE3DLN Sportsman Xtreme 300-Lumen LED Lantern

With optimized beams, rubber grips, and tactical switches, Rayovac's Sportsman Xtreme lights are what you need for the outdoors when you head for the hills, woods, or even the ...

Only $25.99
Fire Building and Fire Safety
Providing Warmth and Light
Creating fire is a basic human urge. Give your recipients fun and creative ways to make fire, or things to keep that fire from getting out of hand. Just make sure they know to always follow proper precautions and local rules when having fires outdoors.
Firestarters. Sure, you could start your fire with regular old matches or lighters, but what would be the fun in that? You should know that these things take a bit of time to master, and won't make good presents for people who are easily frustrated. But when you do finally manage to light a fire with an old-fashioned tool like this, the sense of pride and accomplishment is worth it.
Tinder kits. True, buying materials to get your fire started isn't really that "suvival-y." However, some sort of fire-starting material does make a good addition to a firestarter gift. If you like, you can even make your own tinder or fire kit with a metal or plastic container that seals tightly (such as a tin used for tea), and fill it with dry sawdust, wax shavings, dryer lint, and other dry and fluffy materials. Check out this fire-making guide for more info on fire kits.
A folding shovel. Shovels come in handy both for digging a firepit, and for spreading out the remains of a fire to help prevent accidental blazes. Even when they're not being used for fire-related purposes, there are plenty of ways these portable tools can prove themselves worthy of coming along on a camping trip.
Swedish Firesteel - Army Model

Originally developed for the Swedish Department of Defense, Swedish FireSteel is a flash of genius. Its 3,000°C spark makes fire building easy in any weather, at any altitude. ...

Light My Fire TinderSticks

Fire building made easy, the pure and natural way. Don't build your fire with noxious fumes or harmful chemicals. Use the time-honored, organic method. A technique that ...

Only $8.86
Gerber E-Tool Folding Shovel (24 in.)

The Gerber E-Tool Folding Shovel (24 in.) features a glass-filled nylon handle with a powder coated boron carbon steel spade and an anodized 7075 aluminum shaft. This ...
Gift Ideas for Nature Loving Kids
Get Them Started Early
Kids don't get to spend nearly as much time outdoors as they used to, so anything you can do (such as getting them outdoor-themed gifts) to get them out of the house is a good thing.
Camping gear. It's not necessary to get kids camping gear that is specifically suited to their size; when I was younger, my siblings and I happily made do with regular-sized sleeping bags and a standard dome tent. However, it can be nice to have more kid-friendly gear, especially if the kids in question are involved in backpacking or staying outdoors in extreme conditions.
Observation tools and toys. Kids love to explore the world around them; anything that helps them do so can make a great gift. When it comes to precision tools, I'd suggest getting "real" versions as opposed to "toy" versions of things such as compasses and binoculars. They're usually not much more expensive, and tend to work better.
Books. For children who prefer to research before plunging into new things, books on the camping and other wilderness topics, such as plant or insect identification, can be a real treat. This is an especially good gift if you're doing Christmas shopping for cold-climate kids, because other outdoor gifts can't be used right away and young 'uns aren't always known for their patience.
Eureka Grasshopper - Kids 30 Degree Sleeping Bag

Rated to 30 degrees Fahrenheit, the rectangular Eureka Grasshopper - 30 Degree Sleeping Bag for Kids is a great choice for car and cabin camping and outdoor excursions in ...

Only $44.95
Bushnell Falcon 10x50 Wide Angle Binoculars (Black)

Features quality Bushnell« fully coated optics for sharp images at an affordable price. Features the patented InstaFocus« system for fast focus so you won't miss any of the ...

$42.12 $28.37
Insect Lore Creature Peeper

4 years & up. Keep your creature for a short time, then let it go. This bug viewer allows children to see the bug two ways, from the top or from the side. It is watertight, so ...

$12.75 $8.99
Timex Kids' T79051 My First Outdoor Black Fast Wrap Watch

My First Outdoor - Quartz movement, Casual watch, Black hands and numbers, Brushed stainless steel textured bezel, Brushed stainless steel case, crown and caseback, 30 ...

Only $36.0
Willy Whitefeather's Outdoor Survival Handbook for Kids

From treating a bee sting to building an overnight shelter, kids will gain the knowledge and confidence they need to survive outdoors. All ages

Only $8.69
Survival Resources and Tools
For the True Outdoorsman
These types of gifts are great for the people who really want to be hardcore about their outdoor activities. Again, as with buying presents related to any extreme hobby, check with your recipient to see what kinds of things they want and need. Brand loyalty can be very important to people who are really into what they do.
Books and guides. You can learn a lot about survival from a good book or guide. Many have a whimsical appeal, such as How To Stay Alive in the Woods by Bradford Angier with its cover made of a stubbly rubber material.
Knives. Every true outdoorsman or woman needs a good knife. A survival knife should be strong, sturdy, sharp, and keep a good edge through repeated use. Stick to well-known brands, such as Smith & Wesson.
Rope. Rope is second only to knives in importance in the outdoors, because the uses for it are almost endless. Paracord is a great type of rope that resists wear and deterioration, and is strong and lightweight.
Classes. Education is important when you're learning a new skill, such as surviving in the wild. Check your local parks and recreation department, gear store or community college for survival courses. Giving a class as a gift is great because you don't have to worry about wrapping or transportation.
What Do You Think Is the Best Outdoor Gift?
Vote Here!
---
Disclosure: This page generates income for authors based on affiliate relationships with our partners, including Amazon, Google and others.