For a Pepper Mill or Pepper Grinder
Factors to consider when buying a pepper mill.
Get a PepperMill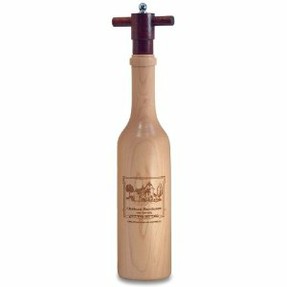 Pepper mills are a great addition to any kitchen and should really be considered necessary.  Why?  Most chefs will tell you that the way to get the best tasting pepper is to use freshly ground pepper.  How easy is it to grind down pepper in a pepper mill? And they are so small that you can fit them anywhere in your eating space, be it on a tray or on a dining table.
You try it – get some old ground pepper out of your spice cupboard (yes, the one that has been there for months, used occasionally but it is so bland, you do not miss it!) and then grind down some fresh peppercorns in your pepper mill, try them both, starting with the old kind; You WILL taste the difference.
What are the different kinds of Pepper Mill available?
Look through any shop that sells home and kitchen equipment and you will see a wide range of pepper mills – wood pepper mills, stainless steel pepper mills, glass pepper mills, pepper mills with a ceramic grinding mechanism, pepper mills with handles on the top, pepper mills that you twist. There is such an abundance of choice which makes it difficult to decide which to go with.
Let's look at the characteristics of a few of them.  It will ultimately come down to what you like.
Traditional Pepper Mill
The Olde Thompson Pepper Mill is more of a traditional mushroom style of peppermill. You twist it and out comes fully grown pepper from the bottom. It is fully adjustable (and easy to do) so you can have your peppercorns ground down to very fine or leave them very coarse.
It has a carbon steel grinding mechanism.  You can get it in the walnut, high end look or the contemporary stainless steel variety.
Chef Specialties are another brand that produce the traditional style pepper mill as well as Peugeot.  The one displayed is 18inches long so fairly big but will not need refilling for a long time.
Pepper Mill with a turn crank on top
These ones are a bit more pricey though still within the mid range for pepper mills.  They are well made and would complement any kitchen.
They do last ages.  Some of the people who reviewed it had had them for over 25 years so definitely durable.
There is an associated salt mill which makes a set that ooks amazing and works really well.  The grinding mechanism is beyond compare and as one person put it, rains pepper whenever you need it.
Oxo is another brand that has a turn crank on the top.  It is made for hands that cannot grip a smaller turn crank.
Turn Cranks on top Pepper Mills
Perfex 4-1/2-Inch Pepper Mill

Perfex Mills are true classics. They have a fantastic reputation for a reason; they are expertly built – built to last, using high quality materials and built to produce the ...

$130.0 $129.94
OXO Good Grips Pepper Mill

Freshly ground pepper on that? The answer is yes, with the OXO Good Grips Pepper Mill that covers all bases: A long turning arm with comfortable, nonslip handle makes it a ...

$14.95 $14.2
Plastic mill with the crank-key on the side
Another great way of using a pepper mill.  This time the crank key is on the side.  An easy way to turn peppercorns into pepper.
Buy the Push Button Pepper Mill
Push Button Pepper Mill
This one claims to make the whole process one handed.  Most times that works but some people have found that they never realized just how solid peppercorns can be.  It does come pre filled with peppercorns and the salt mill with sea salt.
 It is easy to refill as well so not a one-time only event.  Very sophisticated looking and contemporary so may be worth having a set for your table.
Battery Powered PepperMill With Spotlight
This one does the work itself so no need for twisting or turning.  It is quite big so easy to refill.
It even has a light when it is grinding so you can see what is happening and how much you are getting. 
The Itouchless Pepper Mill is particularly suited (though by no means restricted) to people with limited strength in their hands but it definitely makes the process of grinding wither pepper or salt quite simple.
The itouchless runs on batteries while the Cuisinart is rechargeable.  Both of them are great to use and make the process of peppercorn grinding a lot simpler and easy.  Not of course, that a little twisting is all that bad really.
Where to Buy the Electric Pepper Mill
What to consider when buying a Pepper Mill
How easy is it to fill?
How much comes out when you grind?
Do you like the handle or lack therof?
Can you adjust the grind?
Decide which of these things matter to you and pick a pepper mill (preferably a set which can come with a salt mill or just a salt shaker). 
Take your dining experience to a higher level.
Already have a Pepper Mill? Get the Poster!
---
Disclosure: This page generates income for authors based on affiliate relationships with our partners, including Amazon, Google and others.