Planning the big Brighton send-off weekend
by BrendaHart
With its bohemian culture, vibrant nightlife and varied shopping, Brighton is the perfect city for an indulgent girls' weekend. With so much to choose from, the best plan may be no
Apparently, there's no need for meticulous planning to enjoy a weekend in Brighton. As the locals say, the best plan is no plan. The city's small size means that my friends and I will opt to explore it on foot. Hopefully our seemingly aimless wandering will reap the greatest rewards.
As most of us know, Brighton is a bohemian city with a long-standing penchant for alternative lifestyles. It's also the party capital of the UK. What better place, then, to spend my final weekend before jetting off for a year's worth of travelling?
Weekend in Brighton
Activities
We'll spend the majority of our time shopping. The twists and turns of the south lanes are packed with jewellery shops and designer fashion boutiques, while the super-dense North Laine area is a bohemian wonderland full of vintage fashion and weird and wonderful independent shops.
Brighton has some of the sunniest weather in the UK. If the sun is shining we'll join everyone else at the beach. Should there be no room to lay our towels, the guidebooks say that the crowds thin out towards the west pier. Or maybe we'll head further east for a little nude sunbathing.
Eating
For a brief respite from retail, we've been recommended a traditional tea and cake at the Mock Turtle Tea Shop. An alternative is the Iydea cafe on Kensington Gardens, which has a wide range of vegetarian and vegan cuisine. In the evening, I might spoil my vegetarian friends by taking them to either Terre à Terre on East Street, or Food for Friends on Prince Albert Street.
Going Out
We will undoubtedly want to sample the famously diverse and energetic Brighton nightlife – attired in fancy dress purchased during the daytime. West Street in the city centre is renowned for being lined with cheap and cheerful bars and clubs – the perfect setting for fun-loving groups. For something a little more edgy and intimate, we might try underground experimental performance space The Basement on Kensington Street.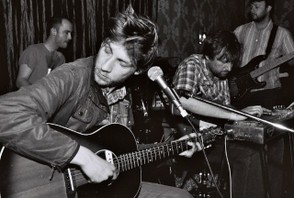 Brighton's Music
Sleeping
Brighton isn't the cheapest place in the world for accommodation. Nevertheless, we hope to find a Brighton bed and breakfast that offers a group discount. For those seeking a dog friendly BB Brighton will not disappoint – the city's inhabitants love animals, almost as much as they love art – Brighton is dotted with inspiring and colourfully curious hotels. Accommodation is one thing worth planning in advance – we'll book online to find the best prices.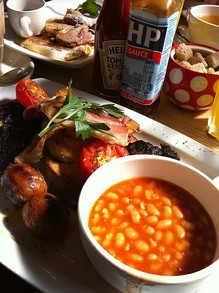 Brighton's Food
Recovery
Making sense of the night before is best done over a large fry-up and generous amounts of caffeine. Word of mouth has it that some of the best include Kensingtons  in the North Lanes, Lix on Ditchling Road, Mange Tout on Trafalgar Street and Harry's on Church Road. Some of the cheapest include Seven Bees on Ship Street Gardens, where diners will pay just £5 for their fry up, and Joe's Cafe on Upper Hamilton Road, which charges less than £4. If we feel like a dose of sea air with our grease, we'll try one of the seafront cafes, such as Carats cafe on Southwick coast road. 
Resource Box
Interactive map of Brighton marked with places of interest.
Official tourism guide to Brighton.
List of Brighton-based entertainment options.
---
Disclosure: This page generates income for authors based on affiliate relationships with our partners, including Amazon, Google and others.