Real Life Black & Blue Roses - Not a Fantasy?
by wrylilt
For thousands of years, people have tried to create things that are only present in stories and art. Unique rose colors fall into this category.... for now.
People have always wanted what they cannot have - and the flower world is no exception. For hundreds of years people have quested to breed flowers in colors that aren't normally present in nature.
Some of these flowers include blue roses & black roses as well as black & blue tulips although there are dozens of other colors people wish to create new flowers in.
Finally, after years of trial and error and various testing methods, a rose has been produced in Japan that may be a true blue rose.
Creators have promised a rose that can come in every shade from baby blue to navy blue. After years of trying there may be a real true blue rose!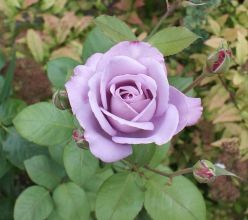 The blue moon rose. Previously the cl...
Why Can't Blue Roses Grow Naturally?
Roses lack the gene needed to create blue coloring, called delphinidin. Without this gene, no matter how many varieties of roses are cross-bred, a blue rose can't be created. Up till now any cross bred variety of rose that has been labelled blue (Such as the Blue Moon rose on the right) have been more of a mauve or lilac color.
There are three steps to make a blue rose:
Turn off the rose's production of red pigments.
Turning on the rose's ability to contain blue pigment.
Creating and inserting the blue pigment into the rose.
Rose Color Meanings
Black Rose: Symbolizes death and an end to things - as well as rebirth and new beginnings.
Blue Rose

: Symbolizes the impossible and unattainable.
When Will the Blue Rose Be Available to Buy?
The blue rose should be available within 3 years in Australia. However this doesn't mean you'll be able to buy it everywhere. Chances are that it will be a hard to get, expensive flower for quite a while, even after its release.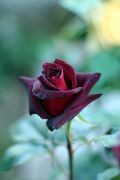 Black Baccara rose - the closest you'...
Will Black Roses be Next?
Maybe, maybe not. Because genetic engineering is still in its infancy, this is a difficult question. Of course gardeners the world around will keep trying to cross breed a black rose, however until that point, the closest they may get is the black baccara (shown on right).
Who Created the First Real Blue Rose?
The blue rose code was cracked in 2004 by a company called Florigne Ltd, a subsidiary of Japanese company Suntory Ltd.
They used the blue color from pansies as part of their research and creation of the blue rose.
How Can I Make or Grow My Own Blue or Black Rose?
You can make blue and black roses right now if you wish. They won't be real but they'll still be beautiful!
Ingredients:

White Rose

Black or Blue Food Dye 

or Ink

Vase or tall container
Scissors
Method:Fill the vase with water then put in enough dye or ink that the water is opaque. Cut the stem about 1cm from the bottom and remove any lower leaves from the stem that may end up in the water. Insert the rose into the water and wait! The dye will be distributed by the roses circulatory system and within a few hours or days (depending on dye and rose) you'll have a blue or black flower!
Tip: Wash the roses stem in hot water (this makes it last that little bit longer) then place it in a vase containing clean water and plant food. People will look twice when they see what appears to be a natural black or blue rose!

---
Disclosure: This page generates income for authors based on affiliate relationships with our partners, including Amazon, Google and others.