Recipe: (Sweet) Buns (low histamine recipe)
by Michaela
Simple, quick - and perfect for breakfast or your coffee break: Sweet buns (can also be tested by people suffering from histamine intolerance)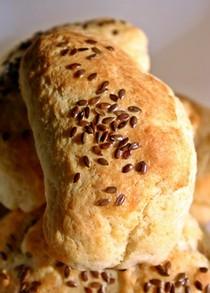 Sweet Buns - quick, delicious and low...
Ingredients
300 g flour (I used spelt)
3-4 teaspoons of baking powder
150 g low-fat curd
100 ml milk
100 ml sunflower oil
1 tablespoon sugar (the recipe actually calls for more sugar - please see note below)
dash of salt
Directions
1) Preheat oven to 375 degrees F.
2) Mix flour and baking powder, add the rest of ingredients and mix until all ingredients are incorporated. (It's best to use your handmixer for that.) The dough should be smooth but still a little moist.
3) Divide your dough into 10-12 pieces, form your buns in crescent shape.
4) Paint each crescent with a little milk.
5) Optional: Sprinkle with sesame or flaxseed.

Place in the oven for approximately 20 minutes or until golden brown.

Enjoy! :)
Note
The original recipe calls for sesame seed to sprinkle the buns, however, I used flaxseed instead. (Please be careful: Sesame seed might be a problem with some people suffering from histamine intolerance.)
Also, according to the recipe you should use 80 g of sugar - I wanted the buns a little less sweet, so I used only a tablespoon of sugar.
This recipe was inspired by Thilo Schleip's (German) book on cooking for a histamine-restricted diet. This means the buns should be fairly low in histamine and okay for someone on a histamine-restricted diet.
However, histamine intolerance is a pretty individual thing, so if you're suffering from this condition, please judge for yourself before you try this out. And let us know how you liked it - feedback is more than welcome! :)
What is histamine?
According to Wikipedia's definition:
Histamine is an organic nitrogen compound involved in local immune responses as well as regulating physiological function in the gut and acting as a neurotransmitter. Histamine triggers the inflammatory response. As part of an immune response to foreign pathogens, histamine is produced by basophils and by mast cells found in nearby connective tissues.
What exactly is histamine intolerance?
Histamine intolerance is not a food allergy, it is a food intolerance.
It belongs to the group of pharmacological intolerances meaning it is caused by the pharmacological activity of certain substances - the patient reacts to a wide range of chemical either contained in the food itself or as a by-product of those foods. 
Food intolerances are more common than food allergies and they can occur at any age.
The possible symptoms of histamine intolerance are many and varied - most common are migraines and headaches, cardiac problems, gastrointestinal problems, asthma, dizziness, skin irritations, ...
Food to be avoided? - Many! Wheat, nuts, chocolate, bananas, strawberries, pineapples, tomatoes, citrus fruits, cocoa, eggs, alcohol, some fish, some meat, some cheese, ... The list goes on and is different for every person suffering from this condition.
You would like to know more? - Find more information about histamine intolerance here.
---
Disclosure: This page generates income for authors based on affiliate relationships with our partners, including Amazon, Google and others.