Remember the Forgotten Heroes
by vbright
Memorial Day is upon us, and with it, many tributes to our fallen heroes. Let's not forget the forgotten heroes of another time...
WWII History
The FIRST attack on American Soil
Most people remember 9/11. How could they not? The brazen attack on American soil which came as a complete surprise. Those images are burned into people's memories. However, it was not the first time that War was felt in America.
From 1939-1945, Hitler and his henchmen managed to cause death and destruction, the memories of which would last forever. It was a six year war that had initially had Britian and France in battle with Germany. In the end, every world power would have had a part in this memorable time in history.When it was over, more than 60 billion people had lost their lives, and Europe and Asia were in ruins.
Imagine, if you will, the shock and surprise, as well as the disbelif when the President said on the radio:
Yesterday, December 7, 1941 - a date which will live in infamy - The United States of America was suddenly and deliberately attacked by naval and air forces of the Empire of Japan.

President F.D. Roosevelt
8th December 1941
The media coverage wasn't what it is today. There were not scores of reporters converging on the scene, although, yes, there were some.The Allies fought a valiant fight, and in the end they were successful in bringing the Hitler terror to an end. This is a wrap up of the known casualties (Alliied) of WWII:
Australia: 31,200
Belgium:  9,096
Brazil: 948
Bulgaria: 9,000
Canada: 44,893
Denmark: 1,186
Estonia: 2,000
Finland: 26,923 (Neutral)
France: 132,437
Great Britian and Northern Ireland: 298,950
Greece: 17,200
India: 36,092
Italy: 629,729
Netherlands: 14,209
New Zealand: 13,075
Norway: 4,790
Poland: 320,000
Romania: 64,000
South Africa: 3,863
United States: 408,200
USSR: 13,300,000
Statistics as per: World War Two Nation by Nation (J. Lee Ready - Published by Arms and Armour - ISBN 1-85409-290-1)
Needless to say, the Allied heroes paid a great price for the freedom of the entire world. These aren't just numbers. These were people. People who had wives, children, husbands that loved them. They were white, black, brown and everything between.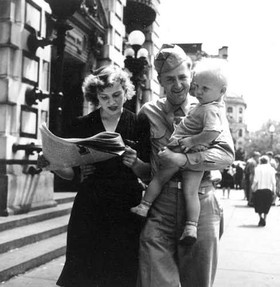 This Memorial Day, let us remember not only those of the United States who have fallen, but the Allies who fought side by side with our own. Salute!
My War Hero: My Father
A WWII Veteran, and member of the VFW and American Legion
Sadly, I have no pictures of my father in uniform. I do remember his stories, however. Most of them were humorous, as back then, the "bad things" just weren't discussed by military men and women. My Dad kept up with his Army Air Corps buddies and they had a reunion each year which my dad travelled to the east coast for.
Serving in the Miliatry was something of which  my dad was proud. He told so many stories, and recounted so many events that kept us enthralled. I do remember, however, that in his later years, he commented that not many of the "younger" vets joined the many groups, such as the American Legion, or the VFW. He was a member, and a stickler for the rules too. He quit the Legion for a time because someone folded the flag the wrong way! Also, if he saw someone flying a tattered or worn flag--he would not let it go.
According to the VA, of the 16 million American soldiers who served in WWII, there are 2 million left. This is despite independant reports that there are only a handful left. However, many of these vets are now in their 80's, and in 2025, it is estimated that only 57,000 will remain.  My own WWII hero passed away in 2004, and through him I developed, and learned a great respect for those who served, and continue to serve in the military.
Video of WWII events and memories
WWII Movies
Currahee

Only $4.99

Battle of the Bulge: Wunderland
A Wing and A Prayer

Only $7.99

The Battle of Britain (1969)
Have you or a loved one served in a war?
They are ALL heroes
WWII Documentaries and Films
Heroes of other wars
I in no way intend to minimize the sacrifices of Military men and women who served in other wars, or "conflicts". They all have paid, and are paying the price for freedom. We honor all who have answered the call of duty and risked, if not paid, the ultimate price. Let us not forget, either, the number of innocent people who have paid the price.
To the Veterans of Vietnam, Korea, Afghanistan, Iraq, and others.....I salute you!
---
Disclosure: This page generates income for authors based on affiliate relationships with our partners, including Amazon, Google and others.