Review of Bare Minerals Makeup
by PamelaA
This is my review of bare minerals makeup.
My Review of Bare Minerals Makeup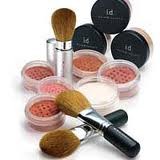 As a person who likes the idea of using organic product products I decided to check out bare minerals makeup.  Read on to find out about my review of bare minerals makeup.
I have to admit when I saw the comercial on TV I was skeptical to say the least. There are so many products on the market that promise the world but simply do not deliver on their claims.  Despite being skeptical I decided to go ahead and order it to see if the product worked as described.
I recieved the product three to four days after ordering and everything was as described in terms of what was in the package.    I decided to watch the dvd that came with my makeup because applying makeup has never been my strongsuit. 
The instructions were easy enough to follow and the bare minerals makeup was easy to apply.  I was impressed by how easy the makup was to apply.  The bare minerals foundation was was very smooth and did not look caked on like many foundations.   I was surprised at how well the foundation covered up the sun spots I had on my forehad.   The concealer did a great job of concealing the scar I have on my chin from my childhood.  
The blush and lipstick were good also.  Although I do admit I do prefer my Clinque lip gloss over the bare minerals.   It seemed to me that the lipstick came off much quicker than my normal brand. I found that throughout the course of a typical day that I had to reapply it a few different times.
The eyeshadow was really nice and I liked the bold shades it came in.  It was easy to apply and it did stay on for the whole day which is a big plus because I am not a fan of touching up makeup while i'm out shopping or running errands.
Overall the makeup does what it describes.  My skin seemed healtheir and the makeup looked very natural looking.  The only real negative thing I can really say about the bare minerals makeup is its slightly more pricey than clinique / este lauder brands.   However I feel that the coverage and nutrients in the makeup compensate for the price differnce.
Overall my review of bare minerals makeup is poitive and I would reccomend it to anyone who is looking for a healthy makeup that applies easily.
Free Bare Minerals Sample
Bare Minerals Application Vidoes
Bare Minerals on Amazon - Review of Bare Minerals Makeup
bareMinerals ORIGINAL SPF 15 Foundation with Click, Lock, Go Sifter - Medium Beige

Magazines and millions of women agree: your skin will love you for this. Our Original SPF 15 Foundation gives you an incredibly flawless, even application and picture-perfect sk...

$26.99 $21.40
Bare Escentuals bareMinerals Get Started Complexion Kit - Medium

This Get Started® Complexion Kit will get you on your way to radiant, healthy-looking skin, using award-winning bareMinerals® Foundation and signature complexion essentials. You...

$42.14 $38.56
bareMinerals Broad Spectrum SPF 15 Matte Foundation, Medium Beige, 0.21 Ounce

An active mineral foundation that gives a shine-free coverage infused with extraordinary skin-renewing properties reduces enlarged pores and smoothes out skin leaves a flawless ...

$23.69 $19.00
Bare Escentuals BareMinerals Mineral Foundation MATTE SPF15 FAIRLY LIGHT 6g Large

Breakthrough bareMinerals Matte SPF 15 Foundation absorbs excess oil and eliminates shine without drying skin for a natural matte finish all day. Clinically Proven, it delivers ...

$23.28 $18.54
Bare Minerals Complexion Rescue Tinted Hydrating Gel Cream Natural 05 1.18 oz

Powerful hydration: marine botanicals to help replenish thirsty skin. Dewy sheer-to-medium coverage for a radiant, soft, smooth finish, Non-chemical, mineral-based broad spectru...

$22.60 $17.00
bareMinerals bareSkin Pure Brightening Serum Foundation SPF 20, Bare Natural 07, 1 Ounce

Bare Minerals BareSkin Pure Serum Foundation Broad Spectrum SPF 20 Bare Natural 07 1.0 oz.

$24.56 $21.00
---
Disclosure: This page generates income for authors based on affiliate relationships with our partners, including Amazon, Google and others.