Robin s Nest - A Backyard Adventure
by nightbear
A backyard nature adventures. Watching a Robin s nest. We watched the nest being built and the parent Robins hatching their young. Beautiful Pictures!
A Show of Nature - A Robin s nest
A large silver maple became home to a family
It was one of those special and somewhat rare occasions when my husband and I were treated to a show of nature. It was beautiful and entertaining for several days. It was hard to see because it was so high up in our silver maple tree but a beautiful pair of robins built a robin s nest and then gifted us with some beautiful baby robins.
Our back deck is right at the edge of this huge tree and we had in fact just trimmed it up a couple weeks ago. And it seemed late for a robin s nest. But there you have it. Nature does what it is going to do. It is always right. Our job was just to watch the story unfold.
So it occurred to me since the nest was so high, the only way I would get a look is through my camera. The rest as they say... is my wizzley page.
Would a Robin s nest be entertainment for you?
Close up of Robin s nest
Boy, look at the intricate work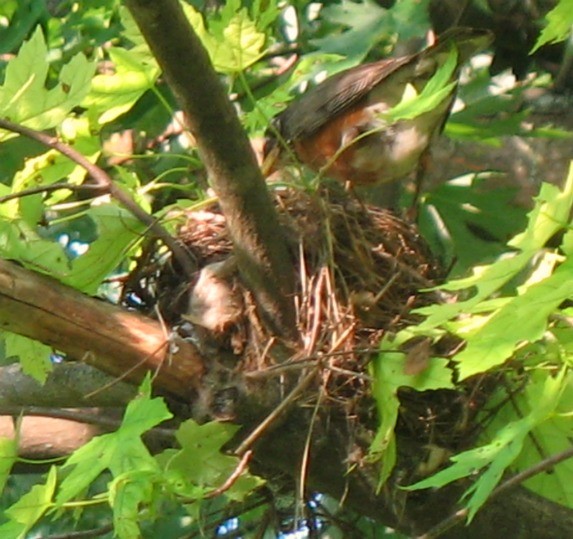 Close up of Robin's nest
Preparing for the Safety of the Robin s nest
There is a lot to do to prepare for a family
The mama and daddy Robin worked as a team. One or the other was always around the nest. They built the nest together and they watched over it as a team. It was wonderful watching them, they were so industrious and worked tirelessly. When they had the nest perfect and to their satisfaction, they started training the other animals in our backyard.
Absolutely NO ONE was allowed in that tree or even around it. We have all kinds of animals in our backyard. And lots and lots of birds, not to mention squirrels. Actually we were worried because we do have so many squirrels, but we didn't have anything to worry about. They had everything under control.
Every time any animal was even near the tree, not even in it, one or the other or both of the parent Robins would appear. Sometimes it seemed like from out of nowhere. They would in no uncertain terms teach these invading animals some respect. It didn't take any time at all. Within a few days, we went from having many animals in the yard, to virtually none.
Interestingly enough things sort of settled down after they laid the eggs. Birds would come into the yard but they did NOT go into that tree. But no squirrels have come around since they learned their lesson.
They now had their privacy and were free to go about the business of raising a family.
Mama Sitting on the Nest
She and Daddy were dilegent with their duties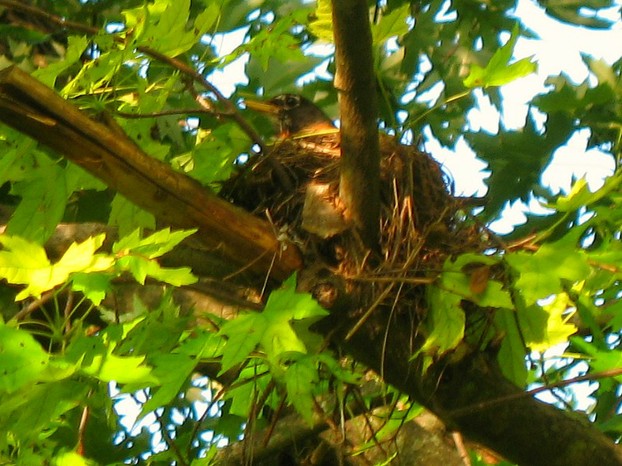 Mama Robin Sitting on the nest
Sitting and Keeping Guard
No One was allowed in that tree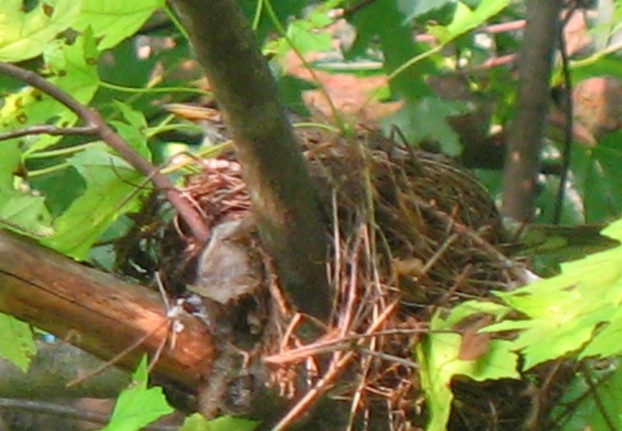 Mama sitting and keeping the nest safe
Feeding those hungry Robin babies
They always worked in teams to get the babies fed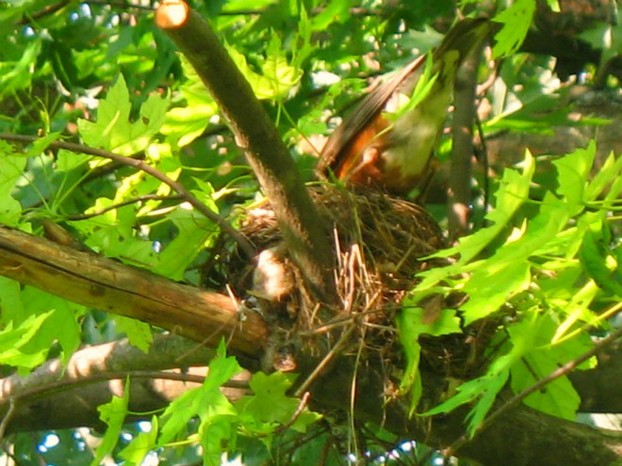 Feeding the Baby Robins
An Education and a Lesson in Parenting.
Maybe humans could learn from the Robins
It was amazing to watch the feeding of these precious babies. The Robin Parents were so proficient and so dedicated. It has been so hot and humid here, I can barely breath when I am outside, yet these birds worked tirelessly to watch, protect and feed these babies.
This has actually been an education as well as lesson in parenting. I think we humans could learn a thing or two from these wonderful parents of nature.
We enjoyed our backyard nursery and watching the success of these Robins in their robin s nest.
A Pair of Robins tending the nest
I wish I could have gotten close enough for this. But this is wonerful
Papa Robin Taking His Turn
They were very equal partners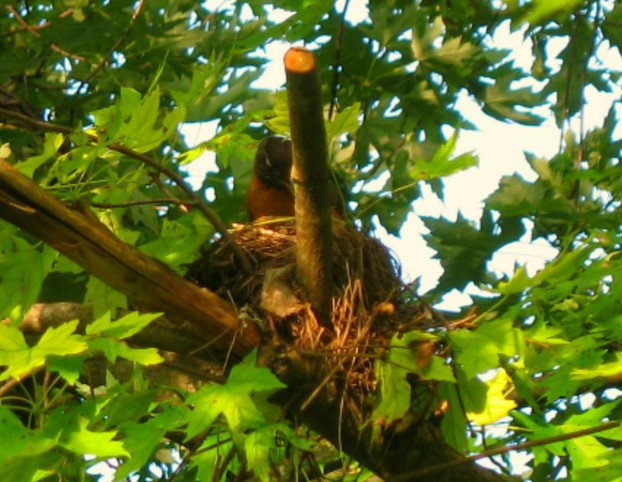 Papa Robin Taking his Turn in the Robin s nest
Baby Robin peaking over the robin s nest
Don't go to far little fella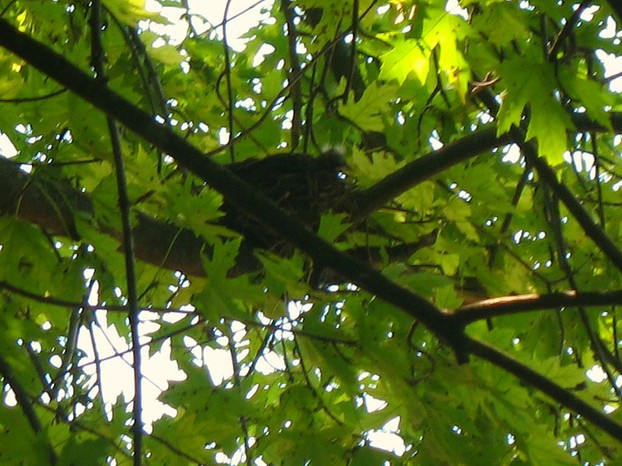 Baby Robin having a peak at the world
What is birding?
Maybe you know it by birdwatching
Birdwatching
or birding is the observation of birds as a recreational activity. It can be done with the naked eye, through a visual enhancement device like binoculars and telescopes, or by listening for bird sounds. Birding often ...
Are You a Birder?
Do you take the time to watch and learn about the birds in your backyard?

Oh yes! It provides hours of entertainment and I love learning about them
---
The Beauty of Birding
Wagner's 62059 Greatest Variety Blend, 16-Pound Bag

Wagner's Greatest Variety is our ultimate food for the greatest variety of birds. Just like people, different birds have different food preferences which is why we have included...

Wagner's

$24.99 $19.98
Birdscapes Clear Window Feeder 348

The Birdscapes Wild Bird Window Feeder is an economical and convenient choice that attaches easily to any window surface. The feeder is perfect for birders who enjoy watching th...

Perky Pet

$9.97 $5.26
Wagner's 76027 Black Oil Sunflower, 25-Pound Bag

Wagner's Four Season Sunflower Seed is 100% black oil sunflower seed. Sunflower seed is the favorite seed of most wild birds. It is high in energy and has a thin shell making it...

Wagner's

$24.98 $23.67
No/No GSB00344 Green Seed Ball Wild Bird Feeder

Have a ball bird watching by hanging the No/No Green Seed Ball Wild Bird Feeder in your yard! The No/No Green Seed Ball Wild Bird Feeder has a handsome green finish. This feeder...

Perky Pet

Only $5.98
Wagner's 53002 Farmer's Delight Wild Bird Food, With Cherry Flavor, 10-Pound Bag

Wagner's Farmer's Delight Wild Bird Food is a clean blend of millet, milo, cracked corn and sunflower. This general purpose mix is great for attracting all birds, especially gro...

Wagner's

$9.98 $7.77
Wagner's 62076 No Mess Wild Bird Food, 20-Pound Bag

Wagner's No Mess Premium Wild Bird Food offers a no mess, no waste, no growth solution. It is great for decks, gardens, patios, window feeders and any place where you don't want...

Wagner's

$29.98 $25.28
Close Up of Baby Robin
I'm ready Mr. DeMille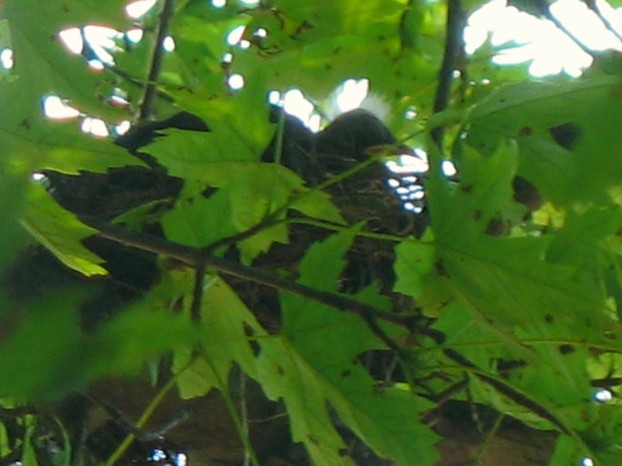 Baby Robin's close up.
From the Start a Wonder About Birds
I can't remember a time I didn't love birds
I have always been interested in birds. It started when I was a young child and a young hawk was injured in our back yard and it turns out it had a broken wing. My Dad and I nursed it back to health.
 Today, I own a black capped caique parrot. This is a huge commitment of love and one I do not recommend unless you do your homework and learn all there is to know BEFORE you make your decision.
 And bird watching has been a hobby for a long time. I set up a "bird bed" in my backyard at one time. Lots of feeders, and watering and platforms. It was so beautiful and so wonderful to sit on the deck and watch the varieties that arrived. And of course try to entice new species to come visit. I highly recommend this past time.
All Animals Are My Passion
Here are some of my other animal lenses
---
Disclosure: This page generates income for authors based on affiliate relationships with our partners, including Amazon, Google and others.