Salt Mill, Pepper Mill
What are pepper mills and why should you use one? What of salt mills? Are they necessary to good cooking?
Salt and Pepper Mills
Who needs them?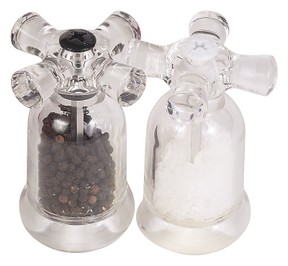 Looking around the shops, I noticed for sale a selection of salt and pepper mills.  These mills are available in a wide range of styles and designs - wood salt and pepper mills, brass mills,electric salt and pepper mills, glass mills, ceramic mills and more.  
This got me wondering why these were necessary.  Are they essential to the taste of food?  So what if I buy already ground pepper or plain old cooking salt and use that in recipes or on the dining table to present to guests.  Does it make a huge difference or not?
So I went on the hunt to try and discover...
Lets Talk Salt and the Salt Mill
Cooking is just not the same without salt.  It is one ingredient that cannot be done without.
Salt has been used for over a century to preserve food.  Without electricity, there were probably limited ways to keep meats and fish fresh enough to consume without cooking and eating immediately.  The salt dried out any bacteria that might have been trying to make a home in the meat being stored as it absorbed any water.
Salt is also pretty essential for health, we all need to have some in our body but these days the amounts we consume seem to be killing rather than healing us. If the kidneys are unable to get rid of excess salt within the body then the salt will absorb water leading to an increase of fluid in the blood vessels which can increase the blood pressure.  
Originally, salt was very precious and used as a form of payment and to determine the status of various members of society.  If you sat 'above the salt' you were considered important, However, 'below the salt' and you were the poor relations.
Salt was the first thing to get taxed as well.
However, do we need salt mills?
It depends...
What type of salt do you use and what do you use it for?  If you are just a basic family cook, then the chances are you already buy ground salt.  Therefore, there is definitely no need to buy a salt mill.  
Professional?
Well, you will not need me to tell you that for the various kinds of salt you use, you will probably get some use out of a salt mill.
For everyone, the mills look pretty good, so purely from a style point of view. a matching salt and pepper mill will definitely add a great look to a dining table.
How Wooden Salt and Pepper Mills are produced
A lovely video
Salt Box and Salt Mills
OXO Good Grips Salt Grinder

With its stainless steel accents and clear acrylic body, the Oxo good grips salt grinder is as comfortable in the kitchen as the dining room. The salt grinder has a non ...

$25.32 $24.49
Paula Deen Signature Wood Round Salt Box, Natural

"This salt box is so handy. I fill it with salt and spices so I can grab them in a pinch." Perfect if you choose not to have a mill.

Only $23.31
Unicorn KeyTop Salt Mill, White

This is the salt grinder version of the Keytop, with a long wearing, non corroding ceramic grinding mechanism. Be sure to use dry, brittle salt with a grain size no larger ...

Only $36.80
Pepper and the Pepper Mill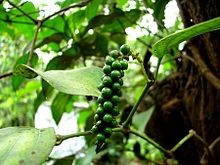 Pepper has been used for a very long time, since prehistoric times, to season food.  They are native to India, though they also grow in Malaysia and Thailand.
Peppercorns can be green, white or black.  I believe the black form is more regular with everyday family cooks.
Peppercorns have also been used as trade goods, in fact in some parts of the law, contracts are made legal by the exchange of a few peppercorns!  Once upon a time, it was referred to as black money.
Pepper has also been used as a medicine in ailments such as constipation, diarrhoea (Although I would have thought, it would more likely cause it!), heart disease, earache, insomnia and more.
Pepper loses its flavor if not kept in an airtight container.
Are Pepper Mills necessary?
It is definitely more usual to have a mill for peppercorns although they can be used in food in their original condition.  
Mills are used to grind down the peppercorns just before they are used in food as if exposed to air, they are likely to lose their flavor.  So if you like the taste of pepper in your food, a pepper mill is a necessity.
Some of the best Pepper Mills on the Market
OXO Good Grips Pepper Grinder

With its stainless steel accents and clear acrylic body, the Oxo good grips pepper grinder is as comfortable in the kitchen as the dining room. The pepper grinder has a non ...

$27.2 $21.99
9-in. Unicorn Magnum Plus Pepper Mill, Black.

Many of our authorities thought this 9" tall, contemporary black pepper mill was top notch- it met all our criteria: a comfortable grip, a grind that is easily adjustable, and ...

Only $109.99
Unicorn KeyTop Pepper Mill, Black

Our new Keytop features the fast loading, large storage, and grind size adjustment of the Peppergun, but with a smooth turning, key shaped top that makes the patented design a ...

Only $29.99
So Are Salt and Pepper Mills essential?
I would say it all depends on the chef.  
Whatever you think, you would not go wrong having at least one set on your dining table as they can look very nice.
---
Disclosure: This page generates income for authors based on affiliate relationships with our partners, including Amazon, Google and others.