Self-Portrait of ohcaroline
by ohcaroline
Painting a portrait of who I am and what has shaped my life.
Me in a nutshell!
This is a self-portrait of ohcaroline whom many of you already know.  As I watch the daily internet activities from my vantage point, I seem to be, in my eyes, the tortoise in an Indy Race.  I've wrangled over this introduction for about 5 days now and nothing comes to me as anything descriptive about my life that I haven't already expressed.  I am a telecommunications retiree with 32 years in the industry and glad to be retired from that scene.  I've worked a bevy of what I call post-retirement flunky jobs since that time with the exception of doing real estate which I enjoyed.
Self-Portrait by Norman Rockwell
Growing up along the Mighty Mississippi.
I'm a midwesterner by birth and a southerner by choice.  I grew up within the shadow of the Mississippi River and have fond memories of watching the river traffic as a youngster growing up.  We would always watch for the Delta Queen Steamboat to ply the river heading north and then southbound. I could really relate to Tom Sawyer and Huck Finn and their river adventures.  I wanted to build a river raft myself as a youngster.  There were of course the sad reminders each spring of the flooding that the spring thaw would deal to many a river town. It was a good place to grow up; but I had found a better place to hang my hat when I launched out on my own.  The land of Dixie is where my heart is and I'm pretty sure I will spend the remainder of my days here.
You could hear the calliope music from the banks of the river.
Listen to the music while you read!
Genealogy research helped me get started working on the internet.
Once I was able to actually stop working, I spent a lot of time doing genealogy which landed me on the internet.  The rest is history, no really! History really did come alive to me there.  I was pretty good at internet research and enjoyed discovering family lines back through many, many generations. I was really enjoying working on the internet. 
Desire to write meets Squidoo head-on!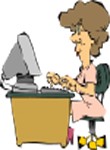 I had wanted to do some writing as I grew older.  I checked out online writing schools; but I just couldn't see myself going that route.  So writing sat on the shelf for almost 10-12 years.  Then I stumbled onto the doorstep of Squidoo and it opened a new world to me.  It was a place where I could write to my heart's content and still do.  I found it a most comfortable place to write, to read, to socialize, and to meet wonderful people from all around the world. My writing desires had finally materialized.
Welcome mats say hello to your guests first!
A Home is Built on Love Doormat
Bless This House Coir Doormat
Pinecone Welcome Doormat
Star and Berry Welcome Door Mat
Custom Printed Rugs Dm-45 Welcome Doo...

Only $16.98

Galloping Horses Decorative Welcome Mat
Next stop on the Internet Highway!
Squidoo opened another world...Zazzle.  I really like to Zazzle.  This is such a wonderful internet venue for me.  I thought that one store would be all I would care to tackle...but one store gave way to more stores.  Now I am developing more specialty stores and having a great time doing it.  You'll probably see a few of those stores soon.  I'm learning to wear a new hat called internet marketing.
I joined the Wizzley adventure!
Once again the internet doors have opened up another adventure and a new learning curve to climb.  Wizzley threw out the welcome mat and I stepped in.  Here I am!  I'm looking forward to meeting old friends here as well as new friends.  The learning curves aren't as steep as ones I previously climbed.  I am still learning, never the less.
Here are a few things you probably don't know about me:
I enjoy golf in every venue even though I am not playing right now.
Saturdays in the fall find me watching SEC Conference football games, especially Florida Gator games.
I have a really nice baseball card collection that I will probably do some writing on.
I am the youngest of 6 children scattered between Illinois, Florida, and heaven.
I'm on a virtual cross country trek from Virginia to California...I am now in Kansas heading to the Colorado border.
I like to do cross stitch and picture framing.
I enjoy participating in Senior Games in javelin, shot put, and discus throwing.
I've lived in 5 states:  Illinois, California, Florida, Tennessee, and North Carolina.
Here's the rest:
In my better days, I used to swim a mile a day.
I once bicycled 94 miles in one day.
I am extremely patriotic.  I am red, white and blue...through and through.
I have a very strong sense of justice.  If I could, I would right every wrong that I witness.
I have a heart to encourage others in their life's endeavors to be their very best.
I used to sew all my own clothes.
I still think decorating with wallpaper is cool!  I like to hang it too.
I am a bonafide country girl who likes country wallpaper and decorating.
I like to do woodworking.
I would like to pursue pottery making.
I once won a trip to Europe and visited 7 countries.
I've owned more bicycles than cars.
---
Disclosure: This page generates income for authors based on affiliate relationships with our partners, including Amazon, Google and others.