Small Space Storage: Shabby Chic
by KarenTBTEN
The beauty of shabby chic is that you can pack a lot into a small space without it looking like a college dorm room. If you're artsy, you may pay less than you would at IKEA.
Cottage Style Storage
Finding a Style that Works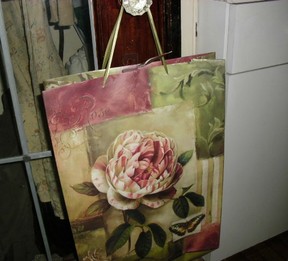 I live in a 188 square foot apartment, but I'm a long way past my dorm days. Crates and desk stackers have been left in the past. Back are the softer things: the romantic and whimsical ones. By this point, I've inherited the mementos of my childhood, including my own baby quilt and stacks of old photos and stories.  So... I need a way to store everything -- a grown up way, but a thrifty one.  The style I have opted for is shabby chic.
Shabby chic is a natural for small, cozy spaces, but when the square footage goes too low, a person has to modify the style a bit.  Some traditional shabby chic storage items are functional only in a large space.  In a studio apartment, for example, you might not want the little dressing table with the hatboxes and bitty jars.  You'll value some of the things that are common to adults in little city apartments: closed storage, tall furniture, double-duty and multifunctional items.  But there's room for natural fibers, antique finishes, girly touches, and things that coordinate but don't quite match.  There are a lot of creative and fanciful options.
Hutches and Cabinets
It seems counterintuitive, but large objects make little rooms look larger. So this in one area where you want to think inside the box, or inside the cabinet, as the case may be.  The ideal storage for small spaces is a fairly tall cabinet -- a pantry, perhaps -- with at least some closed doors.  The piece could be given an antique finish (light over dark) or a Swedish look (muted colors with a painted design). Then again, it could be pure white. White cabinets are easy to come by, and they are muli-functional, working in a variety of room settings.  Don't be afraid to scour the bathroom section for that narrow little dinetter cabinet.
I have a small hutch in my apartment; it holds two or three box's worth of teaching materials and also gives the place a more finished look. Ideally, it would be a bit taller -- and I would have a slim one near the built-in kitchen unit to replace the RealSimple hanging muslin storage unit that's there now. A cabinet to hold dishes... that's one thing that makes an apartment look more homey as well as more grownup, and cabinets do come in very narrow sizes. Sometimes, though, the hanging linen storage just has to do, at least for a while!
Paint Your Own Shabby Chic Cabinet
Baskets, Hat Boxes, and Nesting Storage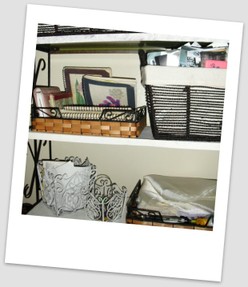 You'll want some of your treasures out, but if you have too many little things laying around, the place will look cluttered and small.  There are alternatives to closed cupboards, and they can be created in an impromptu way on open shelves.  One option is baskets; those big ones with the linen liners work especially well. You can also use hatboxes and larger decorative boxes.  Some of these items even nest together.  Of course, you probably won't display them nested -- you'll more likely have them filled to the brim and ordered or otherwise arranged.
I think it's good, in a small space, to have two or three items that match, and to stick with a theme. You may want hat boxes or baskets, but not both.  And you may want to stick to a color scheme (more or less). 
Creative Storage: Alcoves and Dollhouses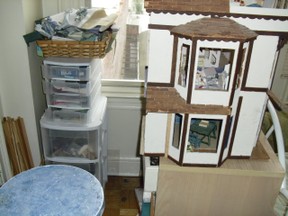 Your shelving units don't necessarily have to face forward with all those little trinkets and gizmos showing.  Use one to carve out a work space or other little alcove in your room. Try facing the furniture backwards with the sleek wood side showing.
This is my alcove/ craft area. The sturdy little shelving unit holds a lot, and the top shelf pulls out for easy access.  It would be rather short for a studio apartment -- not the most efficient use of space -- were it not wearing a dollhouse.  The dollhouse in the photo there is a 'functional' one, but I've seen pictures of dollhouses reborn as bookcases and random storage.  So if you've got one, and it's living back home at mom and dad's house, you might want to grab it.  If nothing else, it makes a scenic magazine rack. 
... Or Hide Stuff Under a Skirt
More Resources
Shabby Chic Studio Apartment
The low down on living in one room... and doing it up cottage style.
The Inspired Room
This blog is about a small house, not a small apartment, but the person is clever. (How about taking an old ladder painted in antique blue... and hanging it on the wall?)
Mail and Paperwork Storage in Distressed White
On the wall... and on a budget
Shabby Chic Letter Holder

Need a letter holder for the kitchen, where those notes, bills and other papers seem to gather, but can?t find one to match your décor? How about the Shabby Chic letter ...

$29.95 $10.38
---
Disclosure: This page generates income for authors based on affiliate relationships with our partners, including Amazon, Google and others.