Spring Dresses 2012/2011
by optimist
Yes, spring is here, which means - spring dresses! Here are some tips for wearing them as well as modest spring dresses and dresses that flatter all body types.
How To Wear A Spring Dress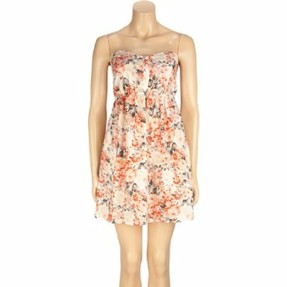 Spring is here, which means - you can officially wear spring dresses!
Spring dresses are all about flirty designs, and floral or bright colors. The dress on the left is a typical spring dress.
Wearing a spring dress is simple. You can wear sandals and a light-colored bag during the day, or dress it up with a clutch and heels at night. You can also dress it up with jewelry such as earrings or a necklace.
It's a good idea to wear layers during spring, when the weather can be unpredictable. You could wear a spring dress with a cardigan.
However, a more fashion-forward way to wear spring dresses is to wear a feminine dress with chunky accessories. For instance, you could wear it with boots and a leather or denim jacket. I find this style to be quite appealing and modern.
Modest Spring Dresses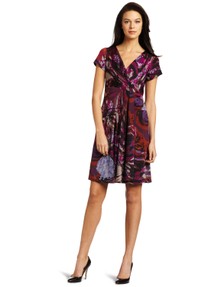 Spring dresses like the one above are ok for the younger crowd, but once you reach a certain age, the urge to dress modestly takes over. Never fear - modest spring dresses for women like the one on the left are also available!
You can find dresses with short sleeves and a slightly longer length quite easily nowadays. If the neckline is too deep, you can wear a tank top underneath.
Maxi dresses are also popular this year. This is a great option for women who like to wear longer lengths, and is stylish too.
If you want to wear a dress with sleeves but have fallen in love with a sleeveless dress, you could wear a bolero on top of it.
Alternative, you can wear tight-fitting t-shirt under your sleeveless dress. I have seen a number of women do this with maxi dresses and it looks quite good as long as the t-shirt color matches the color of the dress.
Flattering Dresses For Women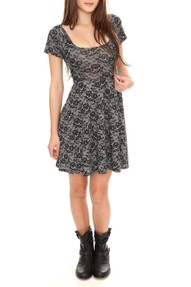 If you have certain "problem areas" as I do, then you probably look for dresses that flatter your body shape. Many women over 30 are pear shaped, as I am, and I find that a fuller skirt is great for disguising a belly. I also like sheath dresses that go straight up and down. If you wear a belt with your dress, tie it high up your torso so that the area around your tummy is not too tight. Wrap dresses are also a great option for making you look slimmer than you are.
If you are self-conscious about your arms, you can buy dresses with short sleeves. Alternatively, you can wear a short bolero over a sleeveless dress.
Regardless of your preferences and body type, you're sure to find a dress that suits you!
---
Disclosure: This page generates income for authors based on affiliate relationships with our partners, including Amazon, Google and others.