Sunflower Photography
by Jewelsofawe
Sunflowers are such a beautiful flower to me. I want to share some of my sunflower photography with you.
Sunflowers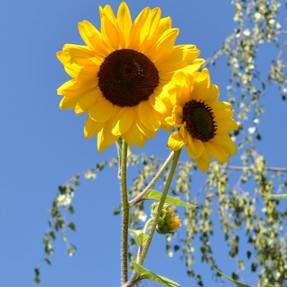 I love flowers! I have a love of floral photography whether I took the picture or someone else did. There is so much beauty you can see through the lens of a camera that is not as noticeable with your eyes. Flower photography gives you an intimate look into a new world. That world fascinates me. I love taking macro photos of flowers and seeing the story of the flowers I have photographed. They are constantly changing day by day. Each moment reveals a new way that a flower will express itself. This is part of the beauty that I love so much.
You can find more of my sunflower photography at my Zazzle store here:  Sunflower Gifts
I also have a few of my posters on here for you to see. They are available to purchase at my Zazzle store or you can just go there to view them. My sunflower photography is available as canvas prints, cards, mousepads, ipad sleeves, laptop sleeves, plates, light switch covers, and numerous items.
Sunflowers and Their Colors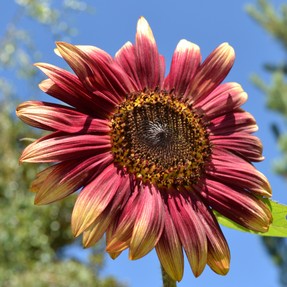 My favorite color for sunflowers is yellow. I had not realized they came in other colors until I began photographing them. I have found them peach and red as well. They are beautiful in any of the colors they come in, though I do prefer yellow. Yellow to me is an uplifting cheerful color so for me this is what sunflowers do for me when I see them, they uplift me. Doesn't the color yellow do that for you as well? It does not matter if it is an image of sunflowers or the live flowers, either way I feel uplifted by their sunny presence. I have noticed by photographing flowers that they different flowers make you feel different ways and some seem happier than others. I put sunflowers in the happiest of all flowers category.
(you can see this image of a beautiful red sunflower I met)
What is your favorite sunflower color?
Photographing Sunflowers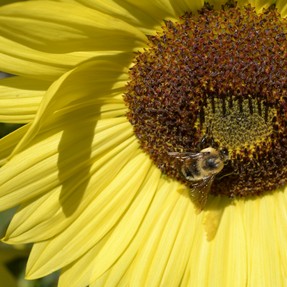 I am a self taught photographer. I use my intuition when I am photographing which even famed photographer Annie Leibovitz talks about in her photography. I do use an SLR camera by Nikon for my photos. I usually photograph with a low aperture which gives the images a nice bokeh. I use my kit lens which is 18-55 and my 55-300 lens which I love. With my kit lens I have to get very close to the flowers or bees or whatever I am photographing for any macro photos. With my other lens I can stand back and zoom in. I have been able to photograph birds high up in trees with the zoom lens. All of my sunflower photography so far was done with my kit lens. I did not have the other lens yet when I photographed the sunflowers I have so far.
About Sunflowers
Sunflower
is an annual plant native to the Americas. It possesses a large inflorescence. The sunflower got its name from its huge, fiery blooms, whose shape and image is often used to depict the sun. The sunflower has a rough, hairy ...
---
Disclosure: This page generates income for authors based on affiliate relationships with our partners, including Amazon, Google and others.