Surprises In Cat Art by Deborah Julian
by davestone13
Deborah Julian's cat art surprises by taking us places few other cat artists go. Her images leap from the simply beautiful to hilarious, always with color and art.
Some Surprising Cat Art by Deborah Julian
Deborah Julian's Art of Invention With Cats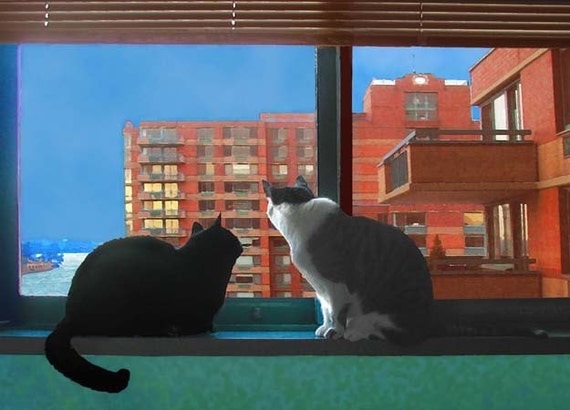 I love cat art, and since you are reading this page, I guess that you do too, but sometimes the "cute cat" style sameness can make you feel like you've walked down the same block one too many times.
As a cat lover as well as an artist, Deborah Julian doesn't let that happen.
For creative artists, repetition or imitation is the end of art. The good ones always imagine new angles or original ways of viewing established ones. An artist shoots for excitement, the moment of pleasure you get when you see something new and beautiful.
What surprises with Deborah Julian's cat art is sometimes the beauty or stimulation she finds where others haven't. A good example is City Cats, shown here, in which a simple scene of cats in a window is transformed with color and composition into art.
Surprising By Taking Cat Art Into New Places
Famous Artists Cats
If you want to create something exciting and different in cat art, you have to take the cats and the art places they aren't expected to go. Although the art you can find is wonderful and the artists passionate and skilled, the ordinary places have been done.
And done again.
That's okay, but wouldn't you like to surprised by someting totally different but just as wonderful? Great cat artists let their imaginations out to play.
One day while spending half her time putting cat magnets together and the other half explaining to her eager cat, Sam, that he couldn't help, she asked herself, "What if all those famous artists had my cats to deal with?"
Before she could finish sighing, she had a fresh idea. And then, she had another. Over the coming weeks, her Famous Artists Cats series was born.
She began with paintings by famous artist and, then, added cats. The first, Van Gogh's Bedroom (With The Artist's Cats Added) was as hilarious as it was filled with rich Van Gogh colors.
The image she created shows the bedroom a weary Van Gogh came home to, after long days in the sun with his paints (or late nights under starry skies. In a situation cat lovers everywhere can relate to, even comfortable place to sit or lay was taken–by sleeping cats.
Vincent was left without a place to sit, and since he appreciated so much about having his wonderful cats to come home to, he didn't have the heart to wake them.
So, for a while, he just stood an wondered about what cat antics had caused the pictures above his bed to be knocked out of position.
All of her cat art with the famous artists isn't funny. Some is just beautiful to look at or amusing to see how a cat fits comfortably in. Here are two more examples.
Cat Is the Center of The Universe is a riff on Henri Matisse and one of his iconic paintings. His ecstatic dancers whirl around a cat who thinks they are worshiping him. Who knows? Maybe the are.
In Cat In Degas Hat Shop, we find Sam, who may have provoked the whole series, doing what cats do when they find ribbons, no matter where they find them.
Taking Cat Art To Paris
Travels With George
Another new angle in cat art came to Deborah Julian from a different angle when she was asked to illustrate a book about two daring New York cats who smuggle their way across the Atlantic in their people's luggage.
Travels With George: Paris finds George, the original daring cat and Billy, tagging along, at many of the most famous sights in the Frence Capital.
The most popular print from the book was created for a scene in which the cats, out for a stroll above the Seine, are startled to discover a kiosk filled with posters of cats, especially the famous Chat Noir.
George and Billy had to take a long, absorbing look at that.
Among more than a dozen full color illustrations Deborah Julian created for the book is the one made for their first view of Paris in the morning.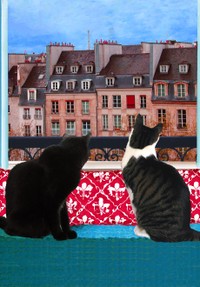 More About Cats, For Fun and Education
Just For Fun
You may also like...
Original Art by Deborah Julian
Cats In Famous Art
Some additional pictures from the series.
Handmade Cat Greeting Cards
An American Cat In Paris
All about the book, "Travels With George: Paris
---
Disclosure: This page generates income for authors based on affiliate relationships with our partners, including Amazon, Google and others.