The Best Internet Ready TV in 2012?
by WillApse
Over a quarter of the TV's sold this year will be Internet ready. Even if the Internet function is not be the most important factor in your choice it is worth considering.
What's on Offer?
The big things an Internet ready TV can offer are streaming of movies, music, games and access to social networking sites like Facebook or Twitter.
One thing 'Internet ready' does not mean is a PC-like, browser experience. Most internet ready TV's will not let you surf the entire web. Recently, however, Sony started offering a service that comes very close to this by integrating its offerings with Google TV and offering Google's Chrome browser in its set up. Sony Internet TV lets you visit any site.
If you don't want a Sony TV but want to access the entire web through your TV you could think about the Logitech Revue Box. Hook it up to any compatible TV and surf!
I should also point out that all these services require a broadband connection to your TV by WiFi or a USB cable.
Which Features Matter in an Internet Ready TV?
Apps
For many people. apps are the most important issue. Sony are ahead of the pack here because their partnership with Google allows you use the Android Market place to source apps. Other manufacturers have been obliged to create their own apps and the numbers are more limited.
Having said that, the big brands like Panasonic, Samsung and LG all offer enough to cover most needs.
The apps and widgets that almost all internet TV's come with:
Yahoo TV Widgets
Yahoo TV Widgets is one of the most comprehensive packages with thousands of widgets including such things as:
Twitter
Facebook
Pandora
CNBC
Fandango
Ebay
USA Today
NewsRallyCast
Showtime
You Tube
Blockbuster
Yahoo weather and news services
Yahoo widgets is a service that most people expect will be expanded hugely in the future. Yahoo have made it plain they want to be a big player in Internet ready TV
Yahoo Widgets
Content- Movies, TV, Radio
These services are widely built in to internet ready TV's:
Amazon Video on Demand
Netfix
Hulu
VUDU
You Tube
Pandora
Rhapsody
Pictures
You can view your pictures online at
And many other places with the right apps.
What do Individual Makers Offer?
Below is a flavor of the kind of apps the main players are offering with links to their apps stores.
Panasonic Apps and Vierra Cast
Panasonic cover most of the bases simply by offering Yahoo widgets. They also have some neat little apps of their own including:
Social TV app: run Twitter and Facebook streams alongside the TV program you are watching. Great for big sports events.
Nordic Treadmills App: work out in conjunction with Google Maps and get HD views of the terrain you could run across in person, if you happen to be Nordic!
Asphalt 5 : one of many 3D games on Viera Connect

MLS and NHL applications
Popular Samsung Internet TV Apps
Samsung have one of the better range of apps.
Just to give a flavor of what they are offering in 2012:
Art4HD: Aquariums, Waterfalls,Fireplaces, Sunsets, on your TV
The Broadway Channel: what's hot on Broadway
HuluPlus: your favorite shows anytime
MTB MusicMeter

: trending artists and songs, with trivia, tweets, pics, reports

ToyWorld: kids game 
App store: samsung.com/us/appstore
LG TV Apps
LG are expecting to launch their first products with Google TV (and full web browsing capability) this year.
These are a few of the best apps they are offering at the moment:
MUSEUM: choose from over 60 thousand artworks and display them on your TV
Workouts on Demand: fitness community
Yoga Trainer: relax and clear the mind
Crunchy Roll: anime movies and TV
LG recently launched a paid apps service to tempt developers to produce more.
Delve deeper here: .lgappstv.com/appspc/main/main/main.lge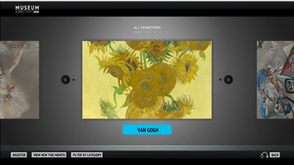 Art App from LG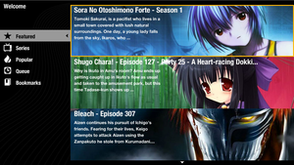 Crunchy Roll Anime App
Vizio TV Apps
Vizeo have most of the big apps for online content and are pushing hard for gamers attention with the Onlive app. This is an online gaming app that can be used on tablets as well as TVs. Vizio will have their own tablet PC to complement their very successful internet ready TV's.
A few of their other apps:
Namco Bandai: buy the latest games
iMemories: convert non-digital photos and movies to digital and store online.
Vimeo

Skype

Blockbuster
Their web app store is not especially comprehensive or well laid out but you can see it here: vizio.com/discover/via
Which is Best?
If you want full web surfing on your TV, Sony offer the best option with their Sony internet TV products. LG will launching a similar service this year.
For gamers, Vizio are a great choice and the Onlive app will reinforce Vizio's dominance in this area. Vizio also offer a full range of their best selling LCD's. You can get most sizes of screen where other makers tend to offer internet ready only on the big models.
Samsung are one of my favorite makers of tech. They are savvy at working out what people most need and delivering it. They don't offer the biggest range of apps but they offer some of the best.
If you really need the best plasma TV for those gorgeous colors, you can hook up a Logitech Revue box to a Panasonic and surf away. Panasonic also offer comprehensive social apps.
---
Disclosure: This page generates income for authors based on affiliate relationships with our partners, including Amazon, Google and others.